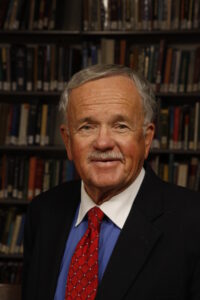 "I had a very happy time at Trinity, and want to share the experience with current and future students."
— Jack Whiteside, 2020
On January 4, 2023, the Trinity community lost one of its longstanding and most dedicated supporters.
John Harvey (Jack) Whiteside arrived at Trinity from Windsor in 1959. He was an enthusiastic and social student, tackling his academics and extra-curriculars in equal measure, and establishing lifelong friendships with numerous classmates.
After studying commerce at Trinity, Whiteside went on to a successful legal career in Toronto. He began volunteering at Trinity not long after graduating from law school and maintained that deep commitment throughout his life. He led committees, made countless fundraising phone calls to fellow alumni, and rallied classmates to join in Reunion activities and class socials. For many years and until his death Whiteside chaired the Gerald Larkin Society, which recognizes those who have remembered Trinity College in their estate plans.
A visionary supporter
Students were the primary focus—and beneficiaries—of Whiteside's many contributions. In 2010, he established the John Harvey Whiteside Scholarship at Trinity, a generous scholarship renewable for up to three years. "I felt it was important to give people top quality," Whiteside said of establishing his scholarship. "Costs have gone up so significantly. The Scholarships afford an opportunity to carry on without having to worry about getting a part-time job." Every year, he enjoyed meeting and getting to know his "brilliant" scholarship recipients.
Whiteside had experienced first-hand the value of scholarships, both as a first-year student at Trinity and later when he won the Norah Whitney Scholarship to study at Sciences-Po in Paris for a year.
"I had the privilege of living in residence for all four years and enjoyed the whole experience immensely. The community life is exciting and complements, adds to and balances a student's academic experience," said Whiteside.
It was his belief in the value of the full Trinity experience that led to Whiteside's visionary support of the Living Trinity Campaign. In honour of his generous gift, the east wing of the student residence in the new Lawson Centre for Sustainability will be named J.H. Whiteside House, ensuring that his legacy of support will continue to be felt for generations to come.
To read Provost Moran's tribute to Jack Whiteside, click here.