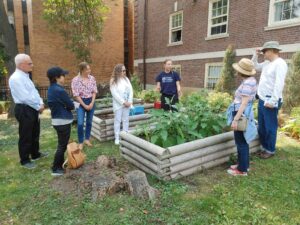 Calling all gardeners, naturalists and foodies! The Trinity Food Systems Lab, a research, action and learning hub within the Trinity College Integrated Sustainability Initiative, is looking for alumni volunteers to join hands-on activities and knowledge-sharing sessions on sustainable food production.
Starting March 2023, we hope to share our gardening and cooking spaces with you as we explore urban agriculture, native ecosystem restoration, pollinator gardens, Toronto food security, and Indigenous perspectives on our relationship to the land.
The opportunity is as much about relationship building as it is about securing much-needed volunteer support on campus. Upcoming events where alumni volunteers are needed include:
March/April: Seed starting events
May/June: Spring planting events
June-September: Knowledge/story sharing events
May and September: Pollinator/native species events
July, September and October: Harvest/cooking events
November: Garden hibernation/seed saving event
Ongoing: Garden maintenance, sharing of culturally specific knowledge of food growing, pollinators, native species, medicinal plants, and experiences on the land
If you're interested in being involved, please complete this online form to indicate your areas of interest, or send an email to alumni@trinity.utoronto.ca. All alumni will be welcome to tour the gardens during Spring Reunion (stay tuned to our Reunion page for details) and we'll be planning a special planting event for children, too!