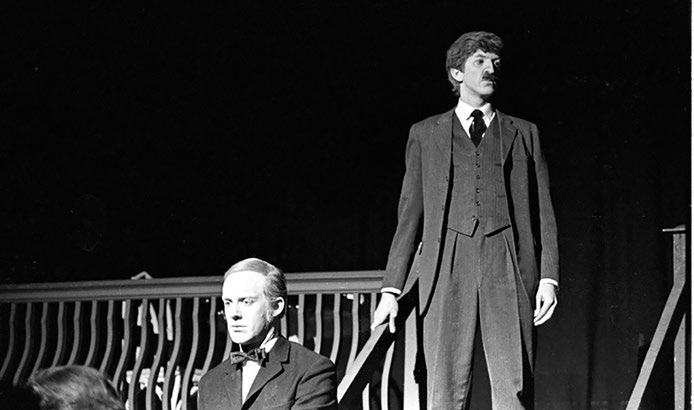 We spend a few minutes with acclaimed stage and screen actor, director, producer and arts advocate Robert Holmes "R.H." Thomson '69 (Honorary Doctor of Sacred Letters '98). Most recently, Thomson played the beloved character, Matthew Cuthbert in CBCs Anne with an E. Thomson is also the creator of "The World Remembers," a First World War centenary commemoration project whose goal is to publicly name each of the millions who lost their lives in the 1914-1918 war.
*inspired by Proust; tailored for Trinity
WHY DID YOU CHOOSE TRINITY COLLEGE?
Other family members had gone there.
WHAT IS YOUR FAVOURITE PLACE ON CAMPUS?
They were fairly unhappy years, so my favourite place was the Quad at dusk.
WHAT IS YOUR IDEA OF PERFECT HAPPINESS?
Perfect happiness? Dark chocolate, but I think you mean something deeper. But if you travel deep, only mysteries appear.
WHAT IS YOUR GREATEST FEAR?
Being trapped.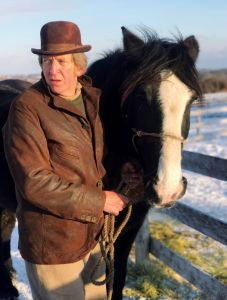 WHICH LIVING PERSON DO YOU MOST ADMIRE?
There is a multitude of people to admire. Top of my list are those with independent vision and spiritual and emotional bravery. Greta Thunberg is one of them.
DID YOU LIVE IN RESIDENCE WHEN YOU STUDIED AT TRINITY?
Yes. Residence was pure convenience—I could spend my time rehearsing plays at Hart House or the Trinity College Dramatic Society.
WHAT ADVICE WOULD YOU GIVE YOUR FIRST-YEAR UNIVERSITY SELF?
Be brave; be broad-minded. Success at university can be overblown. Failure is just another event and little to really fret about.
TELL US ONE THING ABOUT YOURSELF THAT FEW PEOPLE KNOW.
I must have been a real pain-in-the-butt when I was young.
ON WHAT OCCASION DO YOU LIE?
When telling the truth will destroy.
WHICH WORDS OR PHRASES DO YOU MOST OVERUSE?
"Stuff' is a word that I try to expunge from my vocabulary.
WHAT OR WHO IS THE GREATEST LOVE OF YOUR LIFE?
My loves are my wife, Laurie; my sons, and the theatre.
WHEN AND WHERE WERE YOU HAPPIEST?
In the midst of playing on stage, on film or on the ice, and being in harmony with all my fellow players, whether they have hockey sticks in their hands or playwright's characters in their souls.
WHICH TALENT WOULD YOU MOST LIKE TO HAVE?
To have the gift of creating music.
WHAT IS YOUR FAVOURITE TREAT OR INDULGENCE?
No doubt there, dark chocolate!
IF YOU COULD CHANGE ONE THING ABOUT YOURSELF, WHAT WOULD IT BE?
To not get seasick—something that has kept me from sailing the oceans.
WHAT DO YOU CONSIDER YOUR GREATEST ACHIEVEMENT?
To have played a small part in bringing Canadian stories to our stages.
IF YOU WERE TO DIE AND COME BACK AS A PERSON OR A THING, WHAT WOULD IT BE?
A white pine, gripping the rocks on the shores of Georgian Bay and facing west into the winds.
WHAT IS YOUR MOST TREASURED POSSESSION?
The remaining time I have on the planet.
WHAT DO YOU MOST VALUE IN YOUR FRIENDS?
The constant and burning light in their eyes.
WHO ARE YOUR FAVORITE WRITERS?
Margaret A and Michael O.
WHO IS YOUR HERO OF FICTION?
I perform too much in the land of "fiction" to have any heroes there.
WHICH HISTORICAL FIGURE DO YOU MOST IDENTIFY WITH?
That is a tough one. Most? I would say Pete Seeger but he might not be called a historical figure.
WHO ARE YOUR HEROES IN REAL LIFE?
The visionaries and the peacemakers.
WHAT IS YOUR FAVOURITE PHOTO OF YOURSELF AND WHY?
This is a photo with Barney (right), a rescue horse that appears in Anne With An E. It's winter and I love winter. It's outside and I love the outside. It's with Barney, an old horse with a good soul. And my nose is red, which makes it look slightly less long.