|
TO ALL OUR DONORS
THANK-YOU
|
The following list recognizes all donors who gave between May 1, 2018 and April 30, 2019 to support Trinity College. It includes gifts to the Trinity Fund, reunion class gifts and gifts-in-kind.

⦿ 

$100,000+ 

⦿

Wendy Adams
Norman Fraser
William & Catherine Graham

Anne E. H. Steacy
The Friends of the Trinity
—College Library
Jackman Foundation

---
⦿ 

$25,000-$99,999 

⦿

Margaret & John Catto
Suzanne J. Kilpatrick
Robert W. Murdoch
David & Mary (Bosworth)
—Neelands
Hilary Pearson & Michael
—John Sabia
Gary William Ross

Nevil Thomas
David & Diana Trent
Michael Westmore
Jack Whiteside
The Ontario Provincial Synod
The William & Nona
—Heaslip Foundation
---
⦿ 

$15,000-$24,999 

⦿

Graham B. R. Collis
John H. & Catherine F. Phillips

John & Anne Witt
The Henry White
—Kinnear Foundation

---
⦿ 

$10,000-$14,999 

⦿

Anonymous (1)
George A. Fierheller
Jane McMyn
Michael & Sheila Royce

The Honourable Michael H.
—Wilson*
Florence Margaret Thompson
—Charitable Foundation
The Peter Cundill Foundation

---
⦿ 

$5,000-$9,999 

⦿

Anonymous (2)
Mohammad Al Zaibak
Jim Andersen & Michelle Marion
James Appleyard &
—Tamara Rebanks
Helen & Robert Bradfield
George & Martha Butterfield
Michael Church
William J. Corcoran
Paul T. Fisher
Sharon C. Geraghty
Heather V. Gibson
John & Mary Goodwin
Michael & Nancy Graham
William B. Hanna
Mary E. Kirton

John B. Lawson
R. Peter & Virginia McLaughlin
Mayo Moran
Hilary V. Nicholls
Gerald R. Noble
John & Penelope Pepperell
Charles Pick & Rardi van Heest
Christine J. Prudham
William & Meredith Saunderson
Victor M. Seabrook
Helen Elizabeth Shaw
Barbara Shum & Manos
—Vourkoutiotis
William Westfall
The Hope Charitable Foundation
IBM Canada Ltd.

---
⦿ 

$2,500-$4,999 

⦿

Anonymous (2)
Ann & Duncan Abraham
Derek Allen
Edward & Jocelyn Badovinac
James C. Baillie
Walter M. Bowen* &
—Lisa Balfour Bowen
John N. & Miranda Birch
Anne E. Brace
David Bronskill
Shirley Byrne
N. Thomas Conyers
John D. Cuddy
Michael de Pencier
Frank & S. Sunny Dicum
Mary Finlay
J. E. Fordyce
Joseph W. Foster
John F. Futhey
Julie Frances Gilmour
Douglas & Ruth Grant
Margaret H. Greene
Bruce D. Griffith
Campbell R. Harvey
Ernest Howard
William B. G. Humphries
Janet (Saddington) Hunter
Robert P. Hutchison &
—Carolyn Kearns

Elizabeth Sawyer Kilbourn
Mary M. B. D. Lewis
George A. Mackie
Marion E. Magee
Andrew E. C. McFarlane
Ivan McFarlane
Robert & Dorothea Painter
Peter R. Paterson
Winsor & Ruth Ann Pepall
Kathryn & David Richardson
Ian & Nancy Robinson
James D. Rogers
Barnaby & Lois Ross
Peter Rozee & Francesca Patterson
Sonja Sinclair
John E. & Gayle Smallbridge
Philip R. L. Somerville
Suzanne Sousan
J. Warren Stoddart
Almos Tassonyi &
—Maureen Simpson
C. Ann Wainwright
Ann C. Wilton
The Episcopal Society of Christ Church
Margaret Sisley Fund
—at Toronto Foundation
St. James' Cathedral
St. Thomas' Church, Toronto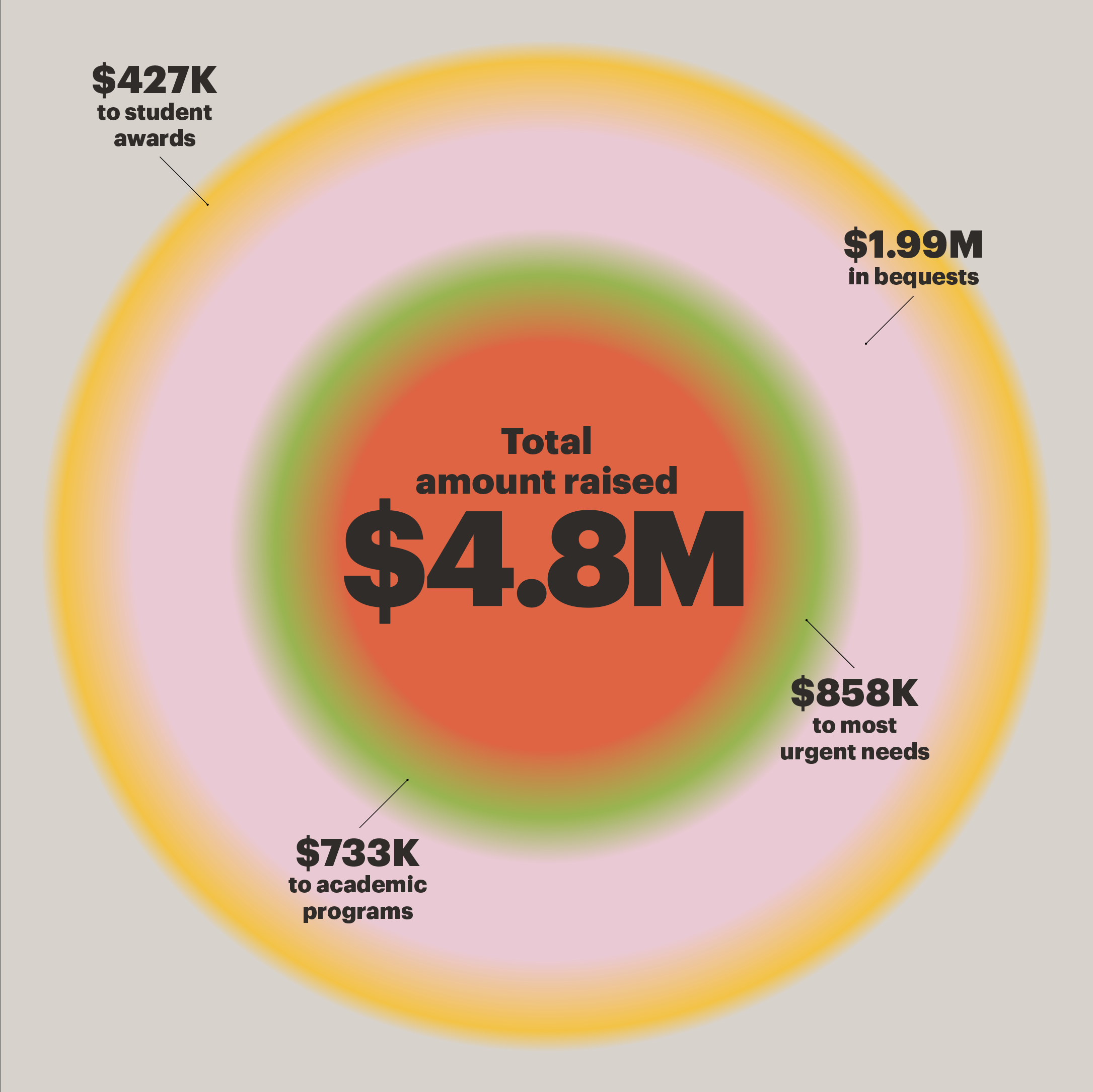 ---
⦿ 

$1,000-$2,499 

⦿

Anonymous (4)
G. David Adamson
Kevin & Jill Adolphe
Mary S. Aduckiewicz
Susan Ainley
Paul H. Ambrose
Jamie & Patsy Anderson
Helen Angus
James & Penny Arthur
Reinhart J. Aulinger
Jim Baidacoff
Alyson Barnett-Cowan
John & Barbara Barton
Mark Elias Bechara
Nicholas Beck & Brigita Gravitis
Michael & Bonnie Bedford-Jones
J. David Bell
Keith Bell
Katherine Betts
Marian Binkley
Ann Birch
John C. Bonnycastle
Cynthia Bracewell
Andrea M. Budgey
Catherine Butler
John Carruthers &
—Susan Mendes de Franca
Mary & John Chipman
John & Lynn Clappison
Charles F. Clark
Graeme C. Clark
Stephen R. Clarke &
—Elizabeth Black
Anne M. Cobban
Margaret E. Cockshutt
Clive H. J. Coombs
Anne Cooper
G. Philip Cooper
Linda & Brian Corman
Graham Cotter
Jonathan R. Cowans
William Cruse
Brett Lesley Cumberbatch
Janet Curry
Alexander* & Ann Dalzell
Virginia L. Davies
Natalie Zemon Davis
Helen A. de Finta
David & Carolyn Dell
Mary Louise Dickson
Peter & Jane Dobell
Richard V. P. Eagan
M. Gwynneth Evans
Drew A. Foley
Ian & Nancy Forsyth
Jean Fraser & Thomas Rahilly
Patrick Gaskin & Fiona Main
David Gawley
H. Ross Geddes
Peter Gerhardt
Jack Gibbons
Alan Gill
Harriett E. R. Goldsborough
Kevin R. Goldthorp
Robert & Janet Gouinlock
Ron & Gillian Graham
Alastair & Victoria Grant
Vanessa Grant
Anne Forrester Greaves
William N. Greer
Terry & Ruth Grier
Shauna Gundy
G. T. (Tom) Gunn
Alice L. Haigh
Peter & Susan Hand
Beth L. Hanna
Margaret Harding
Michael J. Hare
Christopher Harris &
—Mary Shenstone
David Harrison &
—Catherine Le Feuvre
Douglas C. Heighington
Frank H. Herbert
John Hickman
Andre Hidi
Douglas R. Hill
Stanley Y. Ho
Elspeth Hogg
Chris & Karla Honey
Jennifer Hood
Susan Huggard
Hugh L. Innes
Peter M. Irwin &–Carolyn P.
—Everson & Family
Colin R. Johnson
Elizabeth A. Jones
Anneliese Kabisch
Patricia Kenyon Mills
Philippa Kilbourn
Richard S. Kim
Simon Kingsley
John J. Kirton
John Kloppenborg
Markus Koehnen
J. Bruce & Judith N. Langstaff
Alan D. Latta
Mark Lautens

Joannah & Brian Lawson
Elizabeth J. Lesslie
Janet B. Lewis
Patrick Little
Peter M. Little
John F. Lockyer
Ruth H. Loukidelis
Albert C. Maasland
H. Ian & Dorothy Macdonald
Margaret O. MacMillan
Norris B. MacPhadyen
Timothy C. Marc
Christopher J. Matthews
Tamara A. Mawhinney
Nicholas P. McHaffie
David J. & Patricia McKnight
Nancy McPhee
Linda Medland Davis
Margaret A. Meynell
Alexander O. Miller
David N. Mitchell
Donald E. Moggridge
Theodore F. Morris*
Alan & Flo Morson
Gerry Mueller
Tom P. Muir
Peter & Sarah O'Hagan
David & Kathleen Oakden
William K. Orr
David Oxtoby & Julie Scott
M. Andrew & J. K. Patricia Padmos
Donald & Gwynneth Parkinson
Michael G. Peers
Barbara A. Priscus
Christine Wing-Hung Pun
Allan G. Raymond
James J. Rayner
Christopher E. Reed
Robert & Margaret Reid
Sandy Robinson
Helen Protopapas Robson
Sue Romanick-Schmiedl
Richard H. Sadleir
Edward & Louise Saunders
Wes Scott
Blair Seaborn
Geoffrey B. Seaborn
Jan Seger Lambert
George O. Shepherd
Alana Silverman
Catherine L. Singer
C. Peter Slater
Derek A. Smith
Stephen & Jane Smith
Thomas Yee Po Soo
Philip L. Spencer
Robert A. Spencer
David Stanley-Porter
Paul G. Stanwood
Ian & Heather Stewart
Eileen R. Stock
Bob Stone
Richard H. Sutcliffe
John & Helen Swinden
Leah Taylor Roy
H. Thompson
Ron B. Thomson
David O. Tinker
Martha J. Tory
Ann E. Tottenham
Keith E. Townley
John H. & Diana F. Tuttle
Faran Umar-Khitab &
—Julia Skliarenko
Guy & Sandra Upjohn
Bill & Sarah VanderBurgh
Ann Louise Vehovec
Robert Vineberg
Stephen M. Waddams
Douglas Ward
Kathleen G. Ward
Wesley Wark
Daniel J. L. Waterston
Jane Waterston
Andrew M. Watson
Wendy Weaver
John D. Whittall
Mai Why & Peter Levitt
Bruce Winter
David & Carol Wishart
Peter J. Wismath
Diana Wong
Andrea L. Wood
Bob & Joan Wright
J. Fraser Wright
Graham J. Yost
Janet & Bill Young
Miriam E. Young
Elcan Ridge Foundation
George & Esther Snell Trust
Mastercard Affinity Card—UTAA
Neil & Anne Sternthal Family Fund
—at the Jewish Foundation
—of Greater Toronto
Repsol Oil & Gas Canada Inc.

---
⦿ 

$500-$999 

⦿

Anonymous (7)
Margaret Agar
Don Allan
Brian G. Armstrong
John Michael Armstrong
P. Mark & Frances Armstrong
John & Jenny Balmer
Glenn K. Barenthin
L. Black
Donna E. Blackwell-Bellavance
M. Patricia Blair
Sven Blake
Bruce W. Bowden
John & Lois Bowden
John Bowden
William J. & Martha F. Bowden
Christopher Bradley
Rodney R. Branch
Roderick Brinckman
Ed Broadbent
Thomas C. Brown
Whitney Brown
Matthew Peter Cadwell
Christina Cameron
Donald R. Cameron
Hugh Cameron
Ruth B. Candy
Hugh R. Chambers
Suet Chan
Lorenzo Coceani
Penny J. Cole
Lionel T. Colman
Mary E. Conliffe
Sheila Connell
Elizabeth Cowper
Margaret W. Darte*
Simon Devereaux
Maurice A. F. DeWolf
Eric Domville & Jean MacPhail
Andrea E. Engels
John S. Farquharson
Christopher W. W. Field
Russell C. Finch
Carol Finlay
Sandra D. German (Bennett)
Christopher L. Gill
Susan Goddard
Julian A. Graham
Russell & Jean Graham
Frances T. H. Grant
Neil Guthrie
Peter I. & Edna A. Hajnal
William B. & Patricia Harris
Derek C. Hayes
Mary Ellen Hebb
Tim & Shuna Heeney
Robyn Heins
Gillian E. Hicks
John W. Hilborn
Philip C. Hobson
Joan W. Hodgson
Peter H. Howden
Kenneth R. Jackson
Jeremy & Stephanie Johnston
Glenn & Sharon Josselyn
William & Dale Keel
Patrick I. H. Kim
Janice G. Latcham*

Brett Ledger
Olivia Lee
Jill L. Levenson
Peter J. Lewis
Richard G. Lucas
Nancy G. MacArthur
Douglas P. Macdonald
Margaret C. Madigan
Innis Mark
Janet Marsh
Judith E. McAdam
Duncan McLaren
Meredith Meads
Brian Metcalfe
David K. Miller & Bruna Gambino
Virginia C. Miller
Claudia L. Morawetz
Brian H. Morrison
Corinne Murray
Jeffery Nankivell
Sarah Ditchburn Neal
James T. Neilson
Gary & Shannon Nevison
J. G. Nugent
Jeannie T. Parker
R. Brian Parker
Jim Pierce
Canon Jim Powell
Mary E. Preston
Carolyn Purden Anthony
Thomas G. Reive
Rachel E. Rempel
Darla Rhyne
John A. G. Ricciardelli
Derwyn J. Sangster
Roger Savory
Henry K. Schultz & Jennifer Papell
Patricia Eckardt Sedgwick
Susan M. Sheen
Jim Sidorchuk
David J. D. Sims
Karen Spence
Janet E. Stewart
R. D. Roy Stewart
Margaret J. Stockwell-Hart
Christie Sutherland
Stefan Tarnawsky
Phyllis Taylor
John Thenganatt
Mary & Robert Thomas
Paul W. Timmins
Nicola Tory
M. Elizabeth Tugman
Young Um
Heather Urie
Thomas W. P. Vesey
Dennis & Janet Waddington
E. Laurie Wallace
Peter K. Whimster
Gerald C. V. Wright
Roger C. Young
All Angels by the Sea
—Episcopal Church
Bank of America
Dinarii Financial Education
—Academy
Holy Trinity Anglican Church
—– Thornhill
Hydro One
R. I. Algie Medicine Professional
—Corporation

---
⦿ 

$250-$499 

⦿

Anonymous (14)
June L. Abel
Daphne Alley
John Charles Amesbury
Erica Armstrong
Hany A. A. Assaad
David Aston & Helen Kong-Ting
Robert C. Austin
Catherine Barley
William Barneveld
Milton J. & Shirley Barry
Margret E. Beaney
Susan E. Beayni
James Bell
Linda C. Bell
Barbara Collier Blackburn
Wendy Blair
Norah Bolton
Robert Bothwell &
—Gail Corbett Bothwell
T. Allen & Marilyn Box
T. David & Constance Briant
Richard E. Bronskill
Daniel A. Brown
Gwyneth F. Buck
David E. Burt
D. Susan Butler
Colin William Chamberlain
Derek Koon Yee Chau
Mary & John Chipman
Lesley Chisholm
Simon A. Clements
Peter R. Coffin
David D. Conklin
Jane Coutts
Judith M. Cowan
John W. Craig
David L. Danner
Gordon F. Davies
Deborah L. Davis
Elsie A. Del Bianco
Robert S. Dinsmore
Dean & Rosemary Dover
Alexandra J. Duncan Harrison
Atom Egoyan
Frances C. Errington
Dianne M. Fisher
Julia G. Ford
John A. Foulds
Douglas J. Fox
Janet M. Fuhrer
Nancy M. Fung
William A. Gilbert
Barbara N. Gory
Elizabeth J. Graham
Alastair G. & Victoria A. Grant
Patrick Trevor Robert Gray
Robert J. S. Gray
David A. Grindal
J. Richard Grynoch
Nazerit Hagos
Brenda L. Halliday
David A. Hamilton
Matthew & Polly Heeney
Carol Purkis Heggoy
Philip J. Henderson
Michelle D. Hiebert
John M. & Jill Hill
Scott & Susan Holladay
Elizabeth A. Holmes
Kathy Horne
Katherine Hough
J. Donald L. Howson
Mary Hume
Thomas Hurka
Ronald E. Hutchison
Catherine Hyland
Julia Stephani Ind
Elizabeth D. Isenberg
Mary Jacob
Leslie A. K. James
David L. Jeanes
Ruth Johnson
William & Susan Kaul
Bill Kilfoyle
Arthur M. L. Klassen
Hendrik Kraay
Wai-Arm Lam
W. John Langlois
Sylvia A. Lassam
Ryan Bennett Lavallee
Jill Carol Lavine
Darcey R. Lazerte
James Leach
Jane Ellen Leckey
Robert C. & Mary Lee
Terence Y. F. Lee
G. Bradley Lennon
Patricia H. Lindsay
D'Arcy Little
Tom Little
Christopher J. Loat
C. Robert Loney
Sandra G. Lovering

Andrea Luchini
Patricia A. J. Luxton
Richard A. MacKenzie
Patti MacNicol
Arthur MacRae
Randall Martin
A. Maylanne Maybee
Robert Mitchell A. McIntosh
Gary B. McKinnon
Jane McWhinney
Allen E. Meredith
Christopher James Miller
Sheila R. Miller
J. Fraser B. Mills
Elizabeth K. Mitchell
Peter C. Moffatt
Mark Curfoot Mollington
Peter & Susan Moogk
Carol E. Moore
Kit Moore
Adrienne A. Morey
David W. Morris
Joanne Morrow
Margaret E. G. Murray
Bruce E. Myers
Patricia Ann Needham
Donald F. W. Nickel
Peter N. O'Flynn
Dr. Margaret Ogilvie
M. Dianne O'Neill
Orville F Osborne
Ian Pearson
Landon Pearson
Kathy C. Penney
Jennifer I. Pepall
Barbara Perrone
Miriam Petrovich
M. Philip Poole
Elizabeth J. Price
Catherine M. Purdon
Roger C. Purkis
D. Anthony Raymond
Walter Raymond
John A. & Janet E. Read
Flavia C. Redelmeier
Janice E. Reynolds
Patricia D. Roberts
Peter C. Roe
Cynthia Rogers
Shanna C. Rosen
Patrick L. Ross
Jonathan Royce
Sirpa K. Ruotsalainen
Alexandra Rutherford
Robert P. Saunders*
Cornelia M. Schuh
Pamela M. Scott
Susan A. Scott
Bob & Ann Shaw
Joan C. Shaw
Warren Shih
Malcolm & Marg Shiner
Barbara R. Sibbald
Laurie Simon (Sims)
Susan E. B. Simonsen
W. David Sinclair
David A. Smith
M. Anne Smith
Cynthia M. Smith-McLeod
Randy Smye & Jenny le Riche
Katherine M. L. Spencer-Ross
Marc H. J. J. Stevens
Robert D. Stupart
Rosemary J. Tanner
Rod Taylor
Steve Tenai & Jane Greaves
Frank & Elaine Thompson
Mary E. Thompson
Leslie Thomson & Peter Blayney
Craig Thorburn &
—Cynthia Caron Thorburn
Diane Thornton
Lee Anne Tibbles
Jennifer S. Trent
Norman F. Trowell
M. Ansley Tucker
Carol F. Verity
Kathryn C. Vogel
Peter R. Walker
Charles Wall
Neil K. Warma
M. Elizabeth Waterston
Robert N. Weekes
R. Ross Wells
Jennifer Welsh
Donald & Gloria Wiebe
G. Ronald Williams
Brian E. Woodrow
Roger A. Young
Irving Zeitlin
Canadian Memorial Services
Chubb Insurance Company
—of Canada

---
⦿ 

$100-$249 

⦿

Anonymous (18)
Georgina A. Adderley
Margaret E. Allan
Byron J. Alldred
Donald Anderson
Stephen Anderson
Lynda M. Annis
Hugh & Elizabeth
–Anson-Cartwright
Geraldine C. Anthony
Mark Armstrong
Julian Armstrong
—O'Brien
Jeanette M. Arthurs
Linda M. Attoe
Jeffrey & Debra Baker
Heather M. Ballon
Ronald L. Barnes
Lynda M. Barnett
George W. Beal
Carolyn (Kostandoff) Berthelet
Robert G. Bettson
George A. Biggar
Urs Beat Bill
Kim Bilous
Terry A. Bisset
Deborah Black
J. Richard Blackburn &
—Barbara
—Collier-Blackburn
Jane Blackstone
Leslie A. Boehm
Isobel Bolitho
Stephen B. Bone
Donelda Booth
Cynthia Bowden
Susan M. Bowerman
Anne E. Bowlby
Pamela Brook
Ian & Wendy Brown
Philip M. Brown
Sandy Brown
Rick R. Byun
Elizabeth A. Campbell
James P. Campbell
Laura L. Campbell
Edmund A. Cape
Sally J. Casey
Aurora O. Chan
Bruce R. Chapman
John & Vera Chau
Ann Chudleigh
R. Grant Churcher
Caryl Clark
Judith E. Clarke
G. Austin E. Clarkson
Lorraine M. Clarkson
Tony V. Coletta
Judith T. Connor
Linda & Brian Corman
Susan V. Corrigan
John P. M. Court
Richard M. Crabbe
K. H. Michael Creal
Burn Creeggan
Philip & Phyllis J.
—Creighton
M. Jane Croteau
James Cruise
Vasile Curelea
Ann Dalzell
Eric David
Derek A. Davidson
Alessandra Dillenburg
—Scur
J. Y. Donawa
Veronica Dowd
Margaret Dudley
Susan A. Eapen
Sheila M. Edgar
Joshua Elcombe
David Ellis
Richard Farr
Maria Flannery
Sharon & Michael
—Fleming
John M. Fletcher
David Flint
Martha L. Foote
Ruth Foster
Hugh & Emilia Franks
Virginia Froman &
—Michael Wenban
Brian Richard Galligan
James George
Marc Giampietri
John B. Gillespie
Kathleen R. Girvin
Peter J. Gizewski
Gordon G. Goldthorpe
Jean Yundt Gomez
Thomas M. Greene
Mary Elizabeth (T-Bu) Grieve Wry
Tim Griffin
V. E. Marilyn Grimshaw
H. Donald Guthrie*
J. Andrew Guy
Peter & Helena Hallett
Richard E. Hamilton
Roderick M. Haney
Stephen J. Hanns
Bruce Thomas
—Harpham
Jane Harrigan
Michael Heeney &
—Hilary Meredith

Thomas G. Heintzman
Winnifred A. Herington
Michael K. Hicks
Luke Higgins
John M. & Jill Hill
Marty Hilliard
Marion Holley
Mary J. Holmen
Karen Holmes
Daniel A. Horn
William James Hosken
Cynthia Hubbertz
Shirley K. Hulbert
Brian Hull
Donald P.* &
—Nancy Hunt
Mark Hunter
Fred A. M. Huycke
Elizabeth L. Hyde
Charles Ingles
Diana E. Inselberg
Judith A. E. Jackson
David R. Johnson
Robert D. Johnston
Carole (Fox) Judd
Gerret Kavanagh
Patricia B. Keating
Terence & Dorothy
—Keenleyside
Hugh Ker
Primrose Ketchum
Patricia J. Killaly
Michael Kim
Carol King
G. Frederick Kingston
Pauline B. Kingston
Bruce J. Kirby
Susan McFadyen
—Knight
Jill Ayre Lacey
Patricia I. Laidlaw
Eleanor A. Langdon
Astrid V. Lange
Eleanor Katrin Latta
Anthony Lea
James W. Leatch
Elizabeth M. Legge
Susan J. Leslie
Bernadine Lily Leung
Beverley Lewis*
David R Lindop
Jane C. Lindsey
Kiran Little
Ernest Loukidelis
John Lu
Alice M. Lundon
Edward Lynde
Donald L. Macdonald
Ross MacDonald
Timothy I. Macdonald
Wendy MacKenzie
—Haller
Donald B. MacLeod
Charles MacNab
James C. Mainprize
Gordon R. Maitland
Francesca E. Mallin
Bruce Mansbridge
Gillian Marwick
Tam Matthews
Douglas McCalla
Richard McConnell
James Petrie McIntosh
Lance E. McIntosh
Seana B. McKenna
W. Darcy McKeough
Michael & Jeryn
—McKeown
Rosemary McLeese
T. Ian McLeod
Susan McMurtry
Anne McPherson
Andrew McRae
Karen Melville
J D. Merrett
Kate Merriman
Sylvia Middlebro
Alan R. Mills
James Ralph Mills
Arthur E. Millward
Sylvia Milne
James B. Milner
B. Jean Mitchell
Marili Moore
Charles Morgan &
—Valerie Pronovost
Susan Moziar
Bennett Mui
David Mulholland
Margaret Murphy
Christopher Ross
—Nazar
Sarah Neilson
Kenneth Neumann
Mary E. Nickel
Geoffrey C. Niles
Pamela Noxon
John S. O'Brian
Constance A. O'Brien
Jane Olvet
Desmond M. O'Rorke
Vals Osborne
Thomas Gerald
—O'Shaughnessy

Amy C. Parker
Tara Parker
Mary E. Partridge
Mary Ann Pathy
James A. Patrick
Louis Pauly &
—Caryl Clark
Hugh Peacock
Katharine A. Pearson
Ann Pigott
Henri Pilon
Kathleen E. Pope
Michina Pope
Donald M. Powell
Phyllis (Anderson)
—Pringle
Virginia Priscus
Barbara Ramsay
John D. Rathbone
Justin Rawlinson
Elizabeth A. Read
Maile Reeves
Dylan Reid
Lois Reimer
Peter & Michelle
—Rhodes
Margaret S. Ripley
Gillian Roberts
Gordon R. Roberts
Harold F. Roberts
Gregor M. Robinson
Ann Romeril
H. David Ross
James D. L. Ross
Walter G. & Joanne
—Ross
Joan Rowe-Sleeman
Wendy B. Roy
Kathryn S. Sainty
Ludvig Satel
Juliana M. Saxton
Suzanne M. Schaan
Catharina Scheich
Lawrence L. Schembri
Clayton C. Scott
Larry W. Scott
Michael Scott
John M. Simons
Marcia J. Sinclair
Janet R. Skelton
Kathleen E. Skerrett
Ann M. Smith
Nicola Smith
Chris Snyder
R. E. C. Southgate
Joyce Sowby
E. Jane Speakman
Charles R. C. Spencer
Luke Stark
A. Bruce Stavert
James & Heather Steele
Elizabeth Steele-
—Neilson
Timothy Stephenson &
—Katherine Mansfield
C. Anne Stevens
J. Keith Stokes
Martin Strban
John O. Stubbs
Jeanne-Mey Sun
George Sutherland
M. Elisabeth Symons
Margaret Szucs
Marion Thompson
Cheryl Elaine
—Kristolaitis Toth
Mary Vipond
Robin Vogt
Mary Williams Vohryzek
Nicholas Voudouris
Bill Vasil Vrantsidis
Dennis & Janet Waddington
Pamela M. Watts
Katherine Gray Weary
Molly Weaver
Desmond B. Webber
M. Catherine Welch
Gary Westwood
Jean V. Wheeler
C. Ashley & Daphne
—Whicher
Hazel A. White
Jill C. Willard
Carrol Willer
H. Donald Williams
Maureen Willis
Valerie A. Willis
The Rev Dr. Ian S.
—Wishart
Margaret A. Wismath
Ian Wissler
Matthew H. Wong
Tak F. Wong
James W. Wood
Nancy J. Woods
Barbara Goodwin
—Zeibots
Michael Zeitlin
Lela S. Zych
Cloud Nine
—Discovery LLC
Nick & Lynn Ross
—Charitable Foundation

---
⦿ 

$1-$99 

⦿

Anonymous (16)
Paul & Anne Adams
Terrance J. Alderson
Jessica Allen
Robert P. Armstrong
Aliraza S. Asrani
Mary Balfour
Jill N. Barker
Jeannie & Peter Bartha
Patricia Bays
Stacy N. Beckwith
Jennifer Popper Bell
Corinne Benson
Eileen J. Best
Carolynn Bett
Joanna M.
—Beyersbergen
Ljubica Bibulovic
C. Ann Bird
Pamela E. Bonnycastle
Michael & Patricia M.
—Bronskill
Amanda Margaret
—Brown
Donald C. Brown
Mary (Reade) Bryson
Philippa R. Campsie
Ann Elizabeth E.
—Carson
Elizabeth Champlin
French Chang-Him
John & Vera Chau
Robert & Sharon
—Cherniak
Matthew St. John K.
—Christian
Gary N. Christie
Kristen Collins-Aiello
Mary E. Cook
Margaret E. Couch
John Earl Course
Elizabeth R. Cowling
Robert G. Cross
Thomas E. Dale
Sally E. Darling
Margaret Davidson
Cynthia Lynn
—Deachman
Dennis J. Derry
C. Eleanor DeWolf
John M. Dirks
Jane Dixon
Kit Doan
Chris Dobson
Susan Duff
Diane Jane Eaton
Mary Christine Emans
Carol J. Ennis
Uni E. Esso
Kevin Flynn
Ian & Nancy Forsyth
Diane Fryer
Wendy B. Fulton
Kenneth K. L. Fung
Mary-Catherine E.
—Garden
Roger Gilbey
Claire Glossop
Dinah Gough
Michael R. Gray
Joan Greatrex
Patricia R. Green
H. Patricia Guy
J. Gordon Haggert

Katherine E. Hales
David Halton
Douglas S. Hamilton
Sharon Ann Hanns
Mary L. Harris
Katharine Alexandra
—Harrison
Jonathan L. Hart
J. A. Harwood-Jones
Ron & Marg Hembruff
Emily Hisey-Bowden
Christopher Peter
—Hogendoorn
William A. Houston
Jo-Anne Hunt
Susan & Lindsay Hunt
Ann James
Michael R. Jenkin
Mary L. Jessup
Elisabeth A. Jocz
Keith R. Joyce
Angela Kan
Judith A. Keeler
Mary Kennard
Lawrence & Barbara
—Kerslake
Neela P. Khatri
Matthew E. Kieswetter
Sylvia Kilty
Veronica Melanie
—Kitchen
Matthew A. Koovisk
Daniel R. Lamont
Elizabeth D. Lancaster
Bradley H. Langford
John Laughlin
Carole Ann Leith
Danny Leung
Kwong Hon Leung
John Lundon
Kathryn Anne Lye
Robert & Lyse
—Macaulay
Laura P. A.
—MacFadden
Heather A. MacKay
E. Anne MacKinnon
Peter B. MacKinnon
Voula Marinos
Michael D. Marshall
Barbara J. Massey
Judith L. McCallum
Phyllis J. McCurdy
Leslie A. McGrath
Dale F. McInnes Keel
Gabrielle Mcintire
Ross McKean
Ken & Mary McKee
Beth McLean
Esther & John McNeil
Robert K. Metcalf
J. Kenneth C. Mews
Nancy A. Miller
Robert D. Miller
David S. Milne
Robert J. Milne
William T. Mitchell
Peter B. Moore
Laura Moretti
Robert W. Morse
Ann Morton
Maureen E. Murphy

Maria Nightingale
James A. O'Brian
Julia Paris
Lisa Parker
Timothy W. Parker
Norman Perrin
David L. Perry
Tim W. Plumptre
Dean K. Purdy
Robert J. Pyne
Judith Ransom
Catherine A.
—Richardson
Michael J. Robson
Sheila Rogers
Brenda C. Rolfe
John Roney
Spencer P. Rupke
Alison J. Sanders
Karen A. Scherl
Celia Schmidt
Rachel Shaw-Ng
Michael J. Sidnell
Catherine Siemens
Ivor & Renee Simmons
Steven B. Slavens
Catherine L. Spark
Dag Spicer
Lina Srebot
Elizabeth S. Staveley
Lesley M. Stevens
Francis & Barbara
—Sutton
Phillip S. Swift
John N. Symons
Leonidas
—Tampacopoulos
Lynda Tanaka
Ramata Tarawally
David Taylor
Scott Thurlow & Carrie Gorringe
Erinn V. Todd
Alan Toff
Randy W. Toy
Sheila Vaillancourt
J. Jeremy Van-Lane
Alla Velikevitch
Elizabeth Vernon
Astrid B. von
—dem Hagen
Maxine Wardle
Hubert L. Washington
Mary-Ethel
—Weatherseed
James & Verna Webb
Todd Webb
Marianne L. Whitten
Ronald H. Wickens
Jeremy Willard
Stephen & Rachel
—Williams
Thomas & Elizabeth
—Wilson
Edwin Wong
Deborah A. Woodman
Challenger Motor
—Freight
Microsoft Corporation
PayPal Giving Fund
—Canada
Shopbrain

---
⦿ 

Salterrae Society 

⦿
The following list recognizes donors who have made lifetime cumulative gifts of $100,000 and above.

Anonymous (3)
Ann & Duncan Abraham
Wendy Adams
Mohammad Al Zaibak
Derek Allen
James C. Baillie
Marilyn & Charles Baillie
James Balsillie
John C. Bonnycastle
George & Martha Butterfield
John & Margaret Catto
Michael A. Church
Adrienne Clarkson
Donald W. Cockburn
Margaret E. Cockshutt
Graham B. R. Collis
William J. Corcoran
Miranda Davies
Pamela Osler Delworth
Peter & Jane Dobell
Barbara C. Eastman
George A. Fierheller
Margaret* & Jim Fleck
J. E. Fordyce
Norman Fraser
John & Mary Goodwin
William & Catherine Graham
Douglas & Ruth Grant
Mary B. & Graham Hallward
William B. & Patricia Harris
Josephine Heath
Ernest Howard
Robert Hutchison &
—Carolyn Kearns
William B. G. Humphries
Frederic L. R. (Eric) Jackman
John B. Lawson
John D. (Jack) Leitch
George & Leanne Lewis
Victoria Matthews
R. Peter & Virginia McLaughlin
David & Mary (Bosworth)
—Neelands
Hilary V. Nicholls
Hilary Pearson & Michael Sabia
Thomas Rahilly & Jean Fraser
Judith Ransom
Flavia C. Redelmeier

Loretta Rogers
Donald M. Ross
Gary William Ross
Michael & Sheila Royce
William & Meredith Saunderson
Arthur & Susan Scace
Wes Scott
Victor M. Seabrook
Jessica Shelley
Patricia J. S. (Hand) Simpson
Stephen & Jane Smith
Colleen Stanley
Anne E. H. Steacy
Nevil Thomas
Martha J. Tory
Nicola Tory
David & Diana Trent
Guy & Sandra Upjohn
Bill & Sarah VanderBurgh
Deborah Vernon
William Waters
Jack Whiteside
Colin C. Williams
Michael H. Wilson*
P. M. Wilson
John & Anne Witt
Jessie Ball duPont Fund
J.P. Bickell Foundation
Cosma International Group
—of Magna International Inc.
Friends of the
Trinity College Library
The William & Nona
—Heaslip Foundation
The Hope Charitable Foundation
The Henry White
—Kinnear Foundation
The Kresge Foundation
McLaughlin Scholarship
—Trust Fund
St. Philip the Apostle Church
The Samuel W.
—Stedman Foundation
Students of Trinity College
The Whiteside Foundation

---
⦿ 

Gerald Larkin Society 

⦿
The following list recognizes our thoughtful alumni and friends who have remembered Trinity College in their estate plans.

Anonymous (53)
Margaret Agar
Edward & Jocelyn Badovinac
Alyson Barnett-Cowan
George W. Beal
W. Donald Bean
James Bell
Maia Bhojwani
Norah Bolton
Cindy Bowden
Cynthia Bracewell
William Bradley
Pamela Brook
Carolyn & Robert Buchan
Shirley A. Byrne
Marion D. Cameron
Patricia F. Campbell
Ann Chudleigh
Philip H. Clendenning
Donald W. Cockburn
Penny J. Cole
Lionel T. Colman
Maurice R. Cooke*
Patricia R. Cordingley*
Martin Cosgrave
Janice L. Davidson
W. Thomas Delworth* &
—Pamela Osler Delworth
Sheilagh Dubois
Mary Jane Edwards
Christopher English
Mary E. Finlay
Kevin Flynn
Drew A. Foley
Marian Fowler
Norman Fraser
Heather V. Gibson
Kevin Goldthorp
Eleanor Gooday
John & Mary Goodwin
Terry & Ruth Grier
Alice L. Haigh
Michael Hare
Robert W. Hoke
Ruth E. Hood*
Ernest Howard
Susan E. M. Huggard
Deone J. Jackman*
W. Bruce Jardine
Elizabeth Kilbourn-Mackie
John King
Brad Langford
Margaret S. Large-Cardoso
John B. Lawson
Kirk A. Lee
Jill L. Levenson
Leanne & George Lewis
Patrick & Vicki* Little
Bruce Duff Lister
George A. Mackie
Margaret O. MacMillan
Marion E. Magee
Helen McFadden
Ivan & Harriet* McFarlane
Ross McKean
David J. & Patricia McKnight
R. Peter & Virginia McLaughlin

Jane M. H. McMyn
Janice White Melendez
Karen Melville
Alexander O. Miller
Virginia Miller
Alan & Flo Morson
Hilary V. Nicholls
Joan E. Northey
J. Geoffrey Nugent
Robert & Dorothea Painter
Peter R. Paterson
Winsor & Ruth Ann Pepall
Charles Pick & Rardi van Heest
Jim & Marion Pierce
Terry Pratt
Carolyn Purden Anthony
Judith Ransom
Flavia C. Redelmeier
Patricia D. Roberts
Alwyn G. Robertson
John M. Robertson
Michaele Robertson
Peter C. Roe
Gary William Ross
Michael & Sheila Royce
Nancy Salter
Roger M. Savory
Karen A. Scherl
Wes Scott
J. Blair Seaborn
Jessica Shelley
Sonja Sinclair
Diane J. Smith
Jane Speakman
Christopher Spencer
Paul Grant Stanwood
Astrid M. Stec
Rick Steinberg*
Marc H. J. J. Stevens
Janet E. Stewart
Peter A. Stollery
Margaret Swayze
Burton* & Judith Tait
James D. Tomlinson
Ann E. Tottenham
M. Ansley Tucker
Robert G. Tucker
E. Patricia Vicari
Margaret & Barrie Vickers
Caritas Fund
Robert Vineberg
Andrew M. Watson
C. Wendy Weaver
Elizabeth A. Wells
William Westfall
Jack Whiteside
John D. Whittall
Jill Willard
Stephen & Rachel Williams
Mary F. Williamson
Robert E. Wilson
Helen M. Woolley*
Robert Worthy*
Gerald Wright
Heidi Zetzsche


---
⦿ 

Legacy Gifts 

⦿
The following list recognizes bequests to Trinity College.
Estate of Geoffrey Adams
Estate of Janet D. Archibald
Estate of Alice M. Buscombe
Estate of Corinne S. Deverell
Estate of John H. Ferris
Estate of Jane D. Godbehere
Estate of Elizabeth J. Ketchum
Estate of Edward A. Lowry
Estate of Raymond Pryke
Estate of Alan C. Ryley
Estate of David M. Thomson
Estate of Jane Welch
---
⦿ 

Tribute Gifts 

⦿
Generous donations have been made to recognize the following individuals.
---
⦿ 

In Memoriam 

⦿
John A. Anthony
Carey Davis
Alejandro Duque
W. G. Dutton
Lewis A. Edgeworth
Henry G. Hill
Natalie S. Hosford-Rahn
Janice G. Latcham
Gerald P. Loweth
Ann M. MacKay
Harriet McFarlane
Stephen A. Otto
Michael H. Wilson
---
⦿ 

In Honour 

⦿
Patricia Bronskill
George Butterfield
William C. Graham
George E. Hart
Jennifer Hood
David A. Smith
Anne E. H. Steacy
---
Our donors and friends are very important to us.
Every effort is made to ensure the accuracy of this report. If, however, we have made any errors or have omitted a name, please accept our sincere apologies. For corrections, please contact Jill Rooksby, Editor, Trinity magazine  at 416-978-2651 or jill.rooksby@utoronto.ca.
|
⦿