If there's one thing I've learned over the past 18 months, it's that Trinity has a unique—and strong—identity. That fact was reinforced for me over and over again through the consultations that helped to inform our new strategic plan.
I am very proud of our plan. It was truly a community effort, drawing on input from students and alumni, faculty and fellows, staff and other stakeholders. I view its launch in February as the beginning, not the end, of a process of engaging members of Trinity communities and inspiring them to think of ways they can play a role in the College's future.
The three pillars of our strategy moving forward are People, Program, and Place. Trinity's many strengths—and our opportunities for the future—lie in the power of these three pillars. As I mentioned in the strategic plan, we are first and foremost a community. The students who choose Trinity are incredibly talented, and they are looking for a place to grow and belong. We have an opportunity—and a responsibility—to provide an environment in which they can flourish.
That is why I'm so excited about our many initiatives happening to support health and wellness—one of our strategic priorities to strengthen student services at Trinity. Since we announced the launch of the Mental Health Program and the Anne Steacy Counselling Initiative with the generous support of Trinity alumna Dr. Anne Steacy '76 and Michael '68 and Sheila Royce '68, I have received many phone calls and emails from members of the Trinity community. I have been touched by the honesty of some of these exchanges, as I learned first-hand from some of our alumni that these student supports are not only welcomed, but are long overdue. I look forward to further opportunities for conversation with you at Spring Reunion this May.
I'm also heartened to see an increase in student participation in groups like the Trinity College Mental Health Initiative (TCMHI), founded in 2015. At a recent TCHMI event there was terrific dialogue among the more than 50 attendees, including a recognition that our collective efforts are not only about improving our ability to respond to students in crisis; they are also about creating conditions where crisis doesn't happen in the first place. That is the type of support that members of a community should be able to expect, and I believe we are in the process of making our Trinity community stronger than ever.
You'll read a lot about some of the members of that community in this issue of Trinity magazine, from the students leading our amazing Student Refugee Program to long-serving team members like Herma Joel and Geoff Seaborn. Both of these outstanding Trinity staff exemplify the strength of our "People" pillar. Their spirit and dedication to the College have made a difference in many lives, and we are grateful for their many contributions.
Until next time,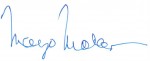 Mayo Moran, Provost
P.S. After you've read the feature on our new initiatives in this issue, I encourage you to read our new Health and Wellness Commitments on our website at uoft.me/TChealth.