If you have published a book within the past six months or have one coming out in the near future, please e-mail the editor a high-resolution JPEG of the cover, along with a 50-word-or-less description of the book and its publication date. magazine@ trinity.utoronto.ca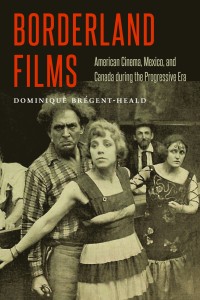 DOMINIQUE BRÉGENT-HEALD '95 Borderland Films examines the intersection of North American borderlands and culture as portrayed through early 20th-century cinema. Drawing on hundreds of films, it investigates the significance of national borders; the ever-changing concepts of race, gender, and enforced boundaries; the racialized ideas of criminality that painted the borderlands as unsafe and in need of control; and the wars that showed how international conflict influenced the United States' relations with its immediate neighbours. (University of Nebraska Press).
GRAHAM, WILLIAM C. '61 The Call of the World takes us on an unprecedented, behind-thescenes tour of defining moments in recent global history. Trinity College Chancellor Bill Graham— Canada's minister of foreign affairs and then its minister of defence in the tumultuous years following 9/11—is an insightful and wryly humorous guide, steering readers through an astonishing array of national and international events, explaining important geopolitical relationships, and revealing the human side of global affairs through his deft portraits of world leaders. Graham demystifies globalization, free trade, human rights, peacekeeping, and multilateralism. All the while, he offers a bold appraisal of Canada's current role on the global stage and makes a case for why international law offers the best hope for a safer, more prosperous, and just world. (On Point Press).
TERRY KEENLEYSIDE '62 In a Spin is an entertaining and distinctively Canadian novel about a school teacher and hockey coach whose wife suspects he is having an affair, but then discovers that his behaviour is actually more complicated. Intertwined with this story is a sub-plot about a university professor facing dismissal for bizarre classroom behaviour and sexual misconduct. (Borealis Press).
ROSALIND KERR (PAT GEORGE) '64 The Rise of the Diva on the Sixteenth Century Commedia dell'Arte Stage explores the emergence of professional actresses in Italy from the 1560s onwards, tracing their development from sideshow attractions to revered divas, and describing how they used their talents and sex appeal to revolutionize the early modern European stage. Archival material, iconographic evidence, texts and scripts are used to demonstrate how these early actresses improvised the popular roles of maidservant, prima donna and transvestite heroine. Special attention is paid to Isabella Andreini as the first great international diva. (University of Toronto Press).
ROLAND KUHN '81 Ex-PM Stebbin Harpoon becomes Lord Protector of Alberta and invades Saskatchewan. Mayor Rob Ford establishes a brutal Caliphate in Toronto. Set in a parallel Canada torn apart by civil war, Apocalypse North is "a wild ride, wickedly and endlessly inventive … the bastard lovechild of Stephen Leacock and Margaret Atwood."
GABRIELLE MCINTIRE '94 The Cambridge Companion to The Waste Land offers 13 fresh, critical essays, from a range of perspectives, on T.S. Eliot's monumental poem of 1922. The collection will shed new light on a work of literature that dramatically shattered old patterns of form and style and is often considered to be the most important poem written in English in the 20th century. (Cambridge University Press).
IAN PATERSON '76 In Searching for Godot: a semi-fiction Who is Godot? the author sees Samuel Beckett walking in Paris. He follows Beckett's footsteps hoping to find a meaning to the play. After many years the author stumbles upon something that leads him to Godot. With illustrations.
JONATHAN ULLYOT '03 The Medieval Presence in Modernist Literature rethinks the influence that early medieval studies and Grail narratives had on modernist literature. Through examining several canonical works, from Henry James' The Golden Bowl to Samuel Beckett's Molloy, Ullyot argues that these texts serve as a continuation of the Grail legend inspired by medieval scholarship of the late 19th and early 20th centuries. Rather than adapt the story of the Grail, modernist writers intentionally failed to make the Grail myth cohere, thus critiquing the way a literary work establishes its authority by alluding to previous traditions. (Cambridge University Press).