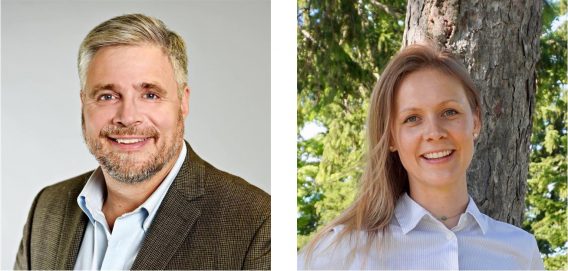 In October, Trinity announced the appointments of Dr. Stephen Bede Scharper, Associate Professor at the School of the Environment at the University of Toronto and the Department of Anthropology at University of Toronto at Mississauga, and Nicole Spiegelaar, Assistant Professor with Trinity College and the School of the Environment as the inaugural leaders of the Integrated Sustainability Initiative. We caught up with the pair to learn more about them and their new roles.
1. Congratulations on your appointments! These are new roles with a broad-sounding goal—'To integrate the principles of sustainability into daily life at the College'—is that exciting or daunting?
Stephen: Both! It is deeply exciting to help make sustainability a fuller part of the fabric of the College, and continue the vibrant and pioneering initiatives Trinity has already made in advancing sustainability on campus. It is daunting to do this, however, in a time of an unprecedented pandemic and climate emergency; both these crises, however, powerfully underscore the need to rethink our societal "business-as-usual" model.
Nicole: I agree! It is so exciting to be part of a movement with such a meaningful and far-reaching impact, and I feel a sense of ease working with a community that already has a demonstrated commitment. Yet this goal is daunting in that it attempts to bring cohesion to a globally pervasive problem defined by patterns of fragmented relationships and siloed approaches. We constantly have to evaluate where these patterns are occurring around us and within us, but we too are committed to this challenge.
2. Trinity's Integrated Sustainability Initiative and our new building, the Lawson Centre for Sustainability, which will open in 2024, have been described as transforming the College into a 'living lab.' What exactly does that mean?
Stephen: This is an exciting pedagogical model that Trinity Fellow and alum Prof. John Robinson spearheaded at UBC and has now successfully implemented at U of T. It involves small groups of students working on pragmatic projects across U of T campuses and with community partners (government, business, NGOs) to address a proposed and identified need.
Nicole: This experiential learning provides students with a hands-on opportunity to collaboratively problem-solve real sustainability challenges, and simultaneously improves the integrity of our campus and communities. The rooftop garden on the Munk School is one tangible example of this, emanating from Trinity students in Prof. Robinson's course.
3. Are there other institutions you look to for inspiration in charting this course for the College, or is this unchartered territory?
Stephen: Institutional sustainability is now a rapidly growing interest around the globe, so we have many exemplars and associates for continued innovation. We will indeed be looking to learn from their successful (and less-than-successful) efforts. And we will be in dialogue with a wide array of groups, institutions, and initiatives that have tried to embrace and embody a holistic, regenerative, and flourishing notion of sustainability.
4. What do you believe will be the most significant impact(s) of the Integrated Sustainability Initiative on Trinity's students? On the broader Trinity community?
Stephen: I think it might yield a sense of pragmatic hope. I have found over the years that students can become overwhelmed by the magnitude of our ecological crisis, for example, but when they work with groups who are aware of the issues but are steadily and practically making a difference, it can lead to a sense of purpose—and directed hope.
Nicole: There are so many! Notably, I am hearing from current students and alumni a sense of authentic pride in their institutional identity—I feel the same. I'm also hearing that they appreciate the opportunity to "build such strong networks and communities with the land and each other."
5. What roles can alumni play in supporting sustainability at Trinity?
Nicole: The landmark gift of Brian Lawson '82 and Joannah Lawson is a remarkable example of how alumni can help contour and animate Trinity's sustainability pathway. The Lawsons' passion for these issues is palpable in conversation with them, and apparent in their interests and involvements. They demonstrate how to channel this into extraordinarily transformative actions.
Stephen: In addition, Trinity alumni working in the areas of environmental law, social justice, international climate policy, community-based agriculture, Indigenous justice initiatives, corporate sustainability, the list goes on, all can contribute through their advice, mentoring of students, invited presentations to the College, and their positive modeling of lives that strive to enhance the human and more-than-human commonweal.
6. Bonus question: Has anything changed in your personal life in the past year or two that has led you to live in a more sustainable way?
Stephen: Well, I live at Trinity with my wife, Hilary Cunningham Scharper (Trinity Fellow and Professor of Anthropology at U of T). We had given up our car a number of years ago, and, since living at the College, have done a lot more walking than ever before!
Nicole: I've had major personal life changes this past year as I was diagnosed with cancer and have since recovered. It forced me to immediately prioritize my understanding of the carcinogenic forces I can have control over and reduce my toxic exposure. As a result, it reduced my negative environmental impact; for example, a strict diet of organic, whole foods. An unfortunate blessing, these fragile moments can certainly bring a felt sense of our environment-human health connection and a sense of urgency to make change.