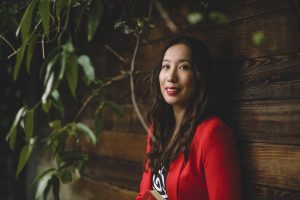 Christine "Xine" Yao
By Jennifer Matthews
It's been just 13 years since she graduated from Trinity, but Christine "Xine" Yao '07 has accomplished a lot during that time. After earning her Honours BA in English with High Distinction, she went on to complete Masters degrees at Dalhousie University and Cornell University, where she also earned her PhD in English. Her research then brought her home to Canada, where she was awarded a postdoctoral fellowship at the University of British Columbia, funded by the Social Sciences and Humanities Research Council.
In 2018, Yao joined the Department of English at University College London as a lecturer. And while she instructs on 18th-century American literature, she also researches topics such as race science, feminist fashion, queer tarot, and anti-racist practices. Her forthcoming book, Disaffected: The Cultural Politics of Unfeeling in Nineteenth-Century America, looks at relations between Black, Indigenous, and Asian peoples and takes a contrarian stance by validating unfeeling as a subversive way to question the way we judge literature by marginalized people and whether or not "sympathy" is useful.
She's a PhDiva
"I'm interested in diverse perspectives," says Yao. Diverse, indeed: In 2015, Yao co-founded and co-hosts PhDivas, a podcast about academia, culture, and social justice across the STEM (Science, Technology, Engineering and Math)/humanities divide. The podcast was born of the many spirited discussions she and co-host Dr. Liz Wayne, a cancer researcher, had while they were both studying at Cornell. In the wide-ranging series, the women offer advice for graduate students (imposter syndrome, anyone?), interview accomplished women from a wide range of fields, explore activism and critique in academia, and share their thoughts on pop culture.
Trinity ties
Yao notes that her time at Trinity, especially living in residence at St. Hilda's, sparked her appreciation for the kind of discourse that comes from being part of a diverse community. Born and raised in Toronto, Yao was attracted to Trinity for its smaller size (both her parents are grads of other U of T Colleges) and elite academics. She met several people at St. Hilda's who remain close friends to this day.
"I wasn't really into drinking and partying, and I found there were quite a few others who felt like me," she says. During her years at the College, she was a peer counsellor in English, worked as a page at the John W. Graham Library ("Trinity has the BEST library on campus," she enthuses), and ran the English Literary Society with friends.
Her time on campus impressed upon Yao the value of an interdisciplinary community with students from all years. "In addition to the strong friendships I formed, my Academic Dons were so valuable to me—personally, emotionally and intellectually," she says. "Because of that experience, I chose to live in residence communities while completing my degrees after Trinity," she says. Yao was also a Graduate Resident Fellow (similar to Trinity's Academic Don role) at Cornell for four years while working on her PhD, and it was during this time that she and Wayne created the PhDivas podcast. "In many ways, the podcast was modelled on that interdisciplinary connection I first experienced at Trinity," says Yao.
New Generation Thinker
In March, Yao was named one of the 2020 "New Generation Thinkers" by BBC Radio 3 and the Arts and Humanities Research Council (AHRC). The goal of the initiative, which celebrated its 10th anniversary this year, is to "bring the best of university research and scholarly ideas to a broad audience through media and public engagement." Among Yao's contributions so far are an audio postcard about science fiction, East Asian stereotypes, and finding a new way forward (Yao enters the conversation around the 33-minute mark), and a recorded essay on rethinking masks in the context of a global pandemic.
At a time when masks—and our willingness or lack thereof to wear them—are an unavoidable part of everyday life, and we are required to physically distance from almost everyone we care about, Yao says that perhaps the best form of intimacy isn't physical intimacy at all. "It's one of the paradoxes of this pandemic," she says. "Physically distancing and covering parts of our faces is actually a reflection of our commitment to our community, our deep respect for another's well-being."
London life
Like the rest of us, Yao is also struggling with coronavirus-related lifestyle restrictions. "When I first moved to London, it was so exciting," she says. "I love theatre and art. One of my favourite things to do was to walk to the West End after work, grab dinner in Chinatown, and buy a last-minute theatre ticket for 20 pounds. Now I'm paying London rent with none of the benefits!"
Yao also misses deadlifting at her local gym. She takes great pride in being able to lift more than her own bodyweight: "Women are often encouraged to focus on cardio and other forms of exercise with the goal of ultimately having less of ourselves. That personal shift to thinking about strength is an important part of my identity."
Finding community
For Yao, the mix of academic research and digital thought leadership is keeping life interesting. "Academic work takes time," she says. "Podcasts are more immediate and can, especially during a time of isolation, make people feel less alone. After we aired an episode about disability activism and access in academia I heard from a listener in another country who said that she sobbed because for the first time in her life she felt 'seen.' It was a powerful reminder to me that we can find community anywhere."