WEDDING CORNER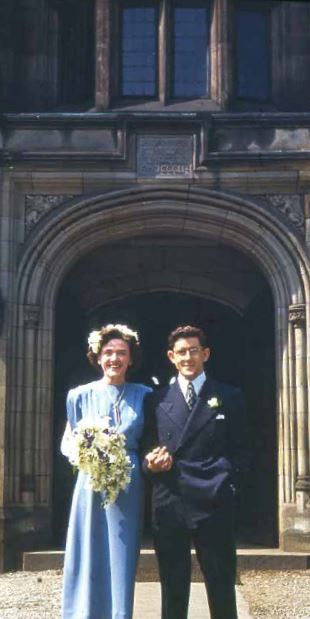 Keith MacMillan and Helen Patricia ("Pat") Dustan were married at Trinity on May 17, 1949, shortly after they both graduated from the College.
Both bride and groom were veterans of the Second World War. Pat served in the Women's Royal Canadian Naval Service (Wrens), and Keith served five years overseas in the Royal Canadian Air Force as a photographer. They met at Trinity following the war.
Although he studied biology at Trinity, Keith's love of music ultimately proved to be a greater force in his life's work, perhaps influenced by the genes of his father, legendary Canadian musician Sir Ernest MacMillan. Keith composed the music for and produced two very popular Trinity musicals while on campus: "What, No Crumpets!" and "Saints Alive!" (original papers from the musicals are available for viewing at the Trinity College Archives thanks for a recent donation by the MacMillan family). He later became an influential figure on the Canadian music scene, while Pat built a legacy as an accomplished athlete and artist, and active volunteer. The couple went on to have four children, and numerous grandchildren and great-grandchildren.
"Trinity meant a great deal to our parents," says son Ian MacMillan. "They met there, were married there, always spoke very fondly of their experiences there, and were paid last respects there—Dad in 1991 and Mum in 2016.
"Thinking of my parents' enthusiasm for their years at Trinity, those must have been wonderful and unique times," continues Ian. "Many of the students, having served in the war, would have brought much worldly experience to their Trinity years, enriching student life. More generally, those years seem to have reflected the extraordinary confidence that must have resonated after the war's end." The family's connections with Trinity have continued.
Son Don was married in the Chapel in 1977 and has performed there with various choral groups.

NEWS
GEORGE FIERHELLER '55 has received the Albert Nelson Marquis Lifetime Achievement Award from Marquis Who's Who. Dr. Fierheller celebrates many years' experience in his professional network, and has been noted for achievements, leadership qualities, and the credentials and successes he has accrued in his field.
ALEXANDER MATTHEWS '67'S play, Screaming Secrets, has been published by Inglewood Press, which is owned by Kathleen (O'Flynn) Metcalfe '65. Screaming Secrets is currently playing in London's West End.
JASMEET SIDHU '10 was featured in a video series produced by Le Château called "The Pursuit," in honour of International Women's Day. Sidhu, along with several other amazing Canadian women, share their stories in the series. View Sidhu's story on YouTube.
DEATHS
BORRETT: KENNETH '00 (DIV), Sept. 17, 2017 in Toronto.
CARRUTHERS: ROGER '67, March 22 in Toronto.
CARTER: JOHN HAY '63, Oct. 9, 2017 in Toronto.
CHAFFE: RICHARD '58, Dec. 5, 2017 in Trenton, Ont. Husband of Joan Chaffe '61 and father of Catharine Chaffe '93.
COBBAN: MARIAN '49, Nov. 28, 2017 in Toronto. Sister of Joyce Santamaura '46, the late James Cobban '51 and the late William Cobban '45, and aunt of Anne Cobban '85.
EATON: ROGER '49, Dec. 29, 2017 in Ottawa. Brother of Elizabeth "T-Bu" Grieve-Wry '58.
ELLIOTT: JEAN (GRIFFIN) '61, Dec. 19, 2017 in Toronto.
FRASER: ROBIN '52, Jan. 2 in Toronto.
FUKE: JOHN MILLMAN '15 (DIV), Nov. 8, 2017 in Collingwood, Ont.
GODBEHERE: JANE DOUGLAS (WALKER) '63, Dec. 15, 2017 in Mississauga, Ont.
GRIFFIN: JAMES CHRISTOPHER BERNARD '62, Dec. 8, 2017 in Toronto. Husband of Elizabeth (Nichols) Griffin '64, father of Tim Griffin '90 and father-in-law of Leticia Gracia '91.
HOPKINS: STEPHEN '94 (DIV), Oct. 20, 2017 in Hamilton, Ont. Husband of Elizabeth Wensley '85 (Div).
KILBOURN: NICHOLAS MORLEY SAWYER, Jan. 30. Son of Elizabeth (Sawyer) Kilbourn-Mackie '48 and the late William Kilbourn '48, and brother of Michael Kilbourn '80, Philippa Kilbourn '73 and Timothy Kilbourn '78.
LANGLOIS: DR. PETER (LARRY), Jan. 7 in Hamilton, Ont. Brother of Sylvia Langlois '58 and brother-in-law of William Robert Langlois '58. Peter was a resident of Trinity College.
LOVATT: GARRY '60, Jan. 21 in Cobourg, Ont.
LYONS: FRANCES BARBARA JEAN '57, Feb. 3 in Sudbury, Ont.
MACKENZIE: MICHAEL '48, Feb. 13.
MACLACHLAN: RICHARD A. '71, Oct. 19, 2017 in Halifax.
MEREDITH: ELIZABETH "BUFFY" (EVANS) '49, Nov. 18, 2017 in Toronto. Wife of the late Edmund Meredith '48, and sister of the late Anne Farncomb '49 and the late Gwendolyn Sutherland '51.
MUIRHEAD: GEORGE '51, Jan. 11 in Kingston, Ont.
PRINGLE: JOAN DUVERNET (MACHELL) '51, Feb. 1 in Toronto. Wife of Geoffrey Pringle '50, mother of Leslie Pringle-Wright '80.
RAGG: THE REV. CANON HAROLD '50, Feb. 25 in Shawnigan Lake, B.C.
SOMERS: WILLIAM '56, Jan. 25 in Toronto.
SCHWENGER: CONSTANCE "CONNIE" (BOLTON) '47, Feb. 21 in Toronto.
STOREY: BARBARA WINNINGTON (MCLENNAN) '36, Jan. 29 in Mississauga, Ont. Mother of Ian Storey '68 and godmother of Stephen B.H. Smith '66.
THOMPSON: AUDREY, Oct. 7, 2017 in Toronto. Mother of Joel Thompson '87.
THOMSON: DAVID '50, Jan. 22 in Toronto. Father of Naomi Hunter '82 and grandfather of Christopher Treadwell '99.
TISDALL: DOUGLAS MICHAEL '58, Sept. 8, 2017 in Hawkesbury, Ont.
TYRWHITT-DRAKE: NANCY ELIZABETH (LANG) '44, Nov. 9, 2017 in North Saanich, B.C.
REVELL: JOHN '56, Dec. 15, 2017 in Antigonish, N.S. Husband of Ann (Morgan) Revell '57 and father of Bridget Revell '87.
RHYNAS: THELMA, Nov. 24, 2017. Former staff member of Trinity College.
RYLEY: ALAN "PAT" '52, Dec. 12, 2017 in Toronto.
WRONG: HENRY '52, Aug. 2, 2017 in Much Hadham, England. Brother of Jocelyn MacDonald '58.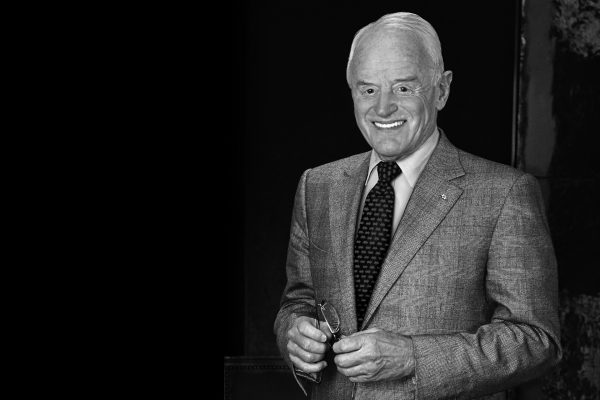 PETER MUNK, legendary Canadian Icon, entrepreneur and philanthropist, helped put Canada on the world stage and left an indelible mark on the University of Toronto.
The Trinity community sends our deepest condolences to the family of Peter Munk, a visionary U of T alumnus and philanthropist who had an impact on the lives of so many people. Peter was a generous and dedicated supporter of Trinity College and we mourn his loss. Peter and Melanie's commitment to support the Margaret MacMillan Trinity One Program and Margaret MacMillan Lecture in International Relations helped transform the College.
They were also instrumental in supporting the creation of the original Munk Centre for International Relations (now Munk School of Global Affairs), which houses Trinity's John W. Graham Library, and the centre's beautiful David Bosanquet Gardens, named for Melanie's father. Peter received an honorary Doctor of Sacred Letters from Trinity in 2004 for his incredible dedication, leadership and contributions to the College. The University of Toronto has shared a wonderful tribute to Peter, which can be read at UofT.me/PeterMunk