CHANCELLOR BILL GRAHAM SUPPORTS NEW PARTNERSHIP IN CONTEMPORARY INTERNATIONAL HISTORY
Supported in part by a generous donation to Trinity College by Chancellor Bill Graham and in partnership with the Department of History in the Faculty of Arts & Science, a new faculty position has been created in Contemporary International History.
The new role represents a unique collaboration—the partnership allows both the College and the History department to strengthen and enhance course offerings and develop capacity in outstanding interdisciplinary programs at both the undergraduate and graduate level.
Appointed to the new joint-tenure-stream Assistant Professor role is Cindy Ewing. Ewing, a Visiting Scholar in the Department of History at the University of Virginia, has also held the prestigious Predoctoral Fellowship at the Clements Center for National Security at the University of Texas at Austin.
"We are thrilled to have Cindy Ewing join the Trinity community," says Trinity Provost Mayo Moran. "Her outstanding scholarly accomplishments and expertise in international history and the fields of legal history, public law, human rights, security studies and international relations will strengthen the breadth of teaching, research and intellectual dialogue at the College and beyond." Along with research and teaching of undergraduate courses in History and International Relations, Ewing will be involved in graduate teaching and supervision in the new Master of Arts in Contemporary International History, pending approval from the University of Toronto and the Government of Ontario. The new professional two-year master's program is a collaborative partnership between Trinity College, The Bill Graham Centre for Contemporary International History, and the Department of History in the Faculty of Arts & Science.
NOT THAT FIRE AND FURY
In 2008, Trinity Fellow Professor and Interim Director of the Munk School of Global Affairs, Randall Hansen, published a book about the Allies' bombing of Germany during the Second World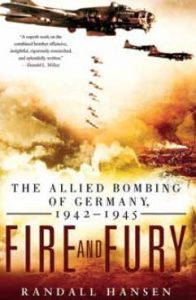 War, entitled Fire and Fury. The book sold well and was even shortlisted for the Governor General's Literary Award.
Fast-forward a decade: U.S. journalist Michael Wolff published a tell-all book, Fire and Fury, about the Trump presidency, in January 2018. The book became an instant bestseller—and suddenly Hansen's book landed on three bestsellers' lists. The mix-up went viral online and attracted attention from media outlets around the world. "Incredibly, sales of my [book] have increased. Will I owe a larger royalty cheque to Bannon & Trump?" tweeted Hansen in the midst of the frenzy. "If so, the irony will know no limits."
TRINITY'S WINNING WAYS
Though we are a small college, Trinity often leads the way in awards and recognition earned by its students, alumni and faculty. This year is no exception.
Congratulations to Trinity's 2018 Gordon Cressy Student Leadership Award recipients, honoured for their outstanding extra-curricular contributions to their college, faculty or school, or to the university as a whole:
Nishani Chankar   –   Amanda Choi   –   Andrea Dimiskovska   –   Hélène Emorine   –   Katrina Fettes   –   Arjun Gandhi   –   Katie Harris   –   Amanda Harvey-Sánchez   –   Sean Sung Jin Ihn   –   Waleed Khan   –   Andreas Kyriakos   –   Magi Jury Leung   –   Rachel Levitt   –   Kevin Liu   –   Leila Martin   –   Sarah Millman   –   Mitchell Mittelstaedt   –   Rebecca Ng   –   Shubhi Sahni   –   Venessa Nevena Sectakof   –   Priyanka Sharma   –   Syndi Li Walton   –   Wendy Wang
And congratulations to Trinity's 2018 U of T Awards of Excellence winners, recognized for their commitment to high achievements and to enhancing the university experience for their peers:
• Trinity Alum Prof. Aisha Ahmad '02: Northrop Frye Award (Faculty)
• Trinity Student Riam Kim-McLeod: John H. Moss Scholarship
• Trinity Student Jonathan Dick: UTAA Scholar and Moss Award Finalist
• Trinity Alum Samantha Chiu-Yang Chang '13: UTAA Graduate Scholar and Sendra Award Finalist
Finally, congratulations to Trinity's three 2018 Green Ribbon Awards winners: Student Sabrina Lau, Fellow and Prof. John Robinson, and Humphrys Chaplain Andrea Budgey.
TRINITY'S CHANCELLOR TO RECEIVE U OF T'S HIGHEST HONOUR AT SPRING CONVOCATION 2018
A distinguished parliamentarian and leader, Trinity alumnus The Hon. William (Bill) C. Graham '61; LLB '64 has dedicated most of his life to public good and the betterment of society. For his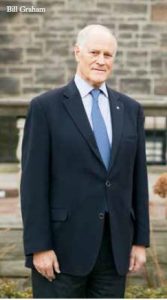 exceptional service, generosity and contributions to U of T, Canada and the world, Chancellor Graham will receive an honorary degree from the University of Toronto at Spring Convocation on June 15.
Along with a distinguished career in law, academia and politics, which spans the globe and more than five decades, Graham's generosity of spirit and leadership, and incredible philanthropic commitment have carved a legacy for generations to come.
Although he was first inspired by politics while an undergraduate student at Trinity College, it was law that occupied the early part of Graham's career. In 1993, he entered the political arena, becoming the Member of Parliament for Toronto Centre-Rosedale.
It was the beginning of a remarkable political career that included serving as Canada's Minister of Foreign Affairs and Minister of Defence, and Chair of the House of Commons Standing Committee on Foreign Affairs and International Trade. In 2006, he was Leader of the Opposition and Interim Leader of the Liberal Party of Canada.
In 2016, he served on the Government of Canada's Ministerial Advisory Panel on Canada's Defence Policy Review, one of four eminent Canadians with expertise in defence, security, foreign affairs and legal matters.
A Diamond Jubilee Medal recipient, Graham is also a Member of the Order of Canada. In 2017 he was named the 2017 Global Citizen Laureate by the United Nations Association in Canada, and awarded the 2017 Vimy Award for his contributions to Canada's security and preservation of its democratic values.
Graham was appointed the 12th Chancellor of Trinity College in 2007. He is currently serving his third term.
CONNECTRIN EVENT ENCOURAGES PERSPECTIVES ON MENTORSHIP
On a chilly evening in March, alumni and students gathered in Strachan Hall to consider the question, "What does mentorship mean to you?" The evening offered new and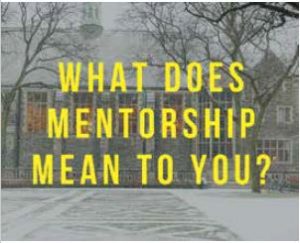 experienced mentors, as well as would-be mentees, a chance to discuss how they would like mentorship at Trinity to look. The event is part of the ConnecTRIN event series, which is designed to provide current students with the opportunity to connect with alumni.
The ConnecTRIN events are sponsored by Manulife, a U of T Affinity Partner, as part of a broader plan to enhance the student experience and alumni engagement— a key goal of Trinity's Strategic Plan. Its success helped propel the 2017 launch of the ConnecTRIN online platform, a website that facilitates networking, mentorship and socializing. The Trinity community has given a virtual thumbs-up to the digital forum, with more than 1,200 members to date and alumni from around the globe joining the exclusive site daily. Haven't checked it out yet? Visit trinitycollegeconnect.ca to learn more.
CONVERSATIONS WITH THE CHANCELLOR WELCOMES KERRY BUCK
Russia, cyber attacks, Syria, Iraq. The role of women in peace and security operations. The Arctic. Afghanistan. Chemical and biological weapons and security. These and other issues were part of the 18th Conversation with the Chancellor, held at the College on March 14 and featuring special guest Kerry Buck, Canada's first female Ambassador and Permanent Representative to the North Atlantic Council (NATO).
The series, hosted by Trinity's Chancellor, Bill Graham, provides an opportunity for in-depth, up-close discussions with some of the world's leading thinkers and politicians. Missed the opportunity to attend in person? Watch the entire conversation online at https://bit.ly/2qFtHcV
MEMBERS OF THE TRINITY COMMUNITY APPOINTED TO THE ORDER OF CANADA
On December 29, 2017, Her Excellency the Rt. Hon. Julie Payette, Governor General of Canada, announced 125 new appointments to the Order of Canada, one of our country's highest civilian honours. Included among the new appointees are four Trinity alumni. Congratulations!
Officer of the Order of Canada
Michael Church '65, O.C.: Michael has been named Officer for his important contributions in geomorphology, which has improved our understanding of rivers and river processes.
Members of the Order of Canada 
Marilyn Baillie '64, C.M.: An award-winning children's author and editor, Marilyn has been recognized as a Member for her contributions to Canadian literature, education and the arts. Baillie is a Trinity College alumna and donor whose fondness for nature and the outdoors is highlighted by the environmental themes in her books.
John Hilborn '48, C.M.: A reactor physicist, John has been named a Member for his innovative contributions as a physicist in the development of Canada's nuclear industry.
Stephen Otto '61, C.M.: A historian and advocate for heritage conservation, Stephen has been appointed a Member for his passionate support for preserving Ontario's historical buildings and architecture. Otto is one of the founders of Friends of Fort York, a non-profit dedicated to maintaining Fort York and the Garrison Common.
ALUMNI-STUDENT BONDS GROW DURING END-OF-YEAR CRUNCH
Do you remember what those few weeks at the end of second term felt like as an undergrad? When applications were due for summer jobs, responses were coming in from grad
schools, and final exams and papers loomed on the horizon?
Knowing what an overwhelming time that can be for students, the Office of the Dean of Students created the Words of Encouragement initiative this spring.
Alumni were invited to share supportive messages, which were then transcribed onto postcards and popped into students' mailboxes.
"The campaign was a huge success and we can't wait to see how it will evolve in the next few years. The alumni response was amazing and our students were overwhelmed by their encouraging words. It's so exciting to see all the ways alumni and students are coming together and building these meaningful connections" says Christine Cerullo, Assistant Dean of Students—Student Life.
"There have already been a few ideas brought forward from participants on how to expand the project, and we're considering lots of possibilities!" And the love didn't just flow one way. Students also got the chance to write notes of thanks to our donors for all they do to support students throughout their time at Trinity.
MICHAEL IGNATIEFF PRESENTS 2018 LARKIN-STUART LECTURE
Michael Ignatieff '69 returned to campus in February to deliver the 2018 Larkin-Stuart Lecture: "Religion and the Problem of Consolation." Throughout his lecture, Dr. Ignatieff explored one of the paradoxes of our apparently secular age—the enduring power of religious monuments and devotional texts. People who think of themselves as secular, Ignatieff explained, can find consolation in religious works of art while disbelieving in the theological premises upon which these works depend. This was Dr. Ignatieff's second time delivering the lecture; his first talk "All Shook Up" was presented in 1988.
Endowed in 1969, the Larkin-Stuart Lectures are co-sponsored by Trinity College and St. Thomas' Anglican Church. The lectures vary in topic, but all are based broadly upon the subject of theology.
The list of lecturers is long and distinguished, and includes Robertson Davies, Northrop Frye, P.D. James, Michael Ignatieff, Father Owen Lee, Burton Mack, Rabbi Dow Marmur, Atom Egoyan, Charles Taylor, Mark Kingwell, David Halton, the Most Rev.
Rowan Williams, Archbishop of Canterbury and The Honourable Frank Iacobucci. In case you missed it, the entire lecture can be viewed on YouTube.
FROM THE ARCHIVES
Emotional Labour: The Diaries of Edward Marion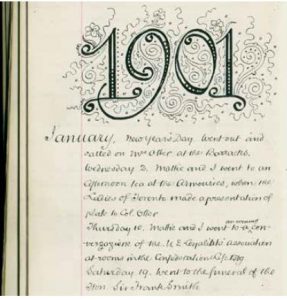 Chadwick find a new home in the Archives of Trinity College By Jonathan S. Lofft, Adjunct Professor, Faculty of Divinity Following an extended loan, a veritable treasure trove of 10 fragile volumes of diaries created by Victorian polymath Edward Marion Chadwick (1840–1921) has been generously gifted to the Archives of Trinity College by his great-grandchildren— Reg Walsh '69, his brother Tim Walsh '75, and their sister Diana Bell.
The narrative of the Chadwick diaries is unusually extensive, stretching from sometime before 1858 until his death in 1921.
Seemingly without parallel in the annals of Canadian belles lettres in terms of both length and beauty, the permanent arrival at Trinity of these volumes heralds new opportunities for discovering insights about Chadwick and the world in which he thrived, as well as resourcing scholars in a variety of fields.
The small, bound volumes of the diaries first arrived at Trinity in connection with my own work in the Faculty of Divinity in about 2012.
I was then in the early stages of researching the life of Chadwick, a doctoral project in the field of church history that would have been rendered impossible without direct access to his texts. Meticulously kept, an investment by Chadwick of considerable time and emotional labour, the diaries proved to be both an indispensible primary source for writing my thesis and also a window to the soul of a remarkable character whose phantom charisma has influenced my life in unexpected ways.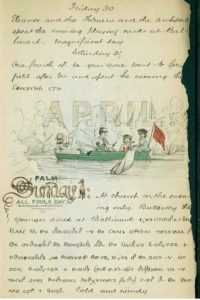 Born outside of Jerseyville, Ontario, and raised in Tipperary, Ireland and in Guelph, Ontario, Chadwick can and often does claim for himself a startling diversity of eccentric precedents and monumental achievements. He is reputedly the father of Canadian heraldry and genealogy, a talented amateur artist responsible for many original designs, including the first rendering of the familiar coat of arms of St. Hilda's College. He was an accomplished lawyer whose authorship of the first legal primer in the national context gave him profile in professional circles at a young age.
His subsequent legal practice was advantageously consumed by its connections to the burgeoning Gooderham and Worts commercial empire.
Chadwick's pioneering anthropological writings continue to the present to be cited in current scholarship, and his mostly honourable connections to Indigenous people earned him adoption as Honorary Chief Shakotyohkwísaks of the Mohawk of the Six Nations of the Grand River. Having designed all the stained glass windows and the brasses at Toronto's Anglican Cathedral of St. Alban the Martyr, Chadwick established himself and his family across the road from the edifice on Howland Avenue, and even arranged for a party of Mohawk chiefs and warriors to participate in the Diamond Jubilee celebrations of Queen Victoria there in 1897.
A trusted advisor to successive bishops, Chadwick, following the example of his father, served on the Corporation of Trinity College and vividly remembered the decision to federate with the University of Toronto in 1903.
One of the most demanding tasks in coming to terms with the life of Chadwick was preparing a complete transcription of the text of his diaries, which sprawls to over 275,000 words. I am now engaged in the careful process of editing and annotating the transcript, entitled A Brief But Accurate Record: The Diaries of Edward Marion Chadwick, 1858–1921, for future publication by the Champlain Society, well-known for publishing primary sources of Canadian history.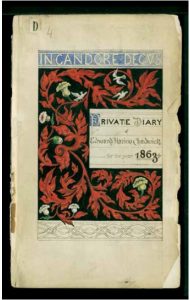 For all the future potential for the diaries, including another book that I am writing about Chadwick's life, there is something inescapable about the delicate pages themselves, the visceral experience of being close enough to read about the life of Chadwick in his own words, written with his own hand. That's the difference to me as a scholar, something indescribable but also totally indispensable, made possible by having the diaries come to the Archives at Trinity College. I presume to think Chadwick would approve, too.
Dr. Lofft is currently working on two manuscripts: A Brief But Accurate Record, 1858-1921: The Diaries of Edward Marion Chadwick, an abridged and annotated transcript of the diaries; and a second, tentatively titled In Gorgeous Array: The Life of Edward Marion Chadwick, based on his thesis. Keep an eye on the Book It section of Trinity magazine for more details.
The Trinity College Archives are open to the public. For details visit uoft.me/Trinarchives