A perennial favourite of our readers, here's the latest on your Trinity peers. Book It! will continue to appear in the spring and fall print issues of the magazine.
Send your news to magazine@trinity.utoronto.ca.
WEDDING CORNER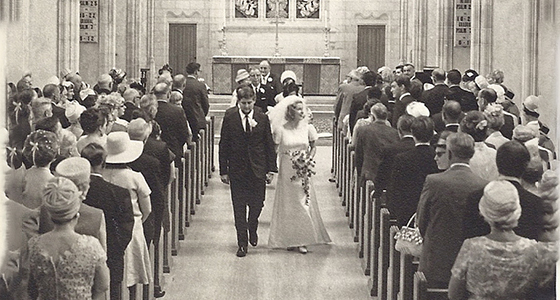 Penny (Fair) Van Esterik '67 and John Van Esterik (Vic '66) were married in Trinity Chapel on June 17, 1967.  Penny carried coral centennial roses bred to celebrate the nation's centennial.  A student organist, Patrick Wedd played such wonderful music that the guests stayed sitting in the chapel long after the service ended and the bride and groom had departed for the reception. A week after the wedding, they joined the orientation program for CUSO  volunteers and shortly after, left for Thailand where they taught anthropology at two different universities in Bangkok. After two years in Thailand, Penny and John began doctoral studies in Anthropology at the University of Illinois at Champaign-Urbana. After spending several years in the United States, they returned to Toronto where Penny joined the Department of Anthropology at York University, later joined by John.  They have both retired with fond memories of both major institutions of higher education in Toronto.
NEWS
Paul Paton, '88, Dean of Law and Wilbur Fee Bowker Professor of Law at the University of Alberta, received the "Leaders in Diversity" Award from the Federation of Asian Canadian Lawyers Western Canada Chapter in Calgary on March 23 in recognition of his commitment to fostering diversity and inclusion in the legal profession. Paton has been Dean at Alberta since 2014.
Christopher Jones, George Martin Lane Professor of the Classics and of History (Emeritus) and former Trinity Fellow was elected Associé étranger of the Académie des Inscriptions et Belles-Lettres, Paris on March 10. The Académie is one of the five academies of the Institut de France.
DEATHS
BAILLIE: ROBERT L.T. '43, June 12 in Toronto. Brother of the late Nigel L.T. Baillie '51.
BARKER: STEPHEN '68, March 21 in Toronto.
COTTRELLE: JANET (PEPIN) '75, April 7 in Toronto.
DEVERELL: CORINNE '49, March 31 in Etobicoke, Ont.
FINLAY: TERENCE '89 (DD, Hons.), March 20 in Toronto. 10th Bishop of Toronto.
FOULDS: PHILIP STEELE '40, April 18 in Toronto. Husband of the late Mary Louise Foulds '42, father of Barbara Selley '66.
GILCHRIST: DONALD HUNTER '50, March 14 in Toronto. Father of Donald Gilchrist '79 and Jean Gilchrist '81, brother of the late Christina Gilchrist '40 and the late Jean Matthews '50.
GRANT: MARGOT (INGLIS) '48, June 7 in Toronto.
HIGGINBOTHAM: DAVID CHRICHTON '48, June 30 in Toronto.
HUGHES: JEAN (CATTO)  '52, July 25 in Toronto. Sister of John Catto '55, sister-in-law of Margaret (Ketchum) Catto '57.
KANYA-FORSTNER: ALEXANDER SYDNEY '61, March 31 in Toronto.
LEUTY: EVAN MACAULAY '52, March 5 in Muskoka, Ont.
LUNDON; JOHN '84, May 21 in Turin, Italy. Husband of Erika Pegazzano '85, son of John and Alice (Drynan) Lundon '56.
PHIPPS: DAVID '67, June 25 in Aberfoyle, Ont.
WEBSTER, JUDITH MARY (Jephcott) '56, May 11 in Toronto.
WHITTEN: MARY BEATRICE (CLARKSON) '48, March 9 in Toronto. Sister of the late Guy Clarkson '45 and the late Joan Clarkson '52.
WOOLCOMBE: SYDNEY (MACHELL) '58, March 28 in Toronto.