Trinity alumni bring entrepreneurial spirit to bourgeoning beverage markets
By Liz Allemang
Doctors, lawyers and… brewmasters?
Though Trinity College may be an institution imbued with tradition, one from which we've come to expect a certain type of graduate, there's always room for the unexpected. Among the range of notable alumni are leaders in the beverage industry, both at home and abroad, who champion local ingredients in their craft and introduce customers to their new favourite bottles. Here are six of their stories, to sip and savour.
Shehan De Silva '06
Owner and Founder, Lost Craft
Toronto, ON
lostcraft.ca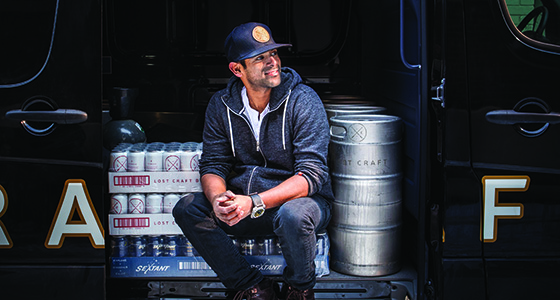 With a Bachelor of Commerce and a specialty in finance, De Silva started his career, logically, working at a bank in Toronto. He travelled regularly to Europe during the start of what he calls "the craft beer revolution" and came to appreciate the very bitter beers and real ales found in the U.K. and Germany. Such was his appreciation that he considered how to enter the craft beer scene.
Originally thinking he might be able to bring his favourite ales to the Ontario market, De Silva changed his approach when he realized the trickiness of importing beer.
"I thought, 'Maybe I can try making my own beer,' " he says. He began a part-time MBA at Rotman ('14) with an eye on entrepreneurship. In April 2015, he travelled to Cologne, Stuttgart and Munich to taste beers, zeroing in on those of the Kölsch style. He also met with brewers to better understand the ins and outs of the business. De Silva felt that there was a gap in the Canadian craft-beer market, which he planned to fill with a premium lagered ale. Upon returning from Germany, he cold-called a handful of brewmasters and found one with 25 years of experience who had just left a large brewer.
De Silva left his banking job, invested his life savings and proceeded to court the Liquor Control Board of Ontario (LCBO).
"We didn't even have a beer ready when I took my first meeting with the LCBO!" he remembers. "I just presented my vision of rolling out easier drinking styles of beer." They liked the idea, but told him to come back when he had a product. By October 2015, De Silva had that product, Revivale, and by February 2016 it was selling in LCBO, Loblaws and Sobeys stores across Ontario, as well as close to 100 bars. Since then, Lost Craft has launched an English-style red ale, Crimzen, which is currently being rolled out to the LCBO, and has acquired another small craft-beer company.
LOST CRAFT BEER BUTT CHICKEN

Ingredients

· 1 can Lost Craft Revivale Premium Lagered Ale

· 6 tbsp. butter · 2 tbsp. garlic salt

· 2 tbsp. paprika

· 1 tsp. salt

· ½ tsp. pepper

· 1 chicken, 3 -4 pounds

Instructions

1. Preheat oven to 375 degrees F (190 degrees C). Melt butter, salt, pepper, garlic salt and paprika over low heat.

2. Pour half of the beer into a glass (for you!), leaving the remaining half in the can.

3. Pour half the butter mixture into the beer can and use the other half to rub the outside of the chicken.

4. Insert the beer can into the cavity of the chicken as snugly as possible.

5. Place on a sheet pan or oven-safe dish. Cook in a 375 degree oven on the lowest rack for 90 minutes.
Helen Young '80
Owner, Inn On The Twenty
Jordan, ON
innonthetwenty.com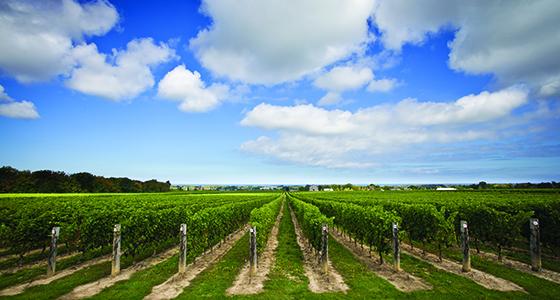 "I went from Trinity into advertising—maybe as a result of watching too many episodes of 'Bewitched' growing up," says Young, who worked for a couple of years in the business before making the shift to law. She went to Osgoode Hall Law School at York University, where her husband, Leonard Pennachetti, was teaching. In his spare time, Pennachetti kept a small vineyard in Niagara, where the couple lived. What began as his hobby soon became their future.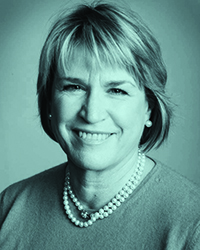 "Leonard liked teaching," says Young. "But he wanted to spend more time on winemaking and the vineyard, so we made the decision to start [Cave Spring] winery."
At the time, Niagara was not the wine producer that it is today. The hobbyist vineyard evolved into what is now one of Canada's leading wineries (and a producer of about 60,000 cases of wine a year).
In 1991, everything changed when a building across the street from the winery became available.
They opened the On The Twenty Restaurant in 1993, adding accommodations to create The Inn On The Twenty in 1996 (when Young left law to manage the business full-time). That allowed them to expand the experiences available to tourists in the area and to showcase Cave Spring wine in the context of local food.
Her championing of Niagara's food and agriculture has helped to cement the region's reputation as a destination for enthusiasts of local food (and drink!). It's impressive to consider the breadth of what Young has built in the 30 years she's devoted to food and wine. "When I was at Trinity I had no idea that we even grew grapes in Ontario," says Young. Not only have the inn and the winery played integral roles in the gastronomic movement of southwestern Ontario, but in that time her team has figured out what grows well in our climate and the five varietals that grow really well (Young's current favourite is Cave Spring's Gamay "it's bright and light-bodied and the price is great because it doesn't have name recognition," she says.)
 CAVE SPRINGS RIESLING ICEWINE BUTTER TART

Ingredients

· ¾ cup corn syrup

· ⅛ cup pure maple syrup

· ⅛ cup CSC Riesling icewine

· ¾ cup butter, melted

· 2 cups brown sugar

· 4 eggs

· 1 tsp. pure vanilla bean paste or extract

Instructions

1. Preheat oven to 350 degrees. Whisk the melted butter and brown sugar together, then add the corn syrup. Whisk in eggs, one at a time, until smooth. Add maple syrup, icewine and vanilla.

2. Using your favourite pie dough recipe, roll out disks large enough to fit into individual muffin tins. Line the muffin pan and chill the shells before adding the filling. Fill each shell ⅔ of the way.

3. Bake tarts for 15-20 min, or until desired doneness. The longer the baking time, the chewier the centre.

4. Store at room temp for up to three days, or in the refrigerator for up to a week.

Note: You can also use pre-made frozen tart shells, from the grocery store. Feel free to add raisins, walnuts, pecans, or chocolate chips before pouring filling into shells.
Mike Jessop '02
Owner, The Duxbury Cider Co
Meaford, ON
theduxburyciderco.ca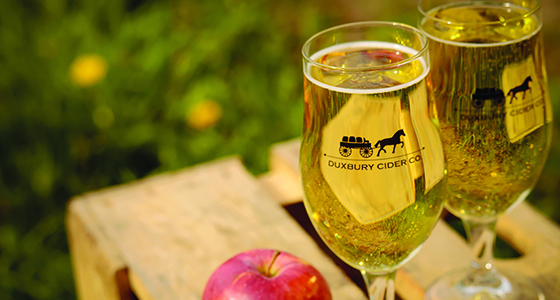 "We're talking at the right time," says Mike Jessop, who relays with excitement that The Duxbury Cider Co., which has gained popularity in draught form at bars and restaurants across Ontario, is finally hitting LCBO shelves. It's a significant breakthrough, one that will include staff tastings and product education at the LCBO, and even more promotional appearances at beer festivals and events for Jessop. That's over and above his daily duties as co-owner of the company, and his actual day job.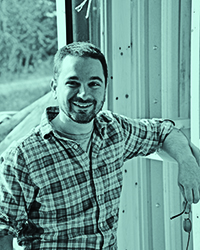 After studying computer engineering at Trinity, Jessop went on to work at Ontario Power Generation (OPG), returning to U of T to complete a part-time MBA at Rotman ('14). In 2014, Jessop took on the role of Manager of Regulatory Affairs at OPG, a position he still holds today. Since 2014, he has also been Co-Owner and Chief Financial Officer of Duxbury.
It wasn't a path he anticipated. Jessop's friend and now business partner, James McIntosh, owned a property in Meaford, Ontario, an area known for its agriculture and apple orchards in particular. In 2005, McIntosh began picking apples and experimenting with different blends to create a nice-tasting, homemade cider.
"At the time, I was just the taste tester, drinking the fruits of James' labour," says Jessop. But McIntosh's cider production and interest in development grew to the point where he needed a business partner. He approached Jessop.
"From 7 a.m. to 5 p.m. I dedicate myself to OPG tasks; during that time, there is no Duxbury," says Jessop. But at night and on vacations and weekends, he and McIntosh have built a cidery from scratch.
"Everything you've heard about start-ups is true," he adds. "There is such anxiety and stress that comes with having your own company, but it's been the most rewarding experience of my life."
DUXBURY WELSH RAREBIT

Ingredients

· 4 slices of thick-cut, crusty sourdough bread, toasted on one side only

· 1 ½-2 cups of grated cheese, such as a Blue Cheshire or Wensleydale. Ensure the cheese isn't too aged, or you may not get a smooth consistency.

· 1 tbsp. butter

· 2 tsp. flour

· 1 tsp. dry mustard

· Pinch of pepper

· Approx. 2 tsp. of Worcestershire sauce

· Approx. 4 tbsp. of your favourite craft ale (i.e. Lost Craft's Revivale) or Stout (Kilannan's The Men Who Stare at Oats)

Instructions

1. Place grated cheese in sauce pan over low heat until nearly melted before stirring in the butter, flour, mustard and pepper.

2. Add the beer ⁄ stout sparingly while mixing; too much beer will make it runny.

3. Add Worcestershire sauce sparingly to give the cheese more of an aged taste.

4. Stir until the rarebit becomes a thick paste.

5. Toast the bread on one side until lightly golden.

6. Slather the rarebit all over the untoasted sides and brown under a hot grill. Serve immediately.

Note: Pair your finished Welsh Rarebit with a Duxbury Original Sideroad. The old-country tanginess of the cider will pair well with the Worcestershireinfused cheese.
Lee Tseng '02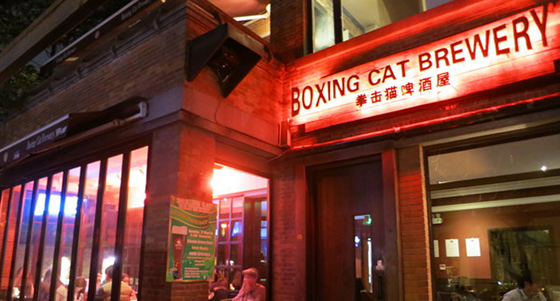 Owner and Founder, Boxing Cat Brewery
Shanghai, China
boxingcatbrewery.com
Boxing Cat Brewery was founded in 2007 by Lee Tseng and his two friends—together, they represented the holy trinity of hospitality: a brewer, a chef and a business brain. The partners sought to bring small-batch beers to a city—and country—accustomed to easy-drinking, unchallenging mass brands.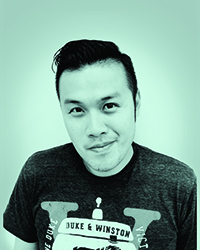 Tseng's was China's first commercially successful microbrewery. He has since expanded the operation to include six restaurants, a factory, and a plan for future growth.
While Tseng's enthusiasm for the industry bubbles over, his path to Boxing Cat was indirect. Born in Taiwan, Tseng and his family relocated to Toronto after a few years in South Africa. By the time he graduated from Trinity with a degree in urban planning and economics, he had been exposed to beer culture—though it wasn't the kind of introduction that should have enticed him to devote his life to the stuff.
"My first foray into beer was drinking horrible draft at a pub near campus that no longer exists. Their specialty was massive, watered-down pitchers that cost next-to-nothing." Fortunately for Shanghai, the experience didn't put Tseng off entirely.
Upon graduation Tseng went to Shanghai, where a relative had the rights to franchise Kentucky Fried Chicken in China. Though they didn't end up launching the franchise, Tseng worked on business projects dealing with everything from real estate to cafés. He identified both a desire to work in the food and beverage industry as well as a desire to go out on his own.
He and a business partner found a brewer who was already in China and the three decided to tap into the nationally embedded beer culture.
"As a country, China is one of the highest consumers of beer in the world, but the per-capita consumption was pretty low," says Tseng. "People didn't know that there was something better [than mass produced beer.]"
Tseng and his partners opened their first location of Boxing Cat in the suburbs. It was a "flop" (location is everything in Shanghai and, as Tseng says, this one was wrong). In 2009 they tried again in the city centre, and this time, things took off.
In the years since, Boxing Cat won the World Beer Cup medal for a microbrewery in China and took second place in the International Beer Awards. In 2017 the company intends to start bottling to eventually export to key markets (including Toronto).
"Craft beer in China has grown in leaps and bounds, but we were the only ones when we got started," says Tseng. "We want to give China craft beer to rally around."
BOXING CAT FISH FINGERS RECIPE

Ingredients

Marinade

· 2 lbs. cod

· 4 tbsp. chopped fresh parsley

· 6 tbsp. olive oil

· 1 large minced garlic clove

Batter

· 1 cup flour

· 1 tsp. baking soda

· 1 tsp. salt

· 1 cup lager (Try Boxing Cat Brewery's Right Hook Helles Lager) Tartar sauce

· 1 cup mayo

· ¼ cup finely chopped dill pickle

· 2 tsp. lemon juice

· 4 dashes tabasco

· Salt and pepper to taste

· Oil for frying

Instructions

1. Slice cod into strips and marinate for 30 minutes.

2. While fish is marinating, mix tartar sauce ingredients and set aside.

3. Remove fish from marinade and blot lightly with paper towel.

4. Heat oil in a large, deep sauté pan to 350 degrees (180 Celsius).

5. Mix baking soda, salt and lager, keeping flour in a separate bowl.

6. Dip the fish strips one at a time into the beer mixture and then into the flour, shaking off any excess.

7. Fry in batches until golden-brown and remove to paper-towel-lined plate to cool.

8. Serve with tartar sauce.
Michael Waterston '96
Owner, Kinsip House of Fine Spirits
Bloomfield, ON
kinsip.ca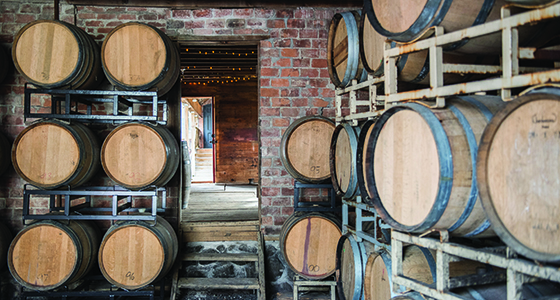 "I really enjoy working on developing new products," says Michael Waterston, one of the owners of the newly established Kinsip House of Fine Spirits, which took over 66 Gilead Distillery in Prince Edward County, Ontario when Waterston and partners bought its assets in 2016.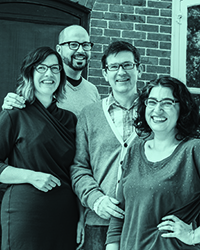 This should come as no surprise for anyone who knows Waterston or has followed his career. After graduating with a degree in economics and computer science at Trinity, he completed his Master's in economics at the University of British Columbia. From there he spent 10 years in Seattle, where he worked at Microsoft and Amazon. Taking an interest in how the brain organizes itself, he completed a Master of Science degree at the Montreal Neurological Institute at McGill University. In his present role with the Centre for Imaging Technology Commercialization, he works in business development for medical start-ups.
"That keeps me pretty busy," says Waterston, "And every weekend we're in the County [as Prince Edward County is referred to by locals]."
Spirits are something that Waterston has had an interest in since his student days."I was part of the wine tasting and scotch tasting clubs at Trinity," says Waterston, "I remember first truly appreciating whiskey in the Junior Common Room."
But it wasn't until a proposition from his brother-in-law that he got into the business. "My brother-in-law was in the process of starting an urban distillery in Ottawa and this opportunity arose. My wife, one of my sisters, my brother-in-law and I decided to buy [66 Gilead Distillery] when it came up for purchase in the summer. We took over at the beginning of October and we were able to sell our first bottle the week before Christmas." Friends Ben Harrison ('96), who selected scotch for the Trinity tastings, and Karina Walsh ('00) have helped them get started.
The fact that it's a family business has made for a smooth transition, with support from parents on all sides (Waterston's Bulgarian father-in-law, who makes a mean homemade apricot rakia, has been especially enthusiastic), as well as Waterston's six-year-old daughter, who harvests the eggs of the chickens that came with the distillery. Working closely with his family on this project is especially important to Waterston, whose sister, Kate Waterston ('05), passed away in late 2015.
So far, the distillery has produced a variety of spirits including Crimson Rye, maple whisky, brandy, and pine-infused vodka. Two signature spirits, Still's Whisper Vodka and Juniper's Wit Gin, are now headed to the LCBO. Waterston hopes to create a port at some point and is keen to start processing their own wheat. "It's a grain-to-glass distillery that focuses on modern family and creating new, interesting things together," says Waterston. "We hope Kate would be proud."
LEONARD'S WIT (serves 2)

In honour of Michael's grandfather, Leonard Andrews ′42

Ingredients

· 2 oz. of Kinsip Juniper's Wit Gin

· 1 long cucumber

· 1 oz. simple syrup

· 4 oz. sparkling wine (Huff Estates Cuvée Peter F Huff)

· Kinsip Lavender Bitters

Instructions

1. Using a vegetable peeler, shave six thin ribbons from cucumber.

2. Cut a 6" piece from remaining cucumber into small pieces.

3. Muddle cucumber pieces in a cocktail shaker, then add gin and simple syrup and fill shaker with ice.

4. Stir and strain into two ice-filled rocks glasses or large wine glasses.

5. Top each with 4 oz. of sparkling wine.

6. Garnish with three cucumber ribbons and gently stir together.

7. Apply 2-3 drops of bitters to each and serve.
Joel Thompson '87
Owner, Chalk, Slate, Gravel
Toronto, ON
www.facebook.com/chalkslategravel/
Long before he started his own wine importing agency, Joel Thompson was introduced to the world of wine by his father, who bottled his own at home.
"There was a lot of sediment," recalls Thompson. "I wasn't too crazy about it."
The experience motivated him to seek out the good or, at least, the professionally made stuff.
At Trinity, he joined the College's wine tasting club, which uncorked decidedly different varietals  (a 1979 Château Pape Clément and a Weingut Edlmoser Reisberg were two standout tastings), igniting a passion for all things wine
During his fourth year at Trinity, Thompson also completed a sommelier certificate at Humber College. Thereafter, he enrolled at Osgoode Law School to pursue what he describes as  "the shortest legal career in history."
He returned to U of T to complete a Masters in Medieval Studies and enrolled in the PhD program, but his passion for wine kept pulling at him. He spent the next few years learning the business, working for a  a B.C.-based wine agency, and selling for an Ontario-based winery. In 2008, he started his own company.
Chalk, Slate, Gravel is named for the soil types in which Thompson's three favourite grape varieties grow (Champagne, Mosel and Graves). The company itself is very much a reflection of Thompson's non-mass tastes.
"If you have your own agency, you can pursue your own interests," says Thompson, whose recent passions includefunky-nosed ciders from Normandy, and Weingut Van Volxem's Mosel.
"I'm a gap producer. It's a very crowded field if you're importing New Zealand Sauvignon Blanc or Italian Pinot Grigio."