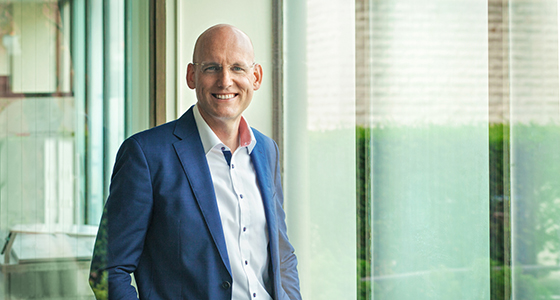 On July 1, The Rev. Prof. Christopher Brittain (MDiv '96, PhD '02) took over as Trinity's Dean of Divinity and Margaret E. Fleck Chair in Anglican Studies. Trinity magazine recently caught up with Chris, for whom this new role is a homecoming of sorts.
TRIN: Having spent the last decade living and working at the University of Aberdeen in Scotland, what motivated you to return to Canada, and to Trinity in particular?
CB: Both my wife and I really missed Canada. It felt like the right time for a change, and we knew if it was going to be Canada, Trinity was the place. As a graduate of the College, I was already familiar with and appreciative of its ethos and mission. The connection of the Faculty of Divinity to the wider university, its ecumenical links to the other colleges of the Toronto School of Theology, and its partnership with the Anglican Church of Canada all seemed to offer promising opportunities and resources for the kind of work I want to be a part of.
TRIN: What did you miss most about Canada? What are you enjoying now that you're back?    
CB: I missed the relatively relaxed multi-cultural mix of Toronto. There was some diversity in Aberdeen but it doesn't compare to Toronto in terms of its liveliness. I missed the U of T library, too – it's a fantastic library system. As a scholar it's hard to underestimate the importance of that.
Being hockey fans, when we first moved to Scotland we really missed being able to watch NHL hockey. Thankfully, it later became possible to view the NHL online through subscription services, but of course the time zone difference didn't make this a perfect solution. It's great to be able to watch it in real time now.
Since being back, we've spent a lot of time kayaking and canoeing on some of Ontario's lakes and rivers. And this move has made it possible for us to reconnect with family and friends, which has been wonderful.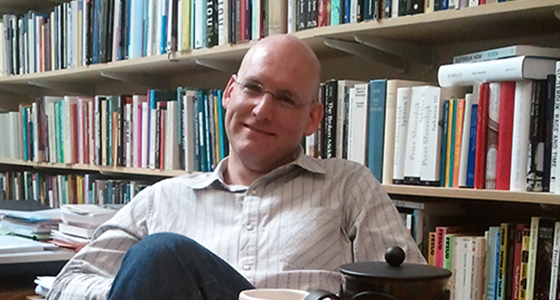 TRIN: What excites you most about your new role?
CB: The faculty of Divinity – and theological education in Canada more generally — is in for quite a transformation over the next decade. Looking to the future to see what contributions Divinity can make in a multicultural and multi-faith society like Canada's is exciting to me. I'm keen to explore what that's going to mean.
TRIN: Your course, Religion at Ground Zero, was one of the most popular Divinity courses at Aberdeen and you'll be teaching it to divinity students at Trinity this fall. It's based on your 2011 book of the same name, which explores the relationship between religion and our response to historical tragedies. What makes this subject so appealing to Divinity undergraduate students?
CB: I think what makes this subject so popular is the timeliness of it. I started teaching this in Halifax just after September 11, 2001 and unfortunately, the kinds of issues we explore in the course are continually recurring in our world.
The course looks at religious and theological responses to disasters and times of crisis. Increasingly, the focus of the course has been on terrorism and cultural reactions to it. It's not a technical course in international relations or on emergency response. It's about how we make sense of the cultural shifts and tensions that are happening all around us in the wake of shocking and disturbing events.
In the class, I place such developments in an historical context — we start with the Lisbon earthquake of 1755, and move on to the First World War and the Holocaust. Students find that examining the issues we are worrying about today in an historical context makes the subject more accessible and less technical.
TRIN: Trinity's Faculty of Divinity turned 175 this year and has a rich history of tradition. At the same time, it has a reputation for being unorthodox, even radical in some ways. What do you see as the main role(s) of Divinity at Trinity moving forward?
CB: I think Theology as a discipline is going through a time of soul-searching. There's a challenge to make sense of our experience of the world and the changes that the globe is going through. There's a real quest for a way to reconceive things like citizenship, society, culture, community. And to some degree, this thinking will require us to be 'radical' in the sense of getting to the root of things. We will need to dig down to the roots of the Christian faith that motivates us, tap into the traditions that have shaped the College, and learn to better understand the needs and concerns of our community and neighbours, as we seek to define our future role and value.
TRIN: Did you live in residence when you studied at Trinity? What's your favourite spot on campus?
CB: No, I didn't live in residence during my time at Trinity. I lived in apartments in west Toronto: first in Parkdale, then in the High Park, Annex, and Junction areas.
At the risk of making myself sound like a complete bookish nerd, my favourite spot on campus as a student was the Graham Library. And of course, the quad is beautiful — you don't feel like you are in downtown Toronto when you're there. Also the Bosanquet Garden. Then, of course, there's the chapel …
TRIN: Tell us one thing about yourself that few people know.
CB: Not many people know this because it is the kind of embarrassing adolescent event one would rather forget. When I was in high school, I had the lead role in our production of "The Sound of Music." I played Captain von Trapp, singing "Edelweiss" and the works. I still cringe when I think about it.
TRIN: Do you have any books coming out in the near future?
CB: I've just finished a book on the conflict in the Anglican Communion that will come out next summer. I haven't started the next one just yet but I think it will be on the issue of power, and how to think about it from a theological perspective.