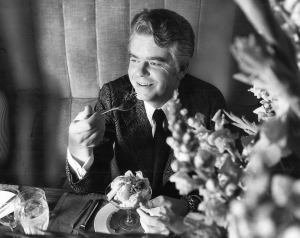 —

  Roloff Beny Remembered 

—
by F. Michah Rynor
✦
He left Trinity in 1945 ad Wilfrid Beny, B.A., and left the world in 1984 as Roloff Beny, B.A., M.A. M.F.A., LL.D and RCA.
In this too-short lifespan, he produced a portfolio of paintings, sculptures, prints, writings and, for a short period, fashion—a body of work that was admired by many of the world's greatest artists, performers and art critics. Photography, however, would be his major life's achievement, igniting the international art scene.
His talent bloomed early with his first paintings being shown at the tender age of 15 at the Manitoba Society of Artists and, while still a student at Trinity, he was showing at other important exhibitions throughout Canada— including U of T's Hart House.
Later on, Beny's photos could be seen in the pages of Vogue and Harper's Bazaar.
After obtaining a degree in Fine Art from Trinity, Beny went on to earn degrees from Columbia, Iowa and the Banff School of Fine Arts. His work was featured in the great galleries of the world including the Institute of Contemporary Arts in London, the Art Institute of Chicago, the National Gallery of Canada and New York's Museum of Modern Art. He was the recipient of major awards and honours including the Nice Book Fair Silver Medal, medals from the Leipzig Book Fair and a Guggenheim Fellowship. His lavish book of Canadian photos, To Everything There is a Season: Roloff Beny in Canada, was the official Canadian gift to heads of state during the 1967 centennial year celebrations and in 1968, the government of India chose Beny's book India to celebrate the centenary of Mahatma Gandhi's birth.
Beny left for Europe in 1948 to see first-hand the classical locations of the Eastern Mediterranean and continue his art studies, becoming close to such literary and artistic giants as Dame Rose Macaulay, Sir Herbert Read, Bernard Berenson and Henry Moore.
|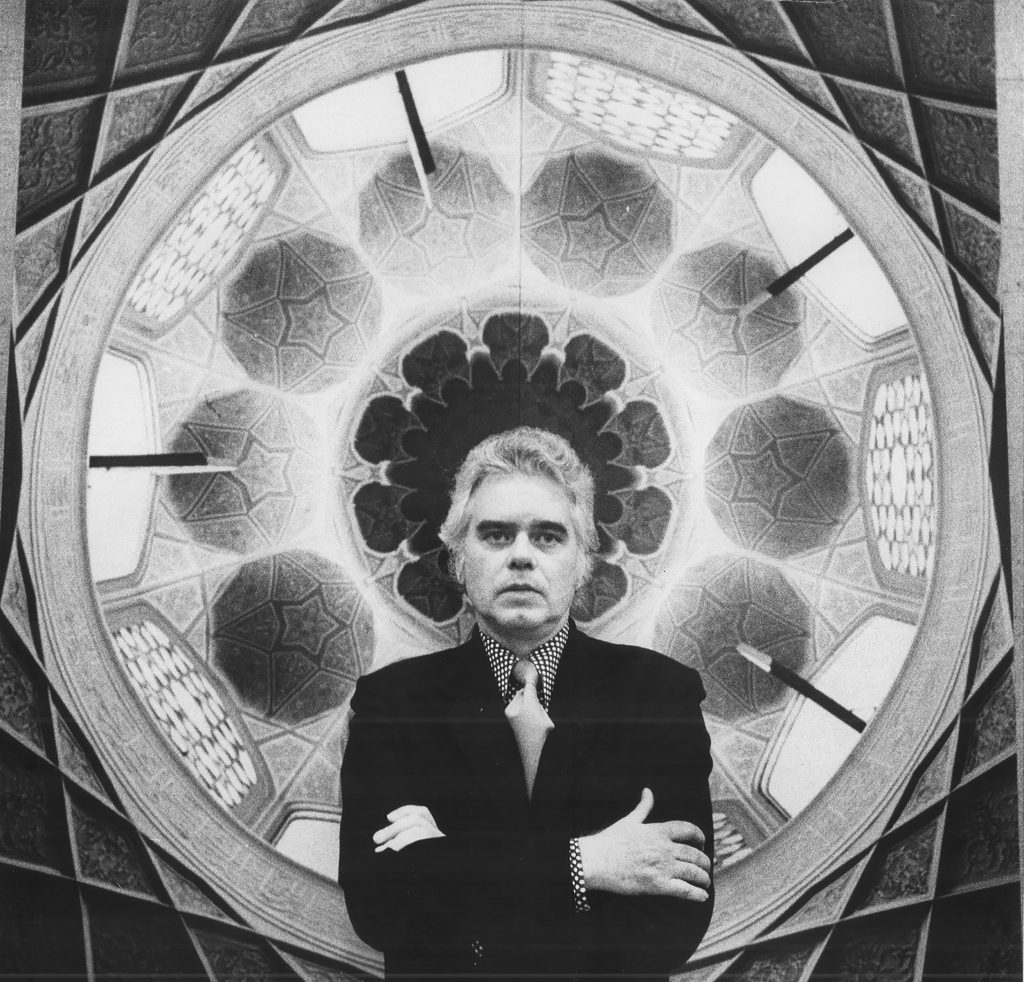 |
✦  ✦  ✦
A GLOBAL SPIRIT
Born in Medicine Hat, Alberta, Roloff (he adopted his mother's maiden name after graduating) lived in Rome from 1957 until his death in an apartment that could only be described as "fabulous."
In a 1976 Maclean's article, Beny was described as "one of the world's most celebrated photographers, with international honours, a sumptuous five-floor penthouse in Rome overlooking the Tiber and friends to turn a name-dropper green with envy."
Along with this stunning abode was a social life that would give Hollywood insiders a run for their money. Robert Fulford, a columnist for the National Post, recalls an anecdote revealed to him by an acquaintance:
|
"A Toronto decorator once told me about arriving late for a party at the Rome apartment 30 years ago. Beny answered the door. Behind him, Gore Vidal was chatting with Laurence Olivier, Federico Fellini was in earnest conversation with Stephen Spender, Salvador Dali was arguing with Jean Cocteau. Beny pretended to be furious with his friend… 'Herbie,' he said, 'why did you come so late? All the big names have gone home.'"
|
Known primarily for lavish photography books on Europe, Canada, Sri Lanka, Iran and India, he was sometimes criticized for ignoring the poverty and horrors of some locales, preferring to focus on the allure instead. "I'm interested in beauty," he once said in an interview. "I let the newspapers deal in ugliness."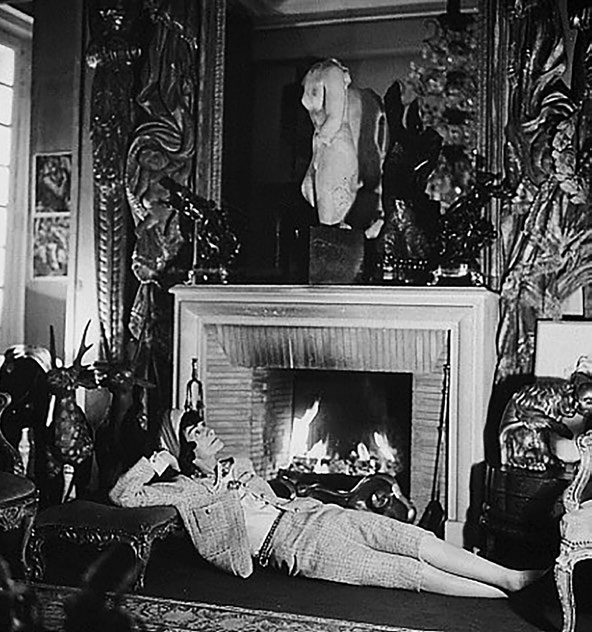 Although he became celebrated for his eye-popping photographs, in the 1940s and 50s he was an important figure in the world of "progressive" painting, drawing and printmaking with his works collected by some of the major galleries of NewYork.
His photo portraits were also in high demand by the rich and powerful—many of whom were close friends. Vivien Leigh, Elizabeth Taylor, the Duke and Duchess of Windsor, Coco Chanel, Peggy Guggenheim, Sonja Bata, Pierre Trudeau, Leonard Cohen and many more all sat for him. He would also photograph many of his gay contemporaries such as Tennessee Williams, Noel Coward, Gore Vidal,Truman Capote and Rudolph Nureyev.
Ironically, Beny originally used photography simply as a means of remembering locations that he wanted to paint later but, as reported by The NewYork Times, "he became fascinated with the medium and its ability to lead him in search of visual metaphors." One of his biggest projects was his commission from Empress Farah Pahlavi of Iran to create a book on the culture of her country, which became one of his most renowned endeavours.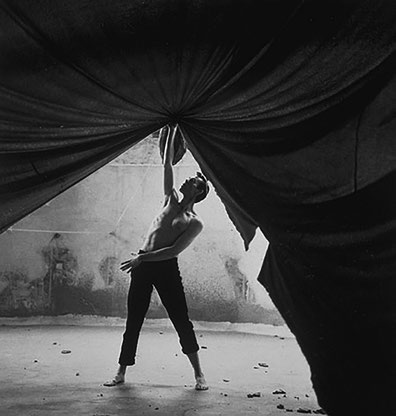 In 1981, The Globe and Mail interviewed him on his new venture—fashion design. "Necessity is the mother of invention," he said, explaining that he required his own special clothes when working that were "versatile, comfortable and non-restrictive" (his own "working uniform") and so he began creating garments for his numerous junkets. His associates and friends began noticing them and suggested he start his own line.
At the time of his death, Beny had visited 40 countries in his artistic quest and had created 18 acclaimed books, several published posthumously.
Upon his passing, Jack McClelland, one of Beny's Canadian publishers, stated that Beny "contributed more to Canada's prestige in the international artistic community than all but a handful of others."
|
✦  ✦  ✦
A TRIN

ITY LEG

ACY
Today,Trinity is fortunate to have three of his paintings: The Soil, painted in 1943 and listed as a gift "class of 1944-47"; Prairie Cathedral, painted in 1945 and a gift from the Trinity College Literary Institute (The Lit) in 1947; and Tranquility, created in 1945 and a possible donation to the College from Beny himself although records are scant.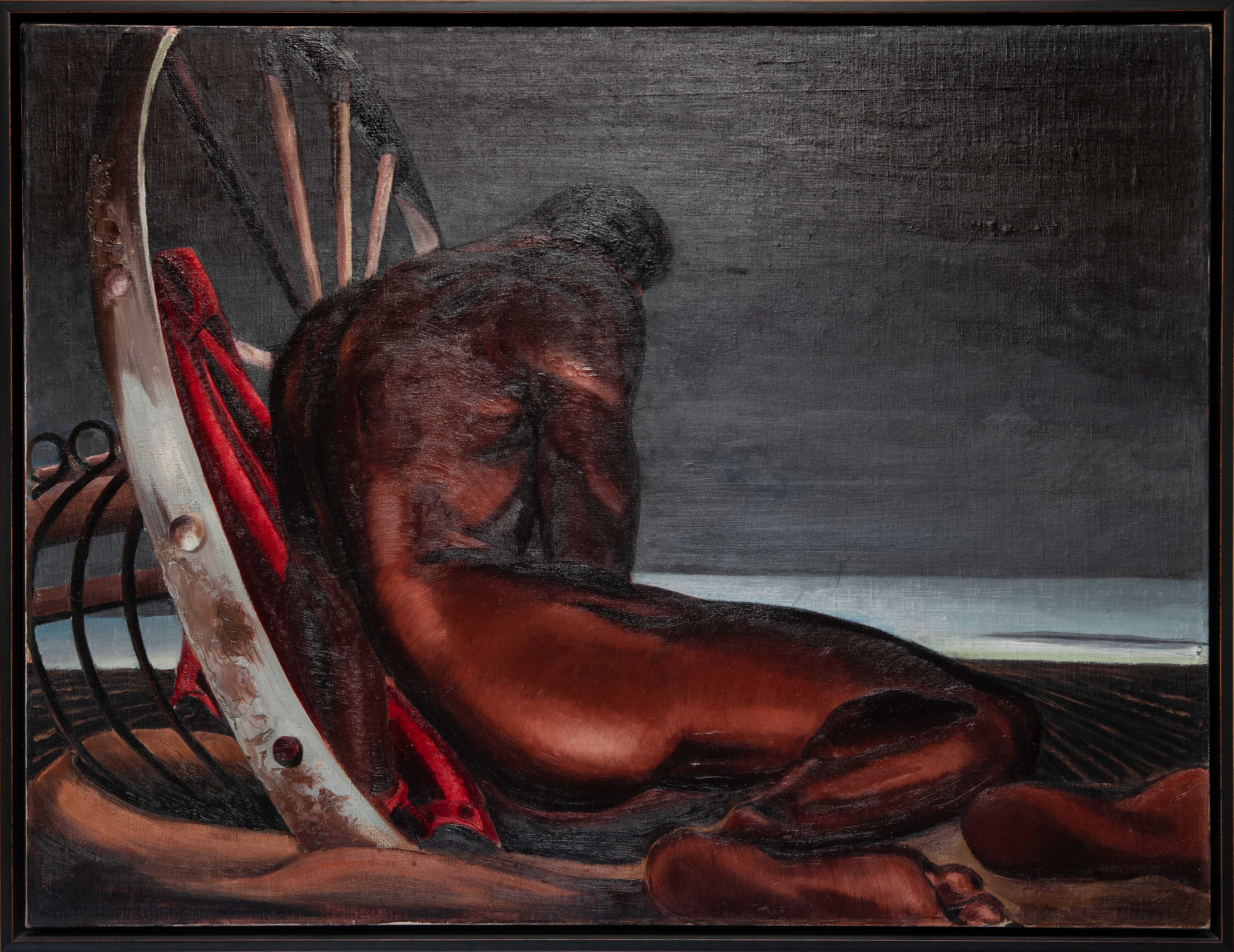 The nude figure in the oil painting The Soil (a man resting on the ground, leaning on a broken farm machine) must have been a favourite image for Beny as this anonymous man appeared as both an illustration and as a photo in the Trinity Review, as well as in the powerful painting.
|
"During the golden age of picture magazines, Roloff Beny carried his camera like a magical appendage recording editorial images, travelogues, celebrity and fashion scenes always with the instinctive certainty of a natural designer… His mid 20th Century ideas of style and meaning always remained in careful balance. His library attested to his respect for fellow masters and his love of the craft. He was a master in his own time… a true professional."
— David Hlynsky, Department of Humanities, U of T 
|
Tranquility is reminiscent, some say, of the work of Giorgio de Chirico, who founded the Scuola Metafisica movement in the early 20th century, which strongly influenced the surrealists. The piece is housed in the office of Trinity's Associate Registrar, Jerome Chang. "It is an honour to have an original Roloff Beny in my office," says Chang, Trinity's Associate Registrar. "Trinity archivist Sylvia Lassam picked it out for me and it's perfect. I've grown quite fond of the painting and, while it's wonderful to know Beny's works are world-famous, it's particularly special that he was himself a Trinity College graduate."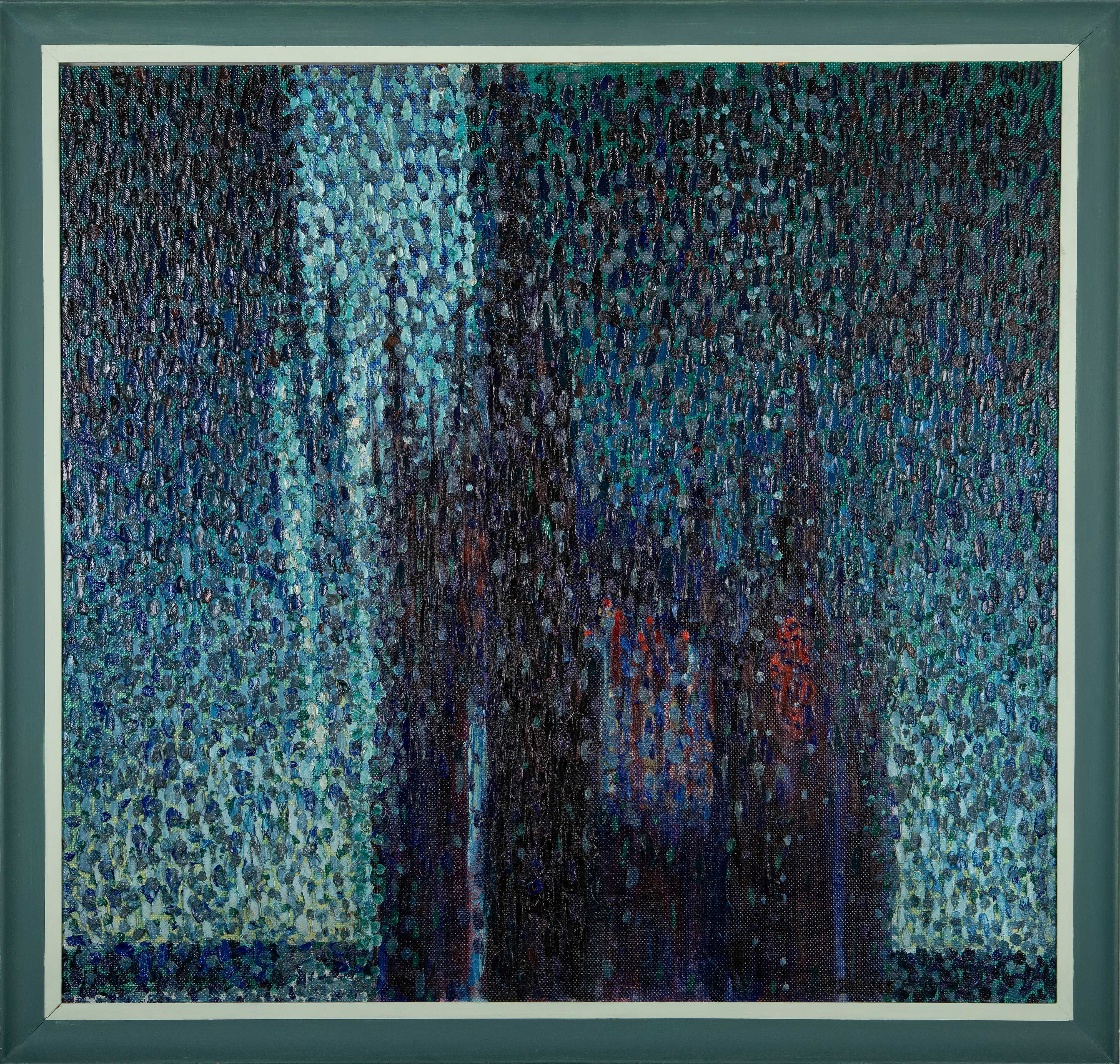 Prairie Cathedral, on the other hand, is a brooding shadow of a building at first glance; as the viewer moves across the room, light unexpectedly and almost magically begins to play through the stained glass windows.
Beny entered a black-and-white drawing titled Survival to University of Toronto's student newspaper TheVarsity in 1944 for the paper's art contest, winning first prize. The drawing of a lonely country church being windswept by some kind of aerial force of nature is a stark yet powerful image reflective of the artist's prairie roots.
The Art Museum at the University of Toronto has a portfolio of Beny's original photographs of Iran and the Trinity College Archives has a nearly complete run of the Trinity Review. It is here that one sees early examples of the budding artist (and assistant editor) who would provide one of the cover drawings and some of the illustrations. The Archives also has a framed water-colour illume (poster) of a Trinity student reading, designed and hand-painted by Beny.
He revealed his sensitivity and artistry through poetry and prose as well, as seen within the pages of the Trinity Review. In the short story "Desire" he writes of a young man leaving all he is familiar with to join his love, wondering if he would ever return to his home.
His vivid description paints a picture for the reader…
"A hazy patchwork of young shoots and weathered stubble coloured the middle-distance. The cobalt wash of the cypress hills melted into a clear horizon. Sagging haystacks, gilded by the strong sun, stood in dazzling relief against an azure vault above."
In the poem "Two Forty-five A.M." (all his entries signed
"W. R. Beny") he speaks with the maturity of someone much older…
|
Passion
like curtains of strident rain. Brute and cruel
Withering
resisting reed, bruising
firm petal,
All is solitude…
Stirring
underground, a warm pervading life,
a wistful smile from a bruised face.
And a longing.
Love, can't you learn, is brutal. So is life, but
Love never dies!
Raise the eyes.
Let the rain beat upon the face.
|
✦  ✦  ✦
A CANADIAN TREASURE
In 1993, one of the greatest tributes to Beny took place when the Royal Ontario Museum (ROM) named an entire gallery in his honour. Fittingly, it is the main exhibition area for the ROM's contemporary culture collection (architecture and design, contemporary photography and art). Sitting atop the Michael Lee-Chin Crystal, it has 6,000 square feet of space for multimedia works and is considered one of the museum's most dramatic exhibition spaces, with striking geometric walls angled to complement a ceiling that soars 35 feet. For a man enraptured with architecture and all things dramatic, it is the perfect memorial.
In 1994, The Royal Ontario Museum followed this honour by presenting the exhibit "Visual Journeys: The Photography of Roloff Beny."
However, it's in the U of T yearbook Torontonensis that one can see perhaps the best description of Beny. After his many academic and athletic accomplishments are listed is the quote…
|
"Artist Nevertheless."
✦  ✦  ✦
|
More work from Roloff Beny