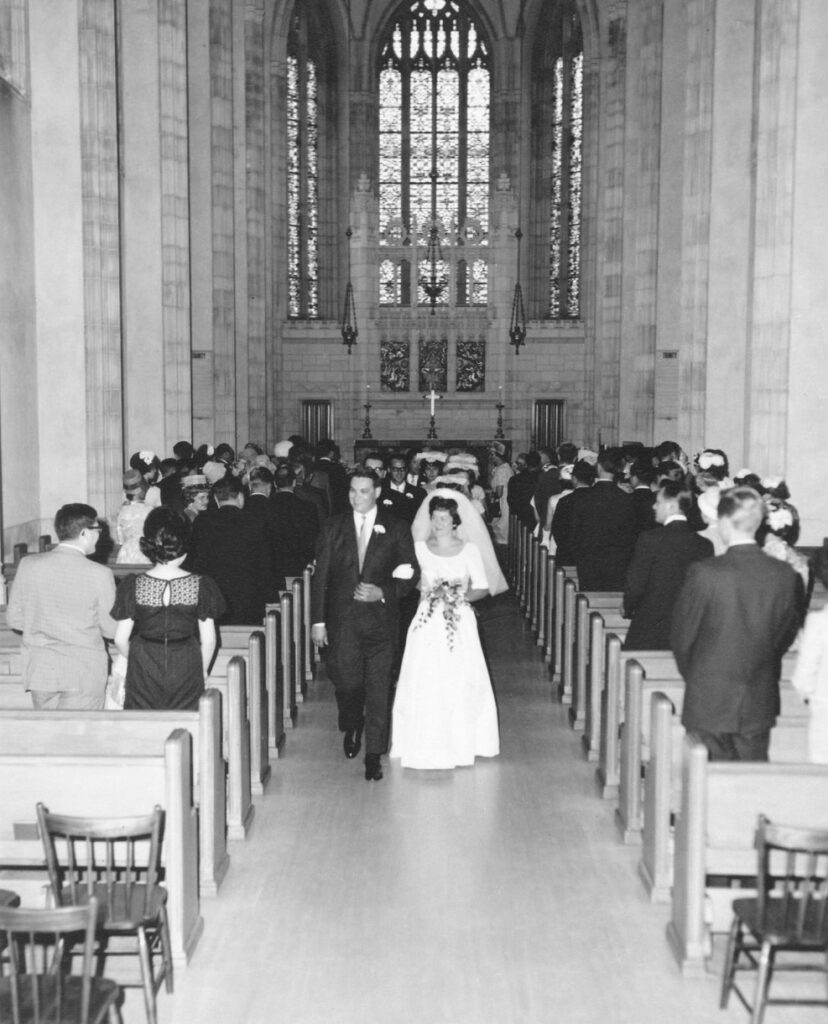 Who: Susan Hinton '62 and Dan Moziar
When: July 6, 1963
Where: The Trinity College Chapel, of course!
Who else was there:  Bridesmaids included Nancy Salter Angeli '62 and Jane Medland Emery '62
From the bride:
I loved the Chapel—its architecture, the acoustics and the feeling you had when you were inside. Being married in the Chapel seemed like a wonderful way to conclude my time at Trinity and start my new life.
On the day I got married, the weather was a beautiful; it was a sunny warm day with no humidity. We were sewers in our family, and I was proud that I had made my own wedding dress, which I still have to this day. My mother made her outfit. I can remember being quite nervous walking down the aisle with my father accompanying me. My life was about to change! It was a magical time and the wedding party looked so beautiful. Once the actual ceremony was over, I could relax and enjoy the day with friends and family.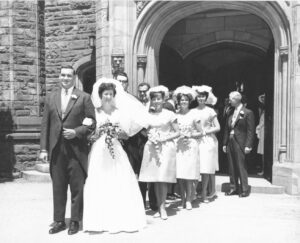 The wedding party (left to right): Dan Moziar, Susan Moziar, Michael Moziar, David Armstrong, Nancy Salter '62, Tom Hanny, Jane Medland '62, Rose Todruk, Heather Burns (hidden); and Harold Hinton, father of the bride
---
Share your wedding memory 
Since its official consecration in 1955, hundreds of weddings have taken place in the Trinity College Chapel. Was yours among them? To share your Trinity Chapel moment, send a photo of your wedding day along with a 150-word written account of your experience. Please provide a high-resolution scan of your image (350 dpi or greater, scanned at 100 per cent). Original photos may also be sent for scanning and will be returned. For more detailed submission guidelines, please send an email to alumni@trinity.utoronto.ca.
As published in the September 2022 Newsletter.