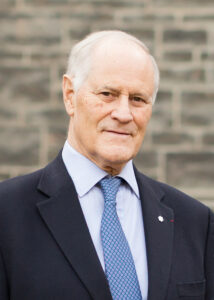 He was, wrote Trinity Provost Mayo Moran, the very best of us. Widely admired, deeply respected and much loved, Trinity Chancellor William C. Graham passed away on August 7, 2022. News of his death inspired tributes from around the world, many echoing the description of him as a "beacon of civility," "a philanthropist of great generosity," and heralding his significant positive impacts on all Canadians.
"Bill's speeches on all public occasions were marked by his wit, his humanity, and his wide-ranging intelligence. His friendships across a wide range of communities remain a testament to a full life, well-lived," wrote former political colleague and Canada's representative to the UN Bob Rae.
A graduate of the class of 1961, Bill met his wife, Catherine Curry '62, at Trinity, and the two were wed in the Trinity Chapel. They have two children, Patrick and Katy, and the family has been active in the Trinity community throughout their lives, supporting the College in every possible way.
"This is an intellectual with a compassionate heart," said Graham's parliamentary colleague Dr. Carolyn Bennett (now Minister of Mental Health and Addictions and Associate Minister of Health) of him in 2007 as he ended his political career and embraced his new appointment as Trinity's 12th Chancellor. During his 15 years in the role, he enriched the Trinity community with his energy, leadership, wit, wisdom and spirit of giving. He will be sorely missed.
As we mourn his loss, we also celebrate the incredible legacy of Bill Graham for Trinity College, which will be felt for generations to come.
Read Provost Moran's tribute to Chancellor Graham
Read U of T's message about honorary degree recipient Bill Graham