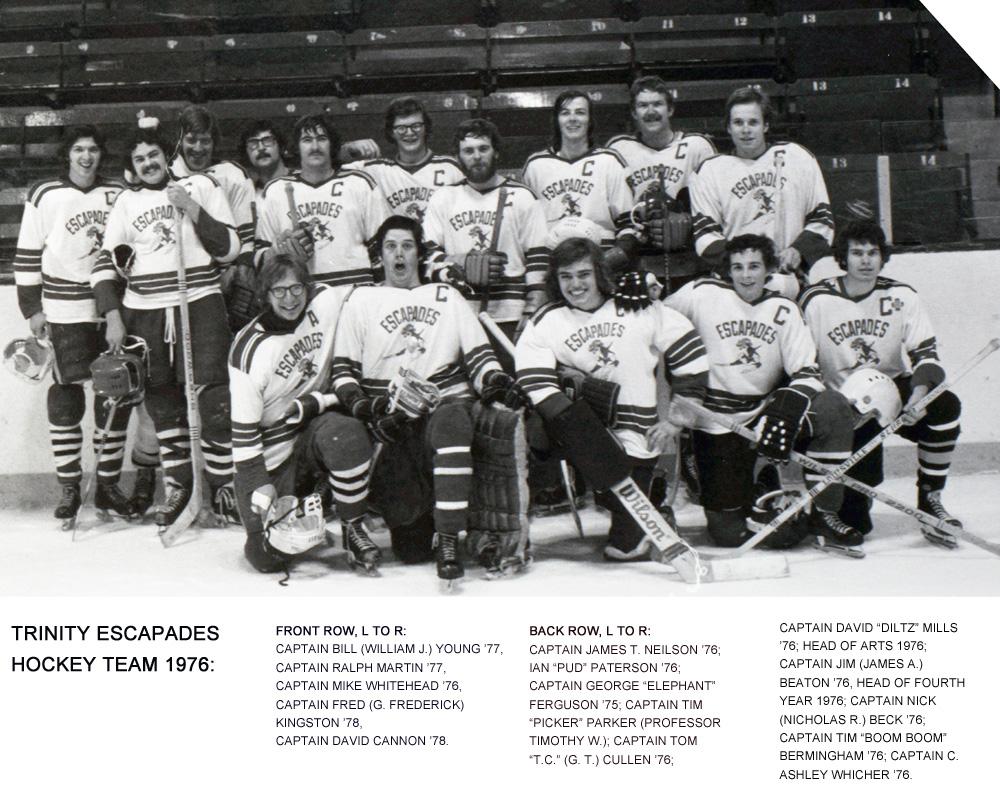 By Jim Neilson '76
The Trinity Escapades proudly represented the College in Division E of the university intramural league, otherwise known as the Anklers. In order to make the team, each player had to demonstrate that he had little or no hockey-playing ability. The team crest was a figure skater and each player wore the "C," signifying First Among Equals, or perhaps, Every Kid's a Winner. Our arch-rivals were the Vic Fish Heads, which culminated in a match where, as a salute to the 1972 Summit Series, we opened by playing the Russian and Canadian national anthems.Provost George Ignatieff graciously agreed to drop the puck for the ceremonial face-off. A farcical display ensued, much to the delight of a large and admiring crowd. The final score has been lost to memory, and was in any event irrelevant.
Although none of the players went on to pursue a career in professional sports, it is generally agreed that the Escapades experience helped to forge strength and character for life in the wider world.
Jim Neilson '76 was one of several captains of the Trinity Escapades Hockey Team.
Share your photographic memory Do you have an image of a Trinity person, place or memento that you'd like to share? We welcome your submissions, along with a 150-word written account sharing a memory or story about the image. Please send a high-resolution scan of your image (350 dpi or greater, scanned at 100 per cent). Original photos may also be sent for scanning and will be returned. For more detailed submission guidelines, please send an email to magazine@trinity.utoronto.ca.