Ahead of his first term, newly appointed Nicholls Librarian and Director of the John W. Graham Library John Papadopoulos (JD '93, MISt '97; U of T) talks about his new role and new Friends, and hints at what might be revealed in the library's next chapter.
By Liz Allemang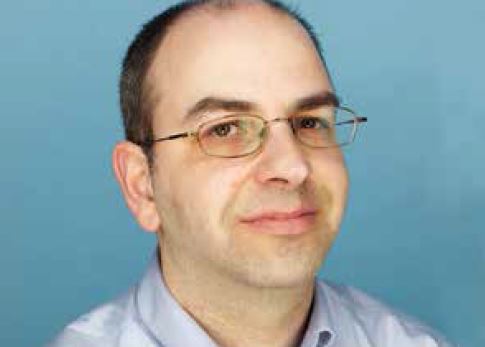 Trinity: Having worked as a reference librarian in top law firms, and most recently as Chief Law Librarian at Bora Laskin, what appealed to you about Trinity?
John: As a law librarian, because we're dealing with a faculty and a specialty, one of the appealing things about the Trinity job is that the kind of intellectual diversity you're going to encounter is broader.
From a library perspective, a couple of things: Linda Corman is a legend. And she's such a modest legend, too. Her modesty and her demeanor are representative of the best of Trinity. And of course the collection itself appealed to me greatly.
Trinity: Is there any aspect of your new role that excites you particularly?
John: The rare books collection. When Linda was showing me around a few weeks ago, she pointed out is that the library has a rich collection of different editions of The Book of Common Prayer, including many of the most historically significant examples.
As a law librarian, the kinds of materials that we work with are so reproduced. Even with a title that is 200 or 300 years old, there are loads of them all across the country and all across the continent.
Trinity: What are some priorities or areas of opportunity as you presently see them?
John: The collection is already strong. I see priorities in terms of continuing to grow our special collections and rare books.
The library is a beautiful place. What needs to be looked at is ensuring that the student experience is good within that space. Are there things that students would like to see in the library? Are there ways that we can make improvements that make it a more comfortable place in which to research and study, without damaging its ambiance, which is so strong and so distinctive?
My main strength is on the service side. Developing programs and figuring out what support students need from the library will be key for me.
Trinity: The Friends of the Library association is the library's ally and a keen supporter. Were they a selling point?
John: I was very aware of them before I came to the job. It's really humbling to know that this group of talented and accomplished people is putting their energy together to put on a book sale that's impressive by any definition. And of course, I'm also very grateful for the amount of support that the Friends provide to the library.
The Friends were one of the main factors in me looking at this position: In professional libraries, attached to professional faculties, this kind of alumni or Friends association isn't typical. For me, being able to work with them, their mission and purpose is a huge plus.
Trinity: Speaking about books, we are compelled to discuss: What are you reading?
John: I have two young children and I find it's hard to shut down and switch into fiction mode. It's much easier for me to read non-fiction at the end of the day. So right now I'm reading a book called The Birth of the Hospital in the Byzantine Empire. It makes a case for why, what looks like a fairly modern hospital organized on fairly modern principles existed in this pre-modern time.
Trinity: All this talk of books and you wait until the very end to plug your own?
John: I have to tell you I'm on a little bit of a high right now because my book just came out. Two colleagues and I work on something called The Practical Guide to Canadian Legal Research. Our new edition came out last week. It's a nice bookend to my law career.
Trinity: Now that it's done, you can focus on your new role. Will you be adding your book to circulation at Trinity?
John: I think so. I believe it will be of use to students in our Ethics, Society and the Law program.