Dispatches from campus
FROM THE ARCHIVES
By Sylvia Lassam, Rolph-Bell Archivist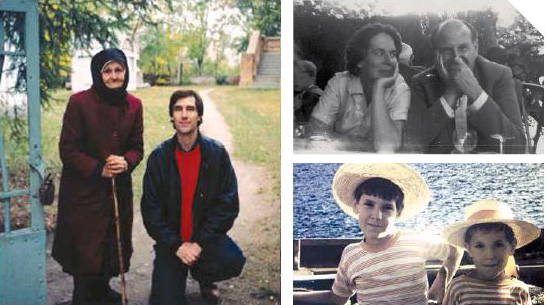 There seems to be no doubt that the Ignatieff family papers should reside at Trinity College. George Ignatieff '36, Trinity's Provost from 1972 to 1979, started donating his papers to the College before his death, and the remainder were donated by his son Andrew. They are voluminous, and among our most frequently requested papers.
George's other son, Michael Ignatieff '69, offered his own papers in 2011 and each year since then has added significantly to our holdings. The archives vault now contains over 15 linear metres of boxes containing the story of the Ignatieffs, not just père et fils, but also Count Paul (George's father) and his dramatic exit from Czarist Russia, and Alison (Grant) Ignatieff's distinguished Grant and Parkin forbears.
The papers document George's childhood in Russia, England and Canada, his diplomatic career in the Department of External Affairs, NATO and the UN, and his academic career at Trinity College and the University of Toronto. Through this material is an account of the childhood of Michael Ignatieff, who went on to write about both sides of his family, and to make his own mark as a public intellectual, historian, biographer, academic and politician.
The records complement each other, filling in gaps and adding depth, notably through the ongoing dialogue between generations, where each voice is articulate and thoughtful. They contain a mix of personal and professional stories that give context and shape to each family member's life and the times they inhabited.
Wonderful images exist in these records, three of which are shown here: Michael Ignatieff visiting his family's former estate, Kroupodernitsa, now in the Ukraine, in 1993; a relaxed George and Alison Ignatieff enjoying a glass of wine on vacation in the late 1950s; Michael and Andrew Ignatieff in striped t-shirts and straw hats from the same vacation.
Of the hundreds of photographs in these records, we chose these—the first for its dramatic study in contrasts, the second for those Trinity alums who remember the warmth and hospitality of George and Alison, and the third because Michael and Andrew look adorable!
PHOTO: from the Michael Ignatieff Fonds, Trinity College Archives
PROVOST MAYO MORAN
Helping to chart the course to an accessible Ontario, and promote reconciliation for all Canadians Trinity College Provost Mayo Moran has been in the news lately, in connection with initiatives she has undertaken outside of her leadership of the College.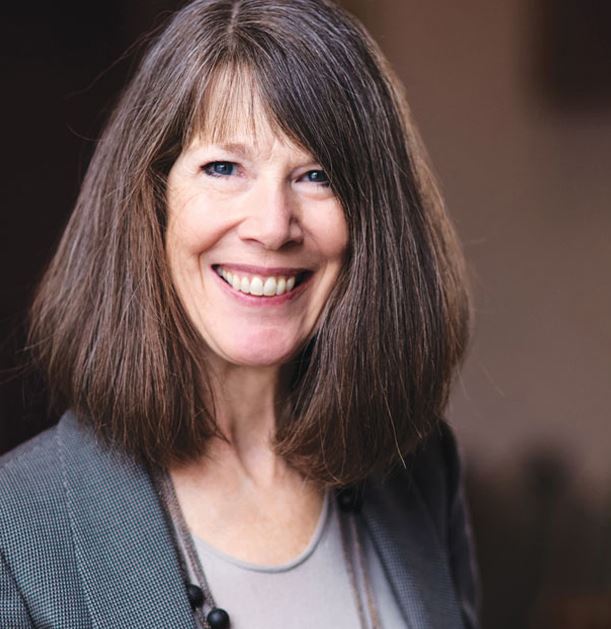 In 2013, Provost Moran was appointed by the Ontario government to lead a comprehensive review of the Accessibility for Ontarians with Disabilities Act (AODA), 2005. In June she issued her report, which outlined eight themes for change with supporting recommendations.
The review was well-received by the Ontario government, which is already moving forward with a number of Provost Moran's recommendations. The recommendations contained in her report have also been key to informing "The Path to 2025: Ontario's Accessibility Action Plan."
Also in June, the Truth and Reconciliation Commission of Canada released its findings, and a call to action following a six-year mandate during which the commissioners heard more than 6,750 survivor and witness statements from across the country after more than a century of abuse at Indian Residential Schools. Provost Moran's work since 2007 as Chair of the Independent Assessment Process Oversight Committee, which assists in the implementation of the Indian Residential Schools Agreement, helped to inform the Commission's report.
HONOURS
Three outstanding Trinity citizens honoured at Divinity convocation.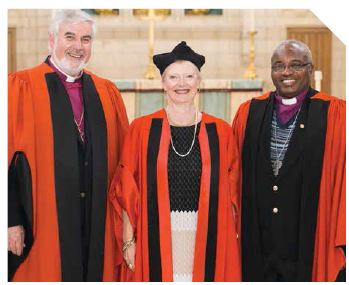 On May 12, Trinity College held its 2015 Divinity Convocation Ceremony for conferring of Degrees in Divinity and Honorary Degrees. The Hon. William C. Graham, Chancellor of Trinity College, conferred honorary degrees on three recipients for their dedication to Trinity College, their years of service and their life's work. From left to right: The Rt. Rev. Dennis Drainville '79, '82 (MDiv), Honorary Doctor of Divinity; Anne Steacy '76, Honorary Doctor of Sacred Letters; and the Rt. Rev. Victor Reginald Atta-Baffoe, Honorary Doctor of Divinity.
Three Trinity members appointed to the Order ofCanada
On July 1, 2015, His Excellency the Rt. Hon. David Johnston, Governor General of Canada, announced 100 new appointments to the Order of Canada, one of our country's highest civilian honours.
Among the honourees:
Officers of the Order of Canada
STEPHEN A. COOK, Fellow of the College and Professor Emeritus of Computer Science, for his seminal contributions to theoretical computer science and mathematics, including his contributions to complexity theory.
STEPHEN TOOPE, Director of the Munk School of Global Affairs, for leadership in post-secondary education and for scholarship in the fields of international law and human rights.
Members of the Order of Canada
THE HON. JOHN WILSON MORDEN C.M. '56, Doctor of Sacred Letters '06, for his contributions to the administration of justice in Ontario and for hiscommitment to protecting the public interest.
NEW LEADERSHIP OF THE TRINITY COLLEGE BOARD OF TRUSTEES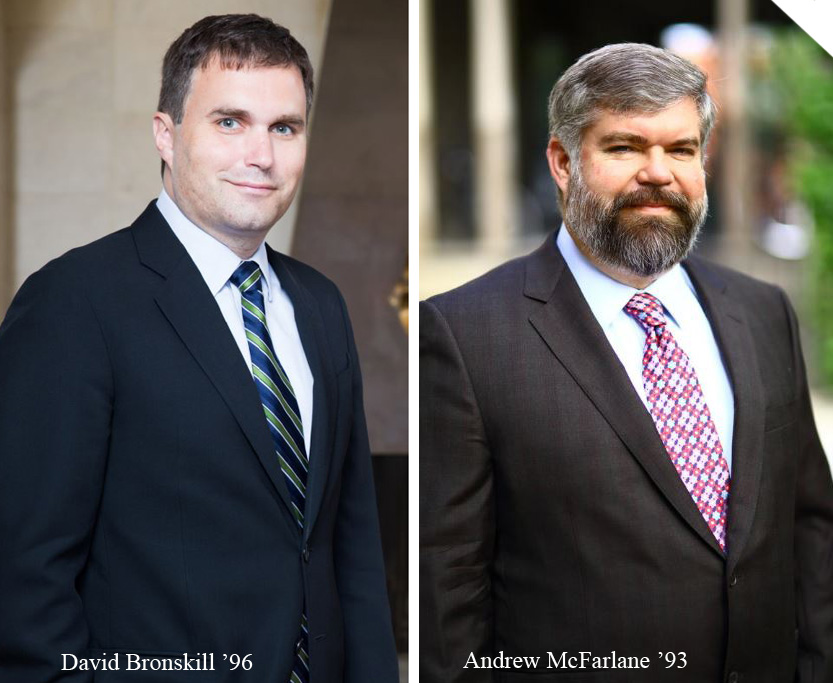 The Trinity College Board of Trustees appointed a new Chair, David Bronskill '96, and Vice Chair, Andrew McFarlane '93, at its May meeting.
"We are excited to have David Bronskill and Andrew McFarlane lead the Board of Trustees in the governance of Trinity College," says Provost Mayo Moran. "Their experience and dedication to Trinity will serve the Board well, and I look forward to working with them to ensure that Trinity College continues to provide an outstanding student experience." Trustees also extended their gratitude to those leaving the Board for their contributions during their tenure: Evan Howard '90, outgoing Chair, who had served on the Board since 2008; Diana Juricevic '01, a member since 2009; and Kiran Little '79, a member since 2013. Trustees also thanked student members for their service as Trustees: Mary-Cate Garden (Divinity), Connor Anear, Kalyna Onufryk and Tina Saban ( each serving one year). New members will be joining the Board of Trustees in September.
STUDENTS
New awards unveiled at Trinity Graduation Awards ceremony
A number of new and existing awards were presented to Trinity graduates at the Graduation Awards Ceremony on June 10.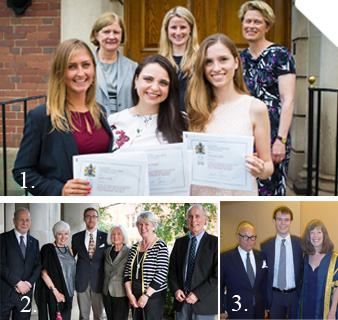 1. The St. Hilda's Board of Trustees recently created the ST. HILDA'S COLLEGE BOARD OF TRUSTEES LEADERSHIP AWARDS, which were presented for the first time this year. Aimed at both recognizing the incredible contributions of Trinity's female leaders and encouraging women to participate in College life by holding leadership positions, the awards will be presented on an annual basis to four (4) third- or fourth-year female students who, through service and leadership roles, have made outstanding contributions to the Trinity College community.
"We've noticed that fewer women put their names forward to stand for elected positions," says Jenn Hood, Chair of the St. Hilda's Board of Trustees. "We also appreciate that some of these positions require incredible time commitments that may impede a student's ability to hold a parttime job, for example. Our goal with these awards is consequently to both incentivize female students to seek elected roles and reward the remarkable service provided to the Trinity community through those positions."
Celine Collis, one of four recipients of this year's award, says, "I am humbled to share this award with Tina, Elisse and Allison. They are all people I've looked up to during my time at Trinity. They are strong, driven and passionate women and I know I would not be the leader I am today without their guidance and support.
"I think it is fantastic that Trinity grants an award for female leadership. Even though we are fortunate enough to attend a progressive college, the lack of women holding student leadership positions here is palpable. To recognize female leadership is, I believe, to support a worthwhile cause."
Pictured are (front row, left to right): Celine Collis '15, Allison Spiegel '15, Tina Saban '15 (not pictured is award recipient Elisse Magnuson '15); and (back row, left to right): St. Hilda's Board of Trustees members Ann Wilton '74, Jennifer Hood '06, and Anne Cobban '85.
2. LINDA CORMAN was Trinity's librarian for 35 years until her retirement in 2015. In recognition of her years of service to Trinity College, the Friends of the Library created The Linda Corman Award.
"Many believe that without Linda Corman's support, the book sale would not have become the success that it is. We wanted to honour her dedication to the Friends, our book sale and programs, through an award to support young people pursuing postgraduate library and archival studies. The award is presently $1,000 but we hope to see it increase as the endowment grows," says Friends of the Library president Kathy Girvin.
Pictured are (left to right): Alastair Grant '58, Nancy Graham '58, Christopher Hogendoorn '14 (award recipient), Linda Corman, Kathy Girvin '69, and Charles Laver '60.
3. CHAD COGAR '10, who was Male Head of College in 2008-2009, received The Nevil Thomas Award. The award, established by Nevil Thomas '61, is given to a graduating or recently graduated (within five years) Trinity College student who enrolls in the MBA or a similar business program at the Rotman School of Management at U of T.
"Receiving this award means being able to work my dream job," says Cogar, who will complete the Rotman combined JD/MBA program later this year while working at the same time. "In February I received an offer from a tech startup that would allow me to combine all of my interests: tech, business, law and psychology. It's an artificial intelligence and robotics company trying to make robots that think like humans. However, because the tuition is so high for the JD/MBA program— about $170,000 for all four years—and startups can't afford to pay that much, I knew that I might have trouble financing my final year of school. Without this award, I wouldn't have been able to accept the position, so the extra support really made a difference to me."
Pictured are (left to right): Nevil Thomas '61, Chad Cogar '15, and Provost Mayo Moran.
For more information on supporting student awards, please contact Meredith Meads at meredith.meads@utoronto.ca; phone: 416-946-7371.
Staff Updates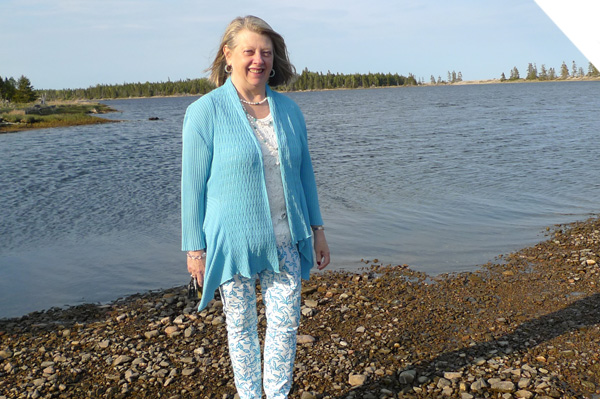 • "Life is great," says BRENDA DUCHESNE (pictured), former Assistant to the Provost, who retired to Cape Breton, N.S. earlier this year. "We are enjoying the summer sunshine, ocean breezes, and watching the birds.We start each day on our patio overlooking the Atlantic!"
• JUDITH LAVIN, former Senior Executive Assistant to the Dean of the University of Toronto Faculty of Law, has joined the Trinity team as Executive Assistant to Provost & Vice- Chancellor Mayo Moran.
• On April 20, YOUNG UM joined Trinity as the College's Director, Communications & Public Affairs. In this new role, Um will provide strategic vision, planning and leadership in communications, marketing and the public affairs. She has already introduced several initiatives to improve internal communications and launched Trinity's presence on social media. "In the coming months, you will see some exciting changes to Trinity's public website," says Um. "Along with making the current site more user-friendly, visitors will get a better understanding of the student experience through our success stories."
• DR. BRUCE FERGUSON, Assistant Provost, retired this summer after nearly two decades with the College. "Bruce will be missed by all of us," says Provost Mayo Moran, "but he leaves behind a legacy of collaboration and engagement. We wish him an active, fulfilling retirement."
• DR. JONATHAN STEELS, Dean of Students, has been promoted to Assistant Provost, effective July 2015.
• KRISTEN MOORE has been appointed Dean of Students, effective August 1. Kristen has been Trinity's Associate Registrar since 2012.