Dispatches from campus

Alumnus John Monahan takes the helm at Hart House
John Monahan '87 was appointed 12th Warden of Hart House on August 4. Considered by many to be the "heart" of the U of T campus, Hart House is our principal cocurricular college, established almost a century ago by Vincent Massey to be a centre for the social, educational, cultural, recreational, and serviceminded development of the entire university community. The Warden is the chief executive officer of Hart House. Monahan, who studied international relations while at Trinity, has had a varied career in international trade and development, private law, and nonprofit leadership. His appointment as Hart House Warden is in effect until June 30, 2020.
Bill Graham reappointed as Trinity's 12th Chancellor
At the Fall meeting of Corporation on October 22, the Hon. William C. Graham '61 was reappointed as Trinity's 12th Chancellor for four more years. Graham has been Chancellor—Trinity's highest- ranking volunteer officer— since 2007.
Stepping toward a more accessible campus
If you've visited campus recently and noticed a mess in the hall outside the Trinity Chapel, it's a sign of progress. What may seem like chaos at the moment is our new elevator in the works. When complete in a few months, it will help to make our historic campus much more accessible for anyone who has difficulty with stairs. The elevator will also enhance access to our new Archives space, which is currently under construction.
Arbor Award recipients honoured
Established in 1989, The Arbor Award is a U of T-wide honour designed to recognize the outstanding service of alumni volunteers, as well as friends of the university who have generously committed their time and expertise to improve the experience of students, faculty, alumni and staff. This September, eight Trinity graduates, staff and friends received Arbor Awards:
Cynthia Bracewell, long-time active member of the Trinity College Friends of the Library and Volunteer Co-ordinator for the Annual Book Sale
Victor Harding '70, alumni rep and advisor for the U of T varsity squash team and President of the T-Holders' Association
Sandy Houston '84, member of the Capital Campaign Advisory Board for the Dr. Eric Jackman Institute of Child Study, and Co-Chair of the Jackman ICS Parents Building Committee
Evan Howard '90, former Chair of the Board of Trustees and of the Trinity pension committee
Louise A. James '95, long-time volunteer, member of the Alumni Association Executive and rep for the Class of 1995 • Diana Juricevic '01, Co-Chair of the Trinity Fund, and former member of the Board of Trustees
Kate MacDonald, active member and former Chair of the Faculty of Information Alumni Association
Michael G. Peers '59, long-time volunteer and member of the Divinity Associates Executive
Recipients have been added to the ever-growing Arbor Awards wall on campus. Congratulations!
Former Provost Andy Orchard pays a visit
Andy Orchard, Trinity's Provost from 2007 to 2013, visited Toronto in November in his role as Rawlinson and Bosworth Professor of Anglo-Saxon at the University of Oxford. His famous predecessor in the role, J.R.R. Tolkien, was the subject of Orchard's lecture, in which he considered Tolkien as "a bold and brilliant interpreter of the greatest of all Old English poems" (Beowulf), and a model for modern medievalists.
Trinity students win prestigious Schulich scholarships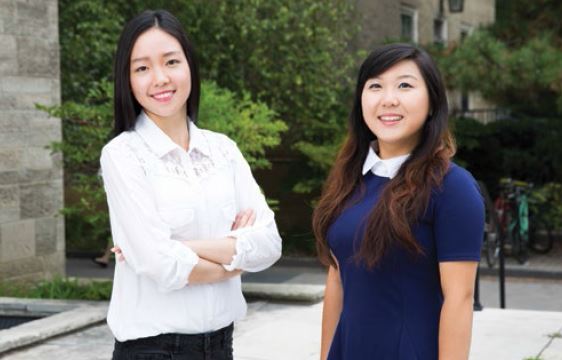 Congratulations to Class of 2019 students Julia Won and Annie Yao, who were awarded Schulich Leader Scholarships. The scholarship program, launched in 2012 by philanthropist Seymour Schulich, celebrates leadership and innovation by funding 50 undergraduate STEM (science, technology, engineering and math) scholarships each year at top universities across Canada.
Honorary degrees awarded and the Class of 2019 welcomed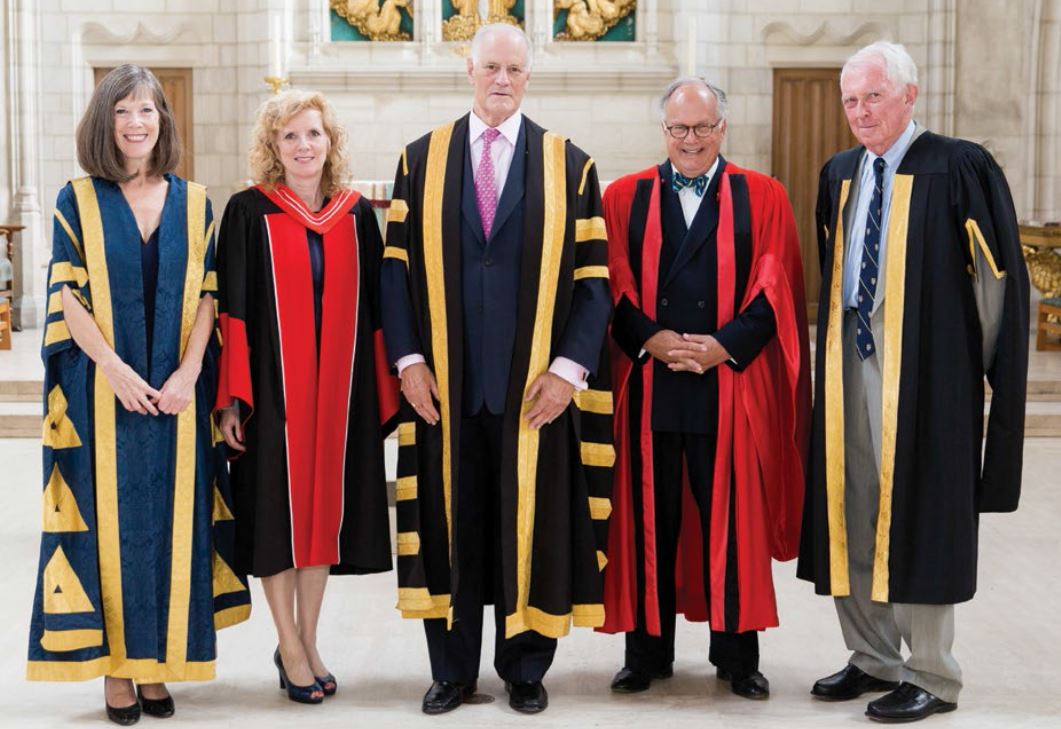 On September 9, Trinity Chancellor the Hon. William C. Graham '61 and Trinity Provost Mayo Moran formally admitted our new Class of 2019 to the College. TRINITY ALSO CONFERRED an Honorary Fellowship upon Donald Moggridge '65 for his outstanding contributions to modern economic history and the history of economic thought, as well as his distinguished teaching and administrative career at Trinity and U of T. A Doctor of Sacred Letters was conferred upon John Fraser in recognition of his outstanding career as a journalist, writer, editor and academic leader, and his many contributions as Master of Massey College from 1995 to 2014. Fraser delivered an engaging Convocation address that resonated with both the new students and those who have had a long-term connection with the College.
New internship program opens a window to new cultures
In May 2015, two Trinity students began internships abroad through the Queen Elizabeth II Diamond Jubilee Scholarship program. Kevin Deagle was one of them.
Deagle, currently in the last year of an undergraduate joint-specialist degree in International Relations and Peace, Conflict, and Justice, says the experience was "the formative moment of my undergraduate career."
Six U of T Faculty of Arts & Science students in total received Queen Elizabeth II Diamond Jubilee Scholarships from Trinity College this year. The program was created to honour the 60th Anniversary of Her Majesty Queen Elizabeth II's ascension to the throne, and is a unique partnership of the Rideau Hall Foundation, the Community Foundations of Canada, and the Association of Universities and Colleges of Canada with financial support from the Government of Canada, provincial governments and the private sector.
Trinity College submitted successful proposals for two programs—one in Immunology and one in Aboriginal People and Development—each to be funded for $500,000 over four years. Each three-month internship will be awarded funding of up to $6,000.
The goal? To "facilitate a dynamic community of young global leaders across the Commonwealth to create lasting impacts both at home and abroad through cross-cultural exchanges encompassing international education, discovery and inquiry and professional experiences."
For Deagle, that meant the chance to develop a first-hand understanding of Aboriginal issues in an international context. In May, he travelled to Canberra, Australia to study Aboriginal economic development policy. "Within a week, however, I managed to end up in a remote region of Northern Australia, about 1,000 km southeast of Darwin, in a town called Borroloola. There I learned that economic development centred on innovative environmental efforts, so I spent over a month doing research under the guidance of a local Aboriginal organization."
Deagle says the program's impact on him has been huge: "I was left with an unshakeable appreciation of the impressive agency Aboriginal peoples exhibit in the face of often extremely adverse conditions. The internship also provided me with the academic direction I was lacking: I left Australia determined to pursue graduate studies in environmental issues, so that I, too, can contribute in my own way."
Michael Ratcliffe, Trinity's Dean of Arts, is excited about the program's possibilities. "In our first year we had a very short time to establish the internship opportunities," he explains. "This year we are able to put more structure around the program. We hope to send out 30 students on internships around the world in May 2016."
Longer-term, Dr. Ratcliffe envisions even more opportunities for Trinity students. "This program could become a model that could expand on a wider scale and be woven into specific academic and donor programs."
The application process for the Queen Elizabeth II Diamond Jubilee 2016 internships will be announced in early spring by Trinity's Faculty of Arts.
How I spent the summer
by Sylvia Lassam, Trinity's Rolph-Bell Archivist
"Follow the money"—this summer that's what I did. The records of the Bursar in the Trinity College Archives are vast and sprawling, and contained a large number of mostly unprocessed records. Partial lists existed and I had dipped into the boxes a few times, enough to realize that wonderful material was waiting to be discovered. After classes ended and the College was quiet, I opened the first of about 90 boxes and went back to the 19th century.
A ledger book, titled "Trinity College Church University Measurements," holds a record of the work accomplished daily, with costs, on the construction of our first campus from March 1851 to March 1853. Some entries are signed by Kivas Tully, the architect of the magnificent Queen Street building. A file of letters contains correspondence between the Duke of Wellington and Chief Justice Robinson discussing the Duke's investments in the Welland Canal, and his endowment of two scholarships from the profits earned on those investments. Written from Walmer Castle in 1844, there are two letters penned by Wellington. An 1853 letter from Robinson to Charles McGrath, Bursar, outlines the transfer of the funds from King's College to the new Trinity University.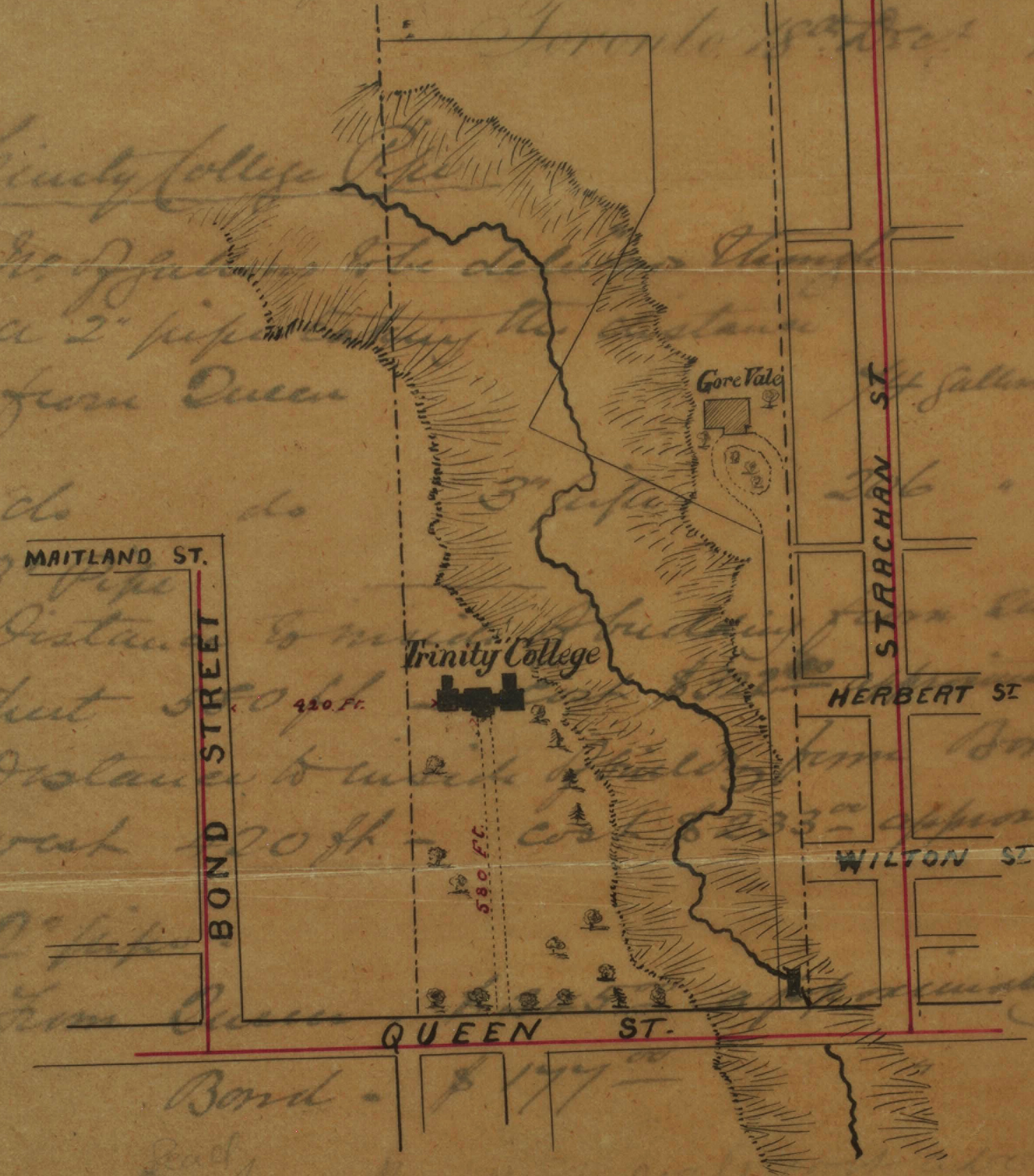 In 1876, a mundane letter from the Toronto Water Works contains a little drawing with surprisingly important information. It has been difficult to determine the exact location of Trinity College within Trinity-Bellwoods Park since the building was razed, but a sketch attached to the correspondence, outlining the costs of providing water service to the College, gives the exact measurements from surrounding roadways. A great discovery!
Throughout the early Bursar's records there are wonderful examples of letterheads from local businesses, selling supplies of food, household goods, stationery, books and other essentials to the College. Many show images of the business, a record of buildings long destroyed. Pictured here is an invoice from the Cosgrave Brewing Company [SCAN], billing us for the undergraduates' beer rations in 1880. Beer was a fixture in the Buttery and at meals until Provost Macklem banned alcohol in 1902.
The earliest records I found relate to our land holdings. When the College was little more than John's Strachan's determination, contributions to support us were often made in the form of gifts of land. Files containing deeds transferred to Trinity often contain earlier deeds and sometimes land grants relating to that property. The gifts were by no means confined to local properties but came from all over southern Ontario, and in a few cases, out-of-province. This 1832 grant from the Crown (William IV) to Simeon Washburn, in Essa Township, Simcoe County is unusual in that its wax seal is intact. Land transactions and property management were a significant part of the job for Charles McGrath, Bursar from 1852 to 1881.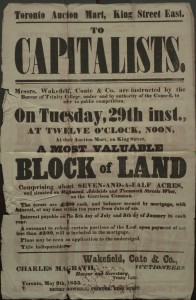 An auction notice from 1855 documents the sale of land on Garrison Common, given to the new university by the Society for the Propagation of the Gospel, and sold to buy a less expensive piece of land north of Queen Street. Well into the 20th century Trinity was a significant landowner in downtown Toronto, for many years managing a number of properties on Edward Street in The Ward. A 1928 report on the properties at 8-16 Edward Street makes it clear that we were slum landlords! The properties, rented by blacksmith Charles Farrow, are described as "in a frightfully dilapidated condition…"
Later still, several files in the Bursar's records document the gift of a property at 581 Bloor Street West and 617 Markham Street from Dr. W.E. Tindale's estate in 1944. The College turned this property around quickly, selling it to Ed Mirvish in 1945. We held the mortgage on the property, and in 1956 we loaned Mr. Mirvish the funds to expand his empire when he purchased the buildings at 613 and 615 Markham Street.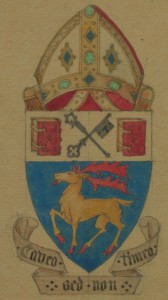 The look of the present Trinity College owes a great deal to Alexander Scott Carter (1881-1968), an architect, graphic artist and heraldic designer active in early 20th-century Toronto. The heraldry and polychrome wood decorations in Strachan Hall, the coats of arms in the quadrangle and Seeley Hall, and the coffered ceiling in the Lady Chapel are all manifestations of the extremely elegant work of Scott Carter. He also designed the extremely beautiful but ultimately incorrect coats of arms that were used from the 1940s into the 1990s when our heraldry was properly sorted out. A file in the Bursar's records yielded two original drawings by Carter for a seal, from about 1930—a really lovely find.
There's so much more: letters of complaint from students about the food; correspondence with Gerald Larkin that documents his relationship with the College (he was a micro-manager!); debentures signed by Strachan and his emissary, William McMurray, during the fundraising campaign in England in 1865; letters from Sir Henry Pellatt; beautiful site plans of the early College property.  The records show both the smallest details of life in the College, and also link us to the emerging metropolis. It was a terrific summer.