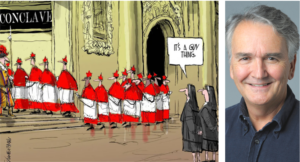 Trinity College is fortunate to be supported by a community of generous donors. Some choose to give funds that the College can use how and where it sees fit. Some give to create or expand specific academic programs or initiatives. Others donate gifts-in-kind—valuable property rather than cash.
The Trinity Archives recently received a most unique gift-in-kind: roughly 4,000 editorial cartoons, donated by their creator, editorial cartoonist Brian Gable, along with The Globe and Mail, the newspaper that commissioned and published the illustrations.
Gable, who was honoured in 2021 with a commemorative Canada Post stamp and is a member of the Order of Canada, has been The Globe's editorial cartoonist since 1987. His images have helped people across the country to process, reflect on and find the humour in the issues of the day. "My career has been about public discourse—being on the edge of debate, every day," he says.
Gable's connection to Trinity developed through his late wife, Anne Steacy '76, whose legacy with the College includes two academic streams, an academic program and a foundational student counselling initiative. As Gable attended Trinity functions and came to know the College and its people over the years, he became "conscious of the enormous footprint Trinity has left on Canadian political and academic culture."
He is equally impressed with the "state of the art" Trinity Archives, he says, adding, "I am honoured to be in the Trinity Archives because of the immense respect I have for the College. I know my gift will be well cared for and used by generations to come."
Rolph-Bell Archivist Sylvia Lassam was thrilled to receive Gable's donation. "We've had some outstanding gifts to the archives over the years that are creating a core collection of research material on contemporary Canadian history, with a focus on international relations, one of the academic specialties at the College," she says. "Brian Gable's gift complements this collection in a wonderful way, adding visual commentary to the events that are represented in our papers."
Volunteers needed
Gable's gift also presents an unprecedented opportunity for interested Trinity alumni volunteers, specifically those who are passionate about current events. Starting in January 2023, the Archives needs individuals to commit an hour or two per week to work through the 4,000 or so editorial cartoons—currently organized only by date—to identify the people and subjects depicted in them.
"In order for them to be truly accessible, information about each drawing needs to be searchable by the person/people portrayed in them and any events they reference," she explains. Lassam envisions alumni working together in small groups at the College, focusing on one drawing at a time to discuss the subject and identify the individual(s) and any events that are pertinent to the drawing (e.g., leadership campaigns, elections, etc.). The findings will be collected and itemized, ultimately creating a searchable database that would be helpful to researchers.
---
We are looking for 8-10 alumni volunteers with a passion for current events who are available for daytime in-person meetings, starting in January. In return for your time, we offer social time combined with stimulating conversation and a sense of accomplishment at contributing to the College. Occasional visits from special guests, including the cartoonist himself, will keep the group energized. If you'd like to help, please contact the Trinity Archives at archives@trinity.utoronto.ca.
---
Images:
L: One of Gable's favourites among his own cartoons — a multi-layered take on the 2013 Papal Conclave to select Pope Francis. Image courtesy of Trinity Archives. Gift of The Globe and Mail.
R: Brain Gable. Photo courtesy of The Globe and Mail.