Message from Peter Wismath
THANK YOU.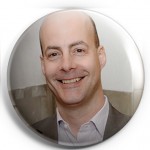 To all of the alumni and friends who gave to Trinity over the past year: You have made a difference. Your support means that Trinity's students have benefited from an enriched educational experience. It also means that our beautiful campus has been not only maintained but made more accessible and welcoming to all who use it.
Each of us gives for different reasons. Maybe you're concerned about the skyrocketing costs of post-secondary education and want to give today's students a helping hand. You may want to help ensure that the Trinity you remember will still be able to offer your grandchildren a world-class education. Perhaps you're passionate about the historical significance of our College and want to be a part of maintaining its assets. You may want to play a role in the development of tomorrow's leaders and innovators. Or you may wish to make Trinity College a part of your personal or family legacy.
Whatever your reasons for giving this year, we are grateful. And if, like me, you look back on your Trinity days with a mixture of affection and pride, I encourage you to maintain your connection to your College in as many ways as possible. Even if you can't make it to a Reunion event, or one of our Conversations with the Chancellor, you can connect with your fellow alumni online, through our alumni Facebook page or our ever-growing LinkedIn group. Please find us at "Trinity College in the University of Toronto" and see what we can offer you.
For all the ways you've supported Trinity College this year, on behalf of your alumni association, thank you.
Peter Wismath '94
Chair, Alumni Executive Committee
Contents
Leadership ($1,000+)
The following list recognizes donors who cumulatively gave $1,000 and above between May 1, 2014 and April 30, 2015 to support Trinity College. It includes gifts to the Trinity Fund, Reunion class gifts, and gifts in-kind.
$100,000+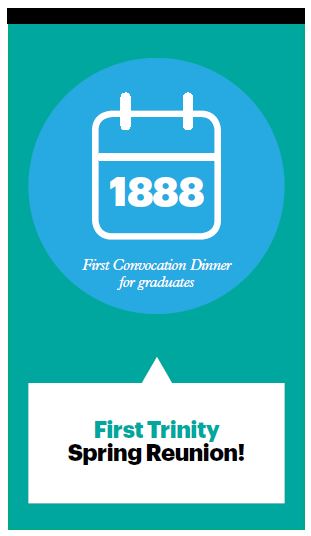 Anonymous (1)
Marilyn & Charles Baillie
William & Catherine Graham
R. Peter & Virginia McLaughlin
Raymond S.G. Pryke*
Anne E.H. Steacy
Guy & Sandra Upjohn
The Friends of the Trinity College Library
Students of Trinity College
$25,000-$99,999
John & Margaret Catto
George A. Fierheller
John A. & Ruth B. Gillett
Michael G. Ignatieff
Frederic L.R. (Eric) Jackman
Jack Whiteside
The William and Nona Heaslip Foundation
RBC Foundation
$15,000-$24,999
James C. Baillie
David & Mary (Bosworth) Neelands
Michael H. Wilson
Ernst & Young
Walter & Duncan
Gordon Foundation
The Henry White Kinnear Foundation
$10,000-$14,999
Jalynn H. Bennett*
Graham B.R. Collis
William J. Corcoran
William B. Hanna
William B.G. Humphries
Gary William Ross
Michael & Sheila Royce
William & Meredith Saunderson
Susan M. Sheen
Ann Skinner
Gordon Watson
The Peter Cundill Foundation
Scotiabank Group
$5,000-$9,999
Derek Allen
John C. Bonnycastle
George & Martha Butterfield
Michael Church
Margaret E. Cockshutt
Drew E. Gillanders
John & Mary Goodwin
G.T. (Tom) Gunn
Montieth Illingworth
E.R.S. McLaughlin
Anne McPherson
Mayo Moran
Hilary Pearson & Michael John Sabia
Winsor & Ruth Ann Pepall
John H. & Catherine F. Phillips
S. Steven & Pamela M. Popoff
Christine J. Prudham
Thomas Rahilly & Jean Fraser
Judith Ransom
Kathryn & David Richardson
Victor M. Seabrook
Helen Elizabeth Shaw
Barbara Shum & Manos Vourkoutiotis
Sonja Sinclair
J. Warren Stoddart
Bill & Sarah VanderBurgh
Gordon E. Webb
John & Anne Witt
The Hope Charitable Foundation
Musagetes Foundation
Florence Margaret Thompson Charitable Foundation
$2,500-$4,999
Anonymous (2)
Ann & Duncan Abraham
Carolyn Archibald
John A. Beament*
John N. & Miranda Birch
Walter M. Bowen & Lisa Balfour Bowen
Anne E. Brace
Roderick Brinckman
David Bronskill
Patricia Carr Bruckmann
Shirley Byrne
Adrienne Clarkson
N. Thomas Conyers
Brian & Linda Corman
Peter A. Crabtree
Hugh Craig
John D. Cuddy
Alexander & Ann Dalzell
Miranda Davies
D.P. Mary Eliot
Mary Finlay
J.E. Fordyce
Joseph W. Foster
Norman Fraser
John F. Futhey
Philippe & Gillian Garneau
Howard T. Gaskin
Heather V. Gibson
Julie Frances Gilmour
Michael & Nancy Graham
Terry & Ruth Grier
Stanley Y. Ho
Ernest Howard
Evan Howard & Cynthia Crysler
Robert P. Hutchison & Carolyn Kearns
Madeline Koch
Nancy Lang
John B. Lawson
Mary M.B.D. Lewis
Ivan & Harriet McFarlane
Nicholas P. McHaffie
Michael & Jeryn McKeown
Jane McLeod
Jane McMyn
Timothy D. Mills
Donald E. Moggridge
John W. Morden
Charles T. Pick
Flavia C. Redelmeier
Peter Rozee & Francesca Patterson
Blair Seaborn
Daina (Groskaufmanis) Selvig
Jessica Shelley
Patricia J.S. (Hand) Simpson
Peggy Sisley
John E. & Gayle Smallbridge
Philip R.L. Somerville
Paul G. Stanwood
Almos Tassonyi & Maureen Simpson
Beth & Graham Taylor
Craig Thorburn & Cynthia Caron Thorburn
Keith E. Townley
G. Vins
C. Ann Wainwright
Janet & Bill Young
Community Foundation of Ottawa
Dow Chemical Company Foundation
IBM Canada Limited
Mastercard Affinity Card – UTAA
St. Thomas's Church, Toronto
$1,000-$2,499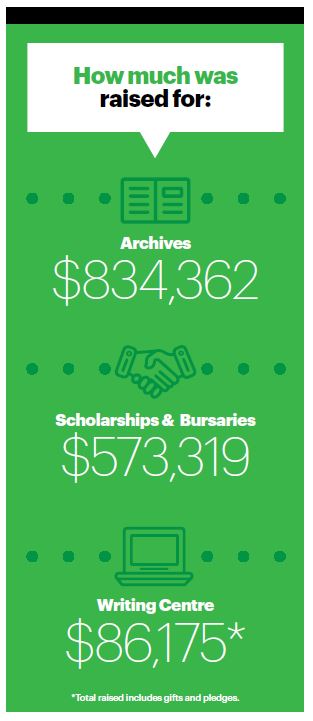 Anonymous (7)
Mary S. Aduckiewicz
Susan Ainley
Paul H. Ambrose
Jim Andersen & Michelle Marion
Jamie & Patsy Anderson
Hugh & Elizabeth Anson-Cartwright
James Appleyard
Brian G. Armstrong
P. Mark & Frances Armstrong
James & Penny Arthur
Philip Arthur
Reinhart J. Aulinger
Edward & Jocelyn Badovinac
Heather B. Ballon
Mark W. Banting
Catherine Barley
Bruce* & Alyson Barnett-Cowan
John & Susan Barton
Margaret H. Bedell
Michael & Bonnie Bedford-Jones
Keith Bell
Alexandra Bezeredi
Marian Binkley
Ann Birch
Terry A. Bisset
Mona H. Blair Bandeen
James Booth & Mary-Lynn Fulton
Bruce W. Bowden
John Bowden
William J. & Martha F. Bowden
Cynthia Bracewell
Helen & Robert Bradfield
Michael & Patricia Bronskill
Russell M. Brown
Carolyn & Robert Buchan
Andrea M. Budgey
Donald R. Cameron
Glenna Carr
Mary Chipman
Charles S. Churcher
John & Lynn Clappison
Charles F. Clark
Graeme C. Clark
Stephen R. Clarke & Elizabeth Black
John Cleave*
Anne M. Cobban
Lorenzo Coceani
Morgan Conn
Clive H.J. Coombs
Peter P. Copses & Judith V. Mueller
Martin Cosgrave
Graham Cotter
Charles G. & Susan Cowan
William Cruse
Janet Curry
William & Marie Dafoe
Virginia L. Davies
Michael de Pencier
Maurice A. F. DeWolf
Frank & S. Sunny Dicum
Peter & Jane Dobell
Margaret I. Drent
Richard V. P. Eagan
Sarah M. (Kinnear) Elliott
Christopher W. W. Field
Ian & Nancy Forsyth
Brian D. Freeland
Virginia Froman &
Michael Wenban
Colin Furness
Diane Gherson
Jack Gibbons
John Godfrey
Kevin Goldthorp & Diane Mendes de Franca
Robert & Janet Gouinlock
Elizabeth J. Graham
Marylo Graham*
Andrew D. Gray
Anne Forrester Greaves
Thomas M. Greene
William N. Greer
Bruce D. Griffith
Alice L. Haigh
Peter & Susan Hand
Michael J. Hare
Christopher Harris & Mary Shenstone
William B. & Patricia Harris
David Harrison & Catherine Le Feuvre
Campbell R. Harvey
Derek C. Hayes
Douglas C. Heighington
John Hickman
Andre Hidi
Charles Higgins
Marty Hilliard
Elspeth Hogg
Keith A. Hoilett
Stephen Holzapfel
Aaron Hong
Ruth E. Hood
Susan Huggard
Susan Hunt
Janet (Saddington) Hunter
Martin & Judith* Hunter Richard Ingram
Elspeth Johnson
Anneliese Kabisch
Lawrence & Barbara Kerslake
Elizabeth Kilbourn-Mackie
Richard S. Kim
Simon Kingsley
David H.W. Kirkwood*
John J. Kirton
Naomi Kirkwood Kuhn
Roland Kuhn & Susan Haight
Oleg Kuzin
William R. Langlois
J. Bruce Langstaff
Margaret S. Large- Cardoso
Alan D. Latta
Margaret Lawson
Linda Leith & David Gawley
Robert James Le Roy
Peter Levitt & Mai Why
George & Leanne Lewis
Irina Liner
Peter M. Little
Vicki & Patrick Little
Ruth H. Loukidelis
Dorothy Macdonald
George A. Mackie
Margaret O. MacMillan
Norris B. MacPhadyen
Timothy C. Marc
John Mason
Robert B. & Susan Matthews
Joan McCallum
Andrew E.C. McFarlane
Joyce McKeough
David J. & Patricia McKnight
Margaret A. Meynell
Alexander O. Miller
David Mills
David N. Mitchell
David T.C. & Joan Moore
Theodore F. Morris
Alan & Flo Morson
Tom P. Muir
James B. Musgrove
Hilary V. Nicholls
Lucia Nixon
Gerald R. Noble
Joan Northey
David & Kathleen Oakden
William K. Orr
M. Andrew & J.K. Patricia Padmos
Robert & Dorothea Painter
Young Park
Donald & Gwynneth Parkinson
Peter R. Paterson
Michael G. Peers
Barbara Perrone
Christopher Pinnington
Christine Wing-Hung Pun
Carolyn Purden Anthony
Allan G. Raymond
Robert & Margaret Reid
Darla Rhyne
John A. G. Ricciardelli
Beatrice W. Riddell
Andrew M. Robinson
Gregor M. Robinson
Ian & Nancy Robinson
James D. Rogers
Barnaby & Lois Ross
Jonathan Royce
Richard H. Sadleir
Edward & Louise Saunders
Roger M. Savory
Arthur & Susan Scace
Wes Scott
Geoffrey B. Seaborn
Richard W. Sharpe
George O. Shepherd
Warren Shih
David Shoemaker
Alana Silverman
Catherine L. Singer
Derek A. Smith
Stephen & Jane Smith
William P. Somers
Thomas Yee Po Soo
Suzanne Sousan
Robert A. Spencer
David Stanley-Porter
Marc H. J. J. Stevens
R.D. Roy Stewart
Robert R. Stone
W. Mark L. Strang
John & Helen Swinden
Margaret Szucs
Burton & Judith Tait
Leah Taylor Roy
Hugh Thomas
Hunter E. Thompson
Mary E. Thompson
David O. Tinker
L. Douglas Todgham
Martha J. Tory
Ann E. Tottenham
David & Diana Trent
Robert J. Tweedy
Robert Vineberg
Stephen M. Waddams
Hugh D. Wainwright*
David James Walker
Kathleen G. Ward
Andrew M. Watson
D. Jean Watson
J. Frederick W. Weatherill
Wendy Weaver
William Westfall
John D. Whittall
Donald & Gloria Wiebe
G. Ronald Williams
Mary F. Williamson
Stephen Williamson & Margot Hallman
Thomas & Elizabeth Wilson
Joanna C. Wilson
Ann C. Wilton
Bruce Winter
David & Carol Wishart
Judith H. Wolfe-Labbe
Diana Wong
Ronald E. Wootton
Bob & Joan Wright
Graham J. Yost
Miriam E. Young
William Young
Adam H. Zimmerman
Anglican Foundation of Canada
CanadaHelps.org
Hydro One
Jackman Foundation
R.I. Algie Medicine
Professional Corporation
Talisman Energy Inc.
Salterrae Society
The following list recognizes donors who have made lifetime cumulative gifts of $100,000 and above.
Anonymous (5)
Ann & Duncan Abraham
Mohammad Al Zaibak
Derek Allen
James C. Baillie
Marilyn & Charles Baillie
James Balsillie
Ruth M. (Rolph) Bell
Jalynn H. Bennett*
John C. Bonnycastle
John & Margaret Catto
Adrienne Clarkson
Donald W. Cockburn
Margaret E. Cockshutt
William J. Corcoran
Miranda Davies
Pamela Osler Delworth
Peter & Jane Dobell
George A. Fierheller
Margaret & Jim Fleck
J. E. Fordyce
Norman Fraser
Robin Fraser & Mary Ellen Hebb
John & Mary Goodwin
Marylo Graham*
William & Catherine Graham
Douglas & Ruth Grant
Mary B. & Graham Hallward
William B. & Patricia Harris
Josephine Heath
William B. G. Humphries
Frederic L. R.
(Eric) Jackman
John B. Lawson
George & Leanne Lewis
Victoria Matthews
E. R. S. McLaughlin
R. Peter & Virginia McLaughlin
Peter & Melanie Munk
David & Mary
(Bosworth) Neelands
Hilary V. Nicholls
Raymond S. G. Pryke*
Thomas Rahilly & Jean Fraser
Flavia C. Redelmeier
Loretta Rogers
Donald M. Ross
Gary William Ross
Michael & Sheila Royce
William & Meredith Saunderson
Arthur & Susan Scace
Wes Scott
Victor M. Seabrook
Jessica Shelley
Patricia J.S. (Hand) Simpson
Stephen & Jane Smith
Colleen Stanley
Anne E. H. Steacy
Mary B. Stedman*
Martha J. Tory
Nicola Tory
William I. M. Turner Jr.
Guy & Sandra Upjohn
Bill & Sarah VanderBurgh
Deborah Vernon
William Waters
Gordon Watson
Jack Whiteside
Colin C. Williams
Michael H. Wilson
Jessie Ball duPont Fund
J.P. Bickell Foundation
Cosma International Group of Magna International Inc.
Friends of the Trinity College Library
The William and Nona Heaslip Foundation
The Hope Charitable Foundation
The Henry White Kinnear Foundation
The Kresge Foundation
McLaughlin Scholarship Trust Fund
St. Philip the Apostle Church
The Samuel W. Stedman Foundation
Students of Trinity College
The Whiteside Foundation
J. A. Worrell Fund
Gerald Larkin Society
The following list  recognizes our thoughtful alumni and friends who have remembered Trinity College in their estate plans.
Anonymous (44)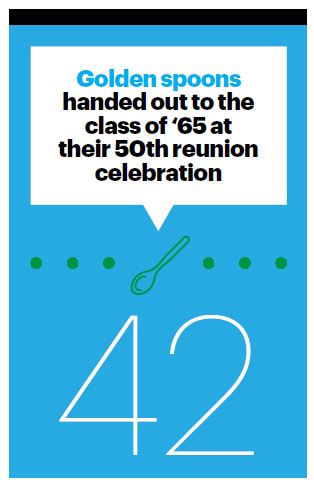 Margaret Agar
George W. Beal
John A. Beament*
W. Donald Bean
James Bell
Maia Bhojwani
Robert G. Blackadar
Norah Bolton
Cynthia Bracewell
William Bradley
Pamela Brook
Carolyn & Robert Buchan
Shirley A. Byrne
Marion D. Cameron
Patricia F. Campbell
Ann Chudleigh
Philip H. Clendenning
Donald W. Cockburn
Penny J. Cole
Lionel T. Colman
Maurice R. Cooke
Patricia R. Cordingley
Martin Cosgrave
Janice L. Davidson
W. Thomas Delworth* & Pamela Osler Delworth
Corinne S. Deverell
Sheilagh Dubois
John W. Duncanson
Lewis A. Edgeworth
Mary Jane Edwards
D. P. Mary Eliot
Christopher English
Mary E. Finlay
Kevin Flynn
Drew A. Foley
Norman Fraser
Robin Fraser & Mary Ellen Hebb
Heather V. Gibson
John T. Gilbert
Eleanor Gooday
John & Mary Goodwin
Marylo Graham*
Terry & Ruth Grier
Alice L. Haigh
Michael Hare
Robert W. Hoke
Ruth E. Hood
Ernest Howard
Susan E. M. Huggard
E. Margaret Hutchison*
Deone J. Jackman
W. Bruce Jardine
Elizabeth Kilbourn-Mackie
John King
Margaret S. Large-Cardoso
John B. Lawson
Jill L. Levenson
Leanne & George Lewis
Beverley Butler Lewis
Patrick & Vicki Little
Edward A. Lowry*
Margaret O. MacMillan
Marion E. Magee
Helen McFadden
Ivan & Harriet McFarlane
David J. & Patricia McKnight
R. Peter & Virginia McLaughlin
Jane M. H. McMyn
Janice White Melendez
Karen Melville
Virginia Miller
Janet B. Morgan*
Alan & Flo Morson
Hilary V. Nicholls
Joan E. Northey
J. Geoffrey Nugent
Robert & Dorothea Painter
Peter R. Paterson
Winsor & Ruth Ann Pepall
Jim & Marion Pierce
Raymond S. G. Pryke*
Carolyn Purden Anthony
Judith Ransom
Flavia C. Redelmeier
Alwyn G. Robertson
John M. Robertson
Michaele Robertson
Peter C. Roe
Gary William Ross
Michael & Sheila Royce
Alan C. Ryley
Nancy Salter
Roger M. Savory
Karen A. Scherl
Wes Scott
J. Blair Seaborn
Jessica Shelley
Sonja Sinclair
Diane J. Smith
Jane Speakman
Christopher Spencer
Astrid M. Stec
Mary B. Stedman*
Marc H. J. J. Stevens
Janet E. Stewart
Peter A. Stollery
Margaret Swayze
Burton & Judith Tait
David M. G. Thomson
James D. Tomlinson
Ann E. Tottenham
M. Ansley Tucker
Robert G. Tucker
E. Patricia Vicari
Andrew M. Watson
Gordon Watson
Wendy Weaver
Elizabeth A. Wells
William Westfall
Jack Whiteside
John D. Whittall
Jill Willard
Stephen & Rachel Williams
Mary F. Williamson
Robert E. Wilson
James A. Winters
Helen M. Woolley
Robert Worthy
Gerald Wright
Class Giving
The following list recognizes individual alumni who made contributions of $100 or more between May 1, 2014 and April 30, 2015. Leadership donors who made annual gifts of $1,000 or more are in bold.
1939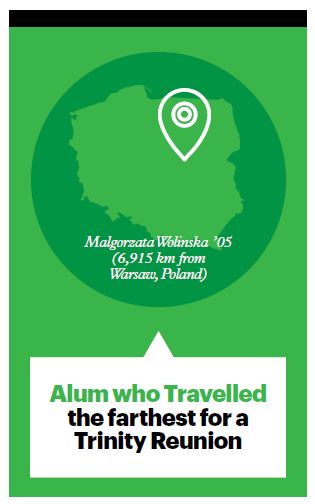 Margaret S. Large-Cardoso
1940
Ruth B. Candy
1942
Margaret Agar
Elizabeth Rooke
1943
Sonja Sinclair
1944
Margaret H. Bedell
M. Joan Dengis
Mary L. Harris
Theodore F. Morris
Mary B. Stedman*
M. Elizabeth Tugman
M. Elizabeth Waterston
1945
David H.W. Kirkwood*
Elizabeth B. Leon
Blair Seaborn
Jessica Shelley
1946
Anne M. Burt
Nancy L. Byers
Graham Cotter
John A. Gillett
Ruth B. Gillett
Winnifred A. Herington
Joan Hodgson
James A. O'Brian
Phyllis (Anderson) Pringle
Flora Moffat Renaud
V. Donald Rosser
1947
M. Patricia Blair
M. Jeanne Carter
John W. Duncanson
Brian D. Freeland
John W. L. Goering
William N. Greer
John Hickman
Marion Holley
Nevitt Maybee
George Sutherland
1948
Margaret E. Cockshutt
K. H. Michael Creal
James G. Eayrs
J. S. Farquharson
John T. Gilbert
Barbara N. Gory
David C. Higginbotham
Shirley K. Hulbert
Elizabeth Kilbourn-Mackie
John B. Lawson
E. R. S. McLaughlin
Jean F. Morrison*
Carol Pollen
Flavia C. Redelmeier
M. Louise Saunders
Douglas S. Scott
George O. Shepherd
Patricia E. Sutherland
Mary-Ethel Weatherseed
1949
John A. Beament*
Mary (Reade) Bryson
Barbara B. Byers
Donald W. Clark
Marian Cobban
Peter C. Dobell
Joyce P. Donald
Roger S. Eaton
C. Elizabeth Eayrs
Robert S. H. Greene
Michael K. Hicks
Fred A. M. Huycke
Naomi Kirkwood Kuhn
Elizabeth Le Maire
Joan McCallum
Beatrice W. Riddell
Edward Saunders
Robert P. Saunders
Anne M. Wolf*
1950
John B. Charnell
Charles G. Cowan
Rosemary M. Daniel
C. Jane Dobell
Herbert P. Eckardt
Frances C. Errington
Robert W. Gouinlock
H. Donald Guthrie
Ernest Howard
Elizabeth Jackson
Bruce J. Kirby
Sally S. Paterson
M. Jean Roberts
Joyce Sowby
Elizabeth Steele-Neilson
David M. G. Thomson
D. Jean Watson
Adam H. Zimmerman
1951
Anonymous (1)
Gwen Arnoldi
Raymond Ball
George M. Burrows*
Richard M. Crabbe
Philip W.B. Creighton
Phyllis J. Creighton
W. A. B. Douglas
Marian E. Fowler
Janet R. Gouinlock
James M. Grant
Elspeth Hogg
Susan Huggard
Pauline B. Kingston
James B. Milner
G. George Muirhead
Margaret Murphy
Landon Pearson
Raymond S.G. Pryke*
Richard H. Sadleir
Victor M. Seabrook
Peggy Sisley
Gayle L. Smallbridge
John E. Smallbridge
Warren D. Wilkins
David H. Wishart
Carol F. Wishart
1952
Anonymous (1)
S. Duncan Abraham
Jeanette M. Arthurs
John Barton
Christie Bentham
John Bowden
Geoffrey F. Brooks
Shirley Byrne
Donald W. Cockburn
Diane Jane Eaton
David A. Ellis
Albert P. Fell
Robin Fraser
Humphrey H. Gilbert
Charlotte M. Graham
Marylo Graham*
Robert J. S. Gray
Michael Hall
Mary Hume
Michael Ireland
Mary E. Partridge
Walter G. Pitman
Patricia D. Roberts
A. Frank Thompson
Margaret E. Thompson
Mary Lou Thompson
Anne J. von Aulock
Andrew M. Watson
Ronald L. Watts
Kathleen W. Whatmough
H. Donald Williams
1953
Anonymous (1)
Thomas David Briant
Mary Louise Clements
John T. Frame
William B. Harris
Sheila C. Harvey
Margaret S. Ripley
Barbara R. Sibbald
David Stanley-Porter
Hunter E. Thompson
Gordon Watson
Donna C. Watts
1954
Anonymous (2)
Donald Anderson
Mona H. Blair Bandeen
Constance J. Briant
Wendy Butler
Barbara Campbell
Peter B. Curzon
Eleanor J. Devlin
Jeandot Ellis
Jean E.A. Graham
Russell A. Graham
M. Patricia Harris
Ann Hughson
Robert Johnstone
Peter Lewis
William G. Linley
Jennifer Mansfield
Joan Matthews-Ali Khan
Roy McMurtry
Anne McPherson
Barbara Munro
Sarah S. Neal
A. Jane (Gray) Pilaar
Frederick G. Roberts
James D. L. Ross
Patrick L. Ross
Penelope A. Sanger
Joan C. Shaw
Robert D. Stupart
J. Frederick W. Weatherill
1955
Anonymous (1)
Janet E. Ainslie
Carolyn Archibald
Heather B. Ballon
M. Nanette Barkham
Robert H. Bell
Jane Blackstone
John Catto
Claire M. Cole
William J. Corcoran
Susan M. Cowan
Peter A. Crabtree
Janet Curry
Mary Alice Downie
George A. Fierheller
Harriett E. R. Goldsborough
Alastair G. Grant
Douglas R. Hill
Ruth E. Hood
Katharine N. M. Hooke
C. Judith Hunter*
Martin Hunter
Robert L. Innes
Douglas I. F. Lawson*
Beverley Lewis
Ernest Loukidelis
Ruth H. Loukidelis
Ellen McIlroy*
M. Jeryn McKeown
Michael McKeown
Sheila R. Miller
William T. Mitchell
David T.C. Moore
Donald F. W. Nickel
H. David Ross
Peter H. Russell
Juliana M. Saxton
Francis Sutton
Margaret Szucs
George S. Taylor
Guy W. Upjohn
Sandra K. Upjohn
David James Walker
Mary F. Williamson
Bob Wright
1956
Ann Birch
Hugh R. Chambers
William R. K. Crockett
Ian H. Daniel
Peggy Kingstone
Arthur MacRae
T. Ian McLeod
Nancy McPhee
Margaret A. Meynell
Sylvia Middlebro'
Joan E. Moore
John W. Morden
John Roney
William J. Saunderson
Patricia J.S. (Hand) Simpson
David A. Smith
William P. Somers
Heather Steele
James A. Steele
Eileen R. Stock
Anne Thomas
David G. Trent
1957
Anonymous (2)
Ann Abraham
Margaret E. Allan
John C. Bonnycastle
Hugh Cameron
Margaret J. Catto
Patricia Drynan
Judith E. Edmondson
Cecil A. Fennell
Hugh Franks
William M. Franks
John G. Goodwin
Elizabeth D. Isenberg
Frederic L. R. (Eric) Jackman
William J. Lovering
James C. Mainprize
Ann Malcolmson
Alan E. Morson
Florence J.D. Morson
Pamela Noxon
John A. G. Ricciardelli
Robert M. Shaw
Barbara Sutton
David Taylor
Charles Wall
Alden S.White
Susan White
John N. Whiting
John D. Whyte
1958
Anonymous (1)
Douglas A. Bean
Roderick Brinckman
Donald R. Cameron
Robert G. Church
Ian G. Clarkson
Rosemary A. Clewes
James A. Cran
Michael de Pencier
William A. Empke
Elisabeth A. Gibson
Mary K. Goodwin
Nancy Graham
Margaret H. Greene
Ruth Grier
Terence W.M. Grier
Mary Elizabeth (T-Bu) Grieve Wry
V. E. Marilyn Grimshaw
William B. Hanna
Derek C. Hayes
Robin R. Hill
Judith James
Suzanne J. Kilpatrick
William R. Langlois
Bruce D. Lister
Nora E. Losey
Patricia A. J. Luxton
David W. Morris
Peter N. O'Flynn
Desmond M. O'Rorke
Orville F. Osborne
Winsor Pepall
Gwyneth J. Ramsay
D. Anthony Raymond
Pamela M. Scott
Helen Elizabeth Shaw
Eleanor J. Smith
Philip L. Spencer
Ted Stephenson
Carol F. Verity
C. Ann Wainwright
Hugh D. Wainwright*
1959
Anonymous (2)
James C. Baillie
Norah Bolton
Ed Broadbent
Frances E. Clarkson
Frank J.W. Dicum
S. Sunny Dicum
John F. Evans
John F. Futhey
David Gawley
Victoria A. Grant
David Greenwood
Susan E. Houston
Jeremy G. N. Johnston
William R. M. Johnston
Susan J. Leslie
David Logan
Sandra G. Lovering
Elizabeth W. MacIntyre
Marion E. Magee
Jane M. McMyn
Alan R. Mills
Hilary V. Nicholls
Joan Northey
Hugh Peacock
Michael G. Peers
John D. Rathbone
Tim Reid
M. Ann Romeril
J. Nicholas Ross
David J. D. Sims
Peter N. Sisam
Molly Weaver
Michael H. Wilson
Hugh Fraser Winsor
Nancy J. Woods
1960
Elizabeth A.I. Anson-Cartwright
Geraldine C. Anthony
John E. Balmer
Clare (Wright) Bell
L. Black
Helen Pepall Bradfield
Elizabeth C. Brown
Sandy Brown
Patricia F. Campbell
Adrienne Clarkson
Lionel T. Colman
Burn Creeggan
Helen A. de Finta
Mary Jane Edwards
Carolyn A. Feingold
Alan J. H. Ferguson
David Flint
Janet Frosst
Anne Forrester Greaves
Myra Hiemstra
Keith A. Hoilett
Eleanor A. Langdon
Charles F. Laver
Robert C. Lee
Carole Ann Leith
Patricia H. Lindsay
Dorothy Macdonald
Robert Matthews
Jayne Ford Mulvaney
Katharine A. Pearson
Ruth A. Pepall
Catherine A. Richardson
Arthur R.A. Scace
Evan Schulman
G. T. Service*
Susan Sisam
David Skene-Melvin
E. Marion Stouffer
John M. Swinden
E. David D. Tavender
Wendy Weaver
Marianne Margaret Wilkinson
Barbara Goodwin Zeibots
1961
Anonymous (1)
Lisa Balfour Bowen
Alice Bastedo
W. A. Brauer
George Butterfield
Pamela G. Charron
A. Jean Crockett
Christopher English
Richard Farr
William C. Graham
Richard E. Hamilton
John M. Hill
Stephanie Johnston
A. Sydney Kanya-Forstner
Barbara A. Kerslake
Lawrence C. Kerslake
Olivia Lee
Helen McFadden
Joyce McKeough
Margot E. Northey
Jane Olvet
Pamela Osler-Delworth
Donald W. Parkinson
Peter R. Paterson
Jo-Ann M. Pratt
Malcolm P. Shiner
Jane Watson Smith
Stephen C. Smith
Sheila M. Tait
John W. Uren
Douglas Ward
1962
A. Charles Baillie
Patricia Bays
J. Richard Blackburn
Donelda Booth
Robert J. Buchan
Ann Chudleigh
M. Gwynneth Evans
Patrick Trevor Robert Gray
Wendy MacKenzie Haller
David Halton
Jill H. Hill
James Leach
Charles MacNab
Gillian Marwick
Jane McWhinney
Sylvia Milne
Kit Moore
Susan Moziar
Elizabeth Perkins
Jim Pierce
Barbara A. Priscus
Philip F. Rowswell
C. Anne Stevens
Burton B.C. Tait
Judith M. Tait
Ann E. Tottenham
John R. Watts
W. Thomas R. Wilson
Margaret A. Wismath
Gerald C. V. Wright
1963
Anonymous (3)
Carolyn Purden Anthony
Erica Armstrong
Jocelyn Badovinac
George A. J. Baker
Barbara J. Blackburn
Keith E. Boast
Martha M. Butterfield
John H. Carter
Moira E. Creighton
Miranda Davies
Robert S. Dinsmore
Jane D. Godbehere
Catherine E. Graham
Alice L. Haigh
J. Bruce Langstaff
Gail MacDonald
Jane M. McDowell
Susan Port
Judith Ransom
Allan G. Raymond
Christopher G. Riggs
Lynn Ross
Susan M. Scace
Chris Snyder
Diane Thornton
Stephen M. Waddams
James Walker
Pamela M. Watts
M. C. Welch
Jack Whiteside
M. Patricia Winter
Anne B. Wright
Roger C. Young
Kenneth J. Yule
1964
George W. Beal
Carolyn A. Buchan
Elizabeth G. Burton
John George Chipman
Mary Chipman
Michael Church
John W. Craig
Milton F. Dorman
Elizabeth A. Holmes
Brian Hull
Janet (Saddington) Hunter
Charles Ingles
Primrose Ketchum
Bill Kilfoyle
James Petrie McIntosh
Catherine C. Nott
Jeannie T. Parker
Miriam Petrovich
James J. Rayner
Andrew M. Robinson
Ian M. Robinson
Walter G. Ross
Wendy B. Ross
Barbara Sargeant
Susan A. Scott
Marcia J. Sinclair
Diane J. Smith
Cynthia M. Smith-McLeod
A. Bruce Stavert
Mary E. Thomas
Robert S.D. Thomas
Christopher W. C. Thomson
Robert G. Tucker
Robert J. Tweedy
Hilary R. Walker
1965
Anonymous (1)
Brian G. Armstrong
Mark Armstrong
Marilyn J. Baillie
Anne G. Banani
Margret E. Beaney
Michael Bedford-Jones
John Bowden
David Carnegie
Sally E. Darling
Norman Fraser
John Godfrey
Elizabeth J. Graham
Thomas L. Granger
G. T. (Tom) Gunn
J. A. Harwood-Jones
Katherine M. Haughton
D. Alastair Hay
William Hayes
Diana E. Inselberg
Leslie A. K. James
Robert James Le Roy
Susan A. Longmire
John Mason
Ivan O. McFarlane
John C. McLeod
David C. Metcalfe
Donald E. Moggridge
Peter Moogk
Susan R. Moogk
Maureen E. Murphy
W. David Neelands
Peter C. S. Nicoll
Sheila M. D. Pepper
Donald M. Powell
Terry K. Pratt
Faith Russell
Rodney K. Sanders
Mary J. D. Sharpe
Richard W. Sharpe
Fletcher J. Stewart
Ilse Stockwood
Robert R. Stone
Mary E. Thompson
C. Robert Vernon
Stephanie Kirkwood Walker
Molly M. Ware
Elizabeth Wilson
Judith H. Wolfe-Labbe
Ronald E. Wooton
John dePencier Wright
1966
Anonymous (1)
Paul H. Ambrose
Carol Anderson
Lynda M. Annis
James Arthur
William Barneveld
J. Bonnie Bedford-Jones
Linda C. Bell
Jalynn H. Bennett*
Terry A. Bisset
Michael Bronskill
Patricia Bronskill
Anne Cooper
Richard V. P. Eagan
Dianne M. Fisher
Alan Gill
Susan Goddard
Karen Holmes
William B. G. Humphries
Carole (Fox) Judd
Kirby Monroe Keyser
Jean M. Lee
Peter M. Little
Margaret O. MacMillan
David S. Milne
Alan Morgan
Geoffrey C. Niles
M. Dianne O'Neill
Thomas F. Rahilly
Nancy T. Robinson
Joanne E. Ross
Derwyn J. Sangster
Mary E. Sheldon
W. David Sinclair
Karen Spence
Mary F. Stewart
John O. Stubbs
Rosemary J. Tanner
L. Douglas Todgham
Norman F. Trowell
1967
Anonymous (1)
Timothy V. Allen
Douglas H. Arrell
Jill N. Barker
T. Allen Box
Christina S. R. Cameron
John D. Cuddy
Richard L. Evans
J. E. Fordyce
Virginia L. Grant
Maureen Scott Harris
Franklin A. Hough
Christopher J. Loat
J. Ross MacDonald
George A. Mackie
Ellen M. Easton McLeod
Virginia C. Miller
Elizabeth K. Mitchell
Michael E. Moffatt
Jennifer Molina-Irias
James E. Neufeld
Dean K. Purdy
1968
John B. Anderson
Philip Arthur
Bruce W. Bowden
Marilyn E. Box
Pamela Brook
Glenna Carr
Stephen R. Clarke
Paul T. Fisher
John T. Frame
Anna Gray
Bruce D. Griffith
Susan Hunt
Judith A. E. Jackson
David R. Lindop
Robert B. Matthews
Gary B. McKinnon
Carolyn K. McMaster
Alexander O. Miller
Patricia Padmos
Darla Rhyne
Michael Edward Royce
Sheila Northey Royce
Alena Schram
Wes Scott
Rory A. P. Sinclair
Phyllis Taylor
Ron B. Thomson
William Westfall
1969
Anonymous (2)
Derek Allen
John H. Clappison
Lynn S. Clappison
Charles F. Clark
Judith E. Clarke
Deborah L. Davis
Colin R. Deschamps
Kathleen R. Girvin
Jean Yundt Gomez
Eleanor M. Gooday
Donald M. Gordon
J. Richard Grynoch
Sharyn Hall
Peter W. Hand
Susan J. Hand
Andrew S. Hutchison
Michael G. Ignatieff
David L. Jeanes
Arthur M. L. Klassen
John F. Lockyer
J. Fraser B. Mills
David N. Mitchell
David J. Oakden
Kathleen M. Oakden
M. Andrew Padmos
James A. Patrick
Kathryn M. Richardson
Gregor M. Robinson
Peter C. Roe
Gary William Ross
Susan M. Sheen
Ann M. Smith
Philip R. L. Somerville
Bill VanderBurgh
1970
Lynda M. Barnett
Elizabeth Black
Edward J. Champlin
Ian L. Forsyth
Nancy Forsyth
Jean M. Fraser
Julian A. Graham
Thomas M. Greene
Janet Henshall
Mark Curfoot Mollington
Brian H. Morrison
Patricia Ann Needham
F. David Rounthwaite
Phillip S. Swift
Lynda C. E. Tanaka
Dennis H. Waddington
Janet B. Waddington
John D. Whittall
Brian E. Woodrow
1971
Byron J. Alldred
Alyson Barnett-Cowan
Susan M. Bowerman
Robert Burr
D. Susan Butler
Pamela J. Chellew
Robert M. Clark
Gillian E. Hicks
Helga K. Jeanes
L. Joy Kennedy
Anthony Lea
Barbara (Porter) Lesperance
Margaret Little
Patrick Little
Timothy I. Macdonald
Joanne Morrow
Margaret Ogilvie
Roger C. Purkis
1972
Jay E. Abernathy
Geoffrey W. Barnes
David E. Burt
Mary Finlay
E. Nicolaas Holland
Robert P. Hutchison
Carolyn M. Kearns
Jacqueline Baker Loach
Richard A. MacKenzie
David J. McKnight
Patricia Kenyon Mills
Janet B. Morgan*
Kathleen O. O'Connor
John H. Phillips
Robert Vineberg
1973
Reinhart J. Aulinger
Marian Binkley
William J. Bowden
H. A. (Sandy) Bruce
Paul R. Chapman
Marijane Doyle
Heather V. Gibson
Brenda L. Halliday
Philip C. Hebert
Joanne E. Leatch
Brett Ledger
Patricia J. S. McKnight
David Mulholland
William K. Orr
Harold F. Roberts
Frank Ruddock
Geoffrey B. Seaborn
Almos T. Tassonyi
John D. Wilson
1974
Susan Ainley
Christopher W. W. Field
Donald R. Ford
Margaret E. Ford
Douglas S. Hamilton
Charles Higgins
Susan H. Matthews
Virginia McLaughlin
Andrew McRae
Catherine F. Phillips
Jim Powell
Elizabeth J. Price
Robert B. Reid
Thomas L. Shenstone
Maureen Simpson
Jane Waterston
Ann C. Wilton
1975
Bruce Barnett-Cowan*
Bruce D. Bell
Robert G. Bettson
Martha F. Bowden
Lorraine M. Clarkson
Mary E. Cook
Linda Medland Davis
John S. Floras
Peter J.M. Gorham
Stephen J. Hanns
Philip C. Hobson
Thomas M. Hurka
David MacFarlane
Francesca E. Mallin
Mary (Bosworth) Neelands
Amy C. Parker
Gregory W. A. Physick
Margaret G. Reid
Janice E. Reynolds
Larry W. Scott
Catherine L. Singer
R. D. Roy Stewart
Keith E. Townley
Kathleen G. Ward
Roger A. Young
1976
Anonymous (1)
Robert I. Algie
R. James Anderson
Susan E. Beayni
Cynthia Bowden
Anne E. Bowlby
David L. Danner
Pamela (Brooks) Davies
Alexandra J. Duncan Harrison
Michael S. Dunn
Anneliese Kabisch
C. Robert Loney
William R. McKean
David Mills
James T. Neilson
Pamela Orr
Hilary Pearson
Ian S. Pearson
Michael J. Sabia
Virginia Seaborn
Derek A. Smith
Katherine R. Seagram Smith
Anne E. H. Steacy
Martha J. Tory
Gordon E. Webb
R. Ross Wells
Diana Wong
1977
Tony V. Coletta
N. Thomas Conyers
Joseph W. Foster
Jack Gibbons
Karl Gravitis
Deborah C. Johnson
Ted L. McDorman
Rosemary McLeese
David W. Penhorwood
Christopher Pinnington
M. Philip Poole
M. Anne Smith
James D. Timmins
Peter K. Whimster
Margaret-Ann Wilkinson
Bruce Winter
William J. Young
1978
Anonymous (1)
Mary S. Aduckiewicz
Don Allan
John Bell
Christopher M. Briggs
Diane Gherson
Douglas Gies
Jonathan L. Hart
Douglas C. Heighington
Mary J. Holmen
P. Keith Hyde
David R. Johnson
Kevin E. Johnson
G. Frederick Kingston
James W. Leatch
Melanie J. Lord
Wayne D. Lord
Stephen A. McLachlin
Tom P. Muir
Kenneth M. Near
Matthew C. Rowlinson
Denyse L. Slack
E. Jane Speakman
M. Ansley Tucker
1979
Michael S. Andison
Hany A. A. Assaad
James Bell
M. Jane Croteau
Maurice A. F. DeWolf
Mary-Ann George
Lucy E. M. Hart
Gloria M. Hildebrandt
Gord D. Lemon
Kiran Little
Patti MacNicol
Deborah C. Maw
Seana B. McKenna
M. M. McLaren
Alice Medcof
Hilary J. Meredith
Steven L. Moate
Barnaby Ross
Lawrence L. Schembri
A. D. Randle Wilson
D. Blake Woodside
Michael Zeitlin
1980
Anonymous (1)
John D. Abraham
Frances Armstrong
P. Mark Armstrong
Blake Ashforth
Mark W. Banting
Jonathan F. Barker
Anne E. Brace
J. Adam Conyers
Peter P. Copses
Anne Curtis
Piroska Fejes-Clark
Kenneth K. L. Fung
Gillian Garneau
Philippe F.G. Garneau
Howard T. Gaskin
Peter J. Gizewski
Corey Andrew Goldman
Mitchell T. Goodjohn
David Harrison
Michael F. Heeney
Joan Elizabeth Himann
Stephen Holzapfel
Montieth Illingworth
George A. Jackman
William J. Keel
Roland Kuhn
Wai-Arm Lam
Janet E. Lang
Nancy Lang
G. Bradley Lennon
Paul R. Litt
Robert W. Macaulay
Malcolm H. MacRury
Raymond J. McCague
Kate Merriman
William J. Oxley
Pamela Popoff
S. Steven Popoff
Christopher B. Pratt
Stuart W. Robson
Henry K. Schultz
Michelle Seville
Katherine M. L.
Spencer-Ross
Marc H. J. J. Stevens
Karen Walsh
Graham J. Yost
Helen Young
1981
Jim Baidacoff
Carolyn (Kostandoff) Berthelet
Alexandra Bezeredi
Deborah Black
Christopher Bradley
John Carruthers
Corey B. Copeland
Lisa F. Fettes
Julia G. Ford
Virginia Froman
Susan Haight
Jane Harrigan
Christopher J. Harris
Campbell R. Harvey
Andre Hidi
Randall Martin
Christopher J. Matthews
Gerald R. Noble
J. Geoffrey Nugent
Elizabeth A. Read
Gordon R. Roberts
Mary Shenstone
Olive Shepherd
James H. Stonehouse
Peter Walmsley
1982
David F. Aston
Canon David Brinton
Graeme C. Clark
Graham B. R. Collis
Philip J. Henderson
Ivana Jackson
Michael R. Jenkin
George Lewis
Cheryl D. Mitchell
Adrienne A. Morey
Barbara Perrone
Wendy B. Roy
Peter C. Rozee
W. Mark L. Strang
Robert Switzer
Craig C. Thorburn
Ann Louise Vehovec
Heidi M. Zetzsche
1983
Helen T. Aston
Clive H.J. Coombs
S. Mendes de Franca
H. Ross Geddes
E. Anne Longmore
John Lu
Katherine M. Mansfield
Carol E. Moore
Gary G. Nicolosi
Francesca Patterson
Christopher E. Reed
James D. Rogers
Leah Taylor Roy
Nicholas Voudouris
1984
Thomas Connell
Thomas E. Dale
Michelle B. French
Janet M. Fuhrer
Paul T. Gooding
K. V. Grant
Robyn Heins
Jill Kelsall
Kenneth C. Kidd
Margaret Lawson
Catherine Le Feuvre
James B. Musgrove
Paul Newland
Meghan Robertson
Amanda Rogers
Julie Scott
Jim Sidorchuk
Judith V. Tancsa
Lee Anne Tibbles
1985
Jill Adolphe
Suet Chan
Robert C. Clubbe
Anne M. Cobban
Kristen Collins-Aiello
Carole Crompton
David A. Dell
Andrea E. Engels
Neil Guthrie
Rebecca Kingston
Andrea C. Lafleur
Timothy C. Marc
Michael J. Robson
William Rutherdale
Suzanne Sousan
Timothy J. Stephenson
J. Warren Stoddart
Cynthia M. Caron Thorburn
Nicola Tory
1986
Anonymous (1)
June L. Abel
J. M. Armstrong
Rodney R. Branch
Nadia C. Crisante
Carolyn E. Dell
Andrew J. Foley
Nancy M. Fung
W. John Langlois
David G. Morgan
Susan Park
William C. Phillips
Brian J. Quirt
Rachel E. Rempel
Suzanne M. Schaan
Anne C. Witt
John R. Witt
1987
Madeline Jane Bassnett
Sherri Beattie
Joanna M. Beyersbergen
Kenneth Biniaris
Frances Bryant-Scott
Anna M. Castelo
Katherine Chapman
Derek Koon Yee Chau
Caroline A. Gillespie
J. Andrew Guy
Norris B. MacPhadyen
B. Jean Mitchell
Margaret E. G. Murray
Gillian Tao-Yin Wan
William R. Watson
John Wilton
1988
Bruce Bryant-Scott
Alexandra L.
Caverly-Lowery
Carrie Gorringe
Tim Heeney
Aaron Hong
Simon Kingsley
Robert C. Lando
Lynn A. Mitchell
Sarah Neilson
Christine J. Prudham
Douglas L. Saunders
Avis Sokol
Steve Tenai
Scott Thurlow
1989
Catherine S. Baird
Morgan Conn
William Cruse
Walter W. Davison
Simon Devereaux
Francesca Fazzari
Jane Greaves
Shuna Heeney
Richard S. Kim
Jane Ellen Leckey
Terence Y. F. Lee
Arun Maini
Innis Mark
W. Lorne Mitchell
Teresa B. Nakashima
Kenneth Neumann
Kenneth W. Roberts
1990
Danielle E. Bochove
James Booth
Katherine Cochrane-Brink
Hugh Craig
Margaret I. Drent
Mary-Lynn Fulton
Colin Furness
William K. Gilders
G. H. Gilmer
Kevin Goldthorp
Andrew D. Gray
Tim Griffin
Elke A. Hollenbach
Evan Howard
Erin Iles
Eleanor Katrin Latta
Kirk A. Lee
Nicholas P. McHaffie
Diane Mendes de Franca
Timothy D. Mills
Ian Montgomery
Andrew Moore
Bruce K. Patterson
Charles T. Pick
Valerie Pronovost
Pamela L. Rutherford
Daina (Groskaufmanis) Selvig
Rick Steinberg
Neil Sternthal
Ronald M. Tam
Larry Wilson
1991
Jim Andersen
Urs Beat Bill
John Birch
Ariana Y. Bradford
Leticia I. Gracia
Michelle D. Hiebert
Charles Morgan
Gary Nevison
Philip P. Panet
Shanna C. Rosen
Barbara Shum
Kathleen E. Skerrett
Manos Vourkoutiotis
Jennifer L. Yang
1992
Anonymous (1)
James Appleyard
Miranda Birch
Julia Dicum
Susan A. Eapen
Julie Frances Gilmour
Katherine Hough
Bernadine Lily Leung
D'Arcy Little
Michelle H. Marion
Carol L. Overing
Virginia Priscus
Walter Raymond
David Shoemaker
Cindy Woodland
1993
Panagiota Antoniou
Catherine Antonoff
Susan Elizabeth
Bronskill
Rick R. Byun
Jennifer Coleman
Andrew E.C. McFarlane
Bennett Mui
James Phillips
Craig Anthony Steeves
1994
Mary E. Conliffe
Hadrian Corning
Drew E. Gillanders
H. Jason Hickman
Stanley Y. Ho
Randal W. D. Johnston
Colby S. Linthwaite
Hugh Thomas
1995
Anonymous (2)
Amy H.Y. Cheung
Brooke P. Clark
Sharmila Clark
Lorenzo Coceani
Vasile Curelea
Hormoz Hamrahi
Catherine Inglis
Dale F. McInnes Keel
Allyson R. Kilbrai
Astrid V. Lange
Adrienne Lee
Mary M. B. D. Lewis
Neil Mcdonald
Young Park
Christine Wing-Hung Pun
Alf G. Scharlach
Manjit Singh
Mark Stabile
Alexander M. M. Swann
Farhan Hassan Syed
Sarah Wilson
1996
Rebecca (Taylor) Auer
David Bronskill
Marc Giampietri
Tomoyoshi Nakamura
Kevin Vandermeer
1997
Gordon A. Nicholson
Catherine M. Purdon
D. Bruce Sinclair
1998
Mark Elias Bechara
Elliot Johnson
John Thenganatt
Miriam E. Young
1999
Jason C. Chang
Jonathan Royce
Warren Shih
2000
Rebecca Kun
Thomas Gerald O'Shaughnessy
Richard Charles Vincent*
2001
Sharifa Gomez
Peter Matheson-Young
Michael D. J. Morgan
2003
Catherine Butler
Peter Lawrence
Glenn Josselyn
Edward James Kolla
Matthew John McCormick
Roger M. Savory
Paul G. Stanwood
2004
Nina Boric
Terry Brown
Nigel James Bunce
Christopher Caton
William James Hosken
Theresa Lindhout
Joel G. McElravy
Thomas Yee Po Soo
Faran Joseph
Umar-Khitab
2005
Catherine Barley
Jesse Parker
Julia Skliarenko
Steven B. Slavens
2006
Andrea M. Budgey
Bruce Thomas Harpham
Stephen Pomedli
Luke Stark
2007
Brett Lesley Cumberbatch
Lindsay Sara Finneran-Gingras
James George
Bin Li
2008
Helena Dhamko
Lindsay Doyle
Alan Carl Fraser
2011
Stefan Tarnawsky
2013
Matthew Peter Cadwell
Tribute Gifts
Generous donations have been made to recognize the following individuals.

In Honour
A. Charles Baillie
Thomas & Alice Bastedo
Robert & Helen Bradfield
George & Martha Butterfield
Jean Elliott
Catherine Graham
William & Catherine Graham
In Memoriam
Edward Ballon
Bruce Barnett-Cowan
Max Gluskin
Diana Goldsborough
E. Margaret Hutchison
David H. W. Kirkwood
Elizabeth Kuzin
Vanessa MacLaren
Flora Jean Matthews
Lorna Mozer
Arabella Nixon
Elizabeth White

Legacy Gifts
The following list recognizes bequests in support of Trinity College.
Estate of T. Rodney H. Box
Estate of Alice M. Buscombe
Estate of John Cleave
Estate of E. Margaret Hutchison
Estate of Mary E. Rudling
Estate of Mary B. Stedman
Estate of J.A. Worrell