News from classmates near and far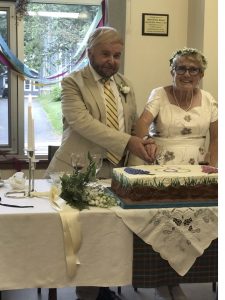 ANDREW (NUTTER) NOTERE '77 (M. Div) AND PRISCILLA MANIEZ in Charlottetown, PEI on July 19, 2019.
After leaving Trinity, Notere was an assistant to Prime Minister Pierre Trudeau and then to Governor General Romeo Le Blanc. He later designed the flag of the Anglican Communion, which was approved by the Archbishop of Canterbury in 1990. Father Notere went on to minister at churches in South Australia and Cyprus before settling in London, where he is currently writing his third book. He and Priscilla divide their time between their homes in the U.K., France and PEI.
DEATHS
Our deepest condolences go to the families, friends and classmates of these members of the Trinity community.
BEARD: David '53, Oct. 10, 2020.
BEDFORD-JONES: Rt. Rev. Michael '65, '68 (STB), April 18 in Toronto, Ont.
CROSS: Danielle (Jeffries) '92, May 19, 2020.
DOBELL: Peter '49, Hon. DSL '03, Dec. 18, 2020 in Ottawa, Ont.
DOUGLAS: Marjorie Richmond (Trinity librarian from 1932-1938), Nov. 7, 2020 in North York, Ont.
EAYRS: James G. '48, Feb. 6 in Toronto, Ont.
FORDYCE: James Edward (J.E.) '70, April 7.
HOPE: Elizabeth "Liz," former Head Porter at Trinity and Massey College, April 20.
HUMPHRIES: William B.G. '65, Dec. 9, 2020.
KINGSTON: Anne '80, Feb. 12, 2020 in Toronto, Ont.
MACKLEM: Michael Kirkpatrick '50, March 4.
MORRISON: Margaret "Margie" C., Fellow of Trinity College, Jan. 9.
NUTTER: Rt Rev. Harold '83 (Hon. D.D.), Sept. 9, 2017 in Perth, Ont.
REIBETANZ: Julia Maniates, Fellow Emeritus and Professor of Trinity College, May 4 in Toronto, Ont.
REID: Patrick '53, Dec. 18, 2020 in Sechelt, B.C.
SAUKS: Mati Arno '74, July 25, 2020 in North Bay, Ont.
SPEARING: Michael Peter Starr '62, April 24 in Vancouver, B.C.
SWINDEN: Robert '67, March 15.
SYMONS: Thomas Henry Bull '51, Jan. 1 in Peterborough, Ont.
TWEEDY: Robert James '64.
WALKER: Gordon W. '63, March 5 in Naples, Fla.
WILLIAMS: George Ronald "Ron," Fellow of Trinity College, 2020.
As published in the Living Trinity Alumni electronic newsletter June 2021