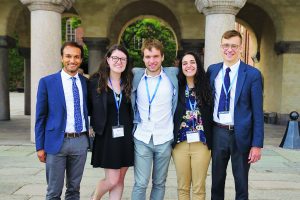 Trinity students' proactive approach makes a difference for their peers across campus—and wins an international award
By Cynthia Macdonald
Rising sea levels. Blistering temperatures. Food insecurity. Threats to plant and animal life.
Climate change has created any number of severe problems, so it's natural that many of today's youth suffer from despair and anxiety over their ability to confront them.
And yet when concerted efforts are made, they can produce extraordinary effects. Take the 1987 Montreal Accord, which resulted in a reconstruction of the ozone layer; the elimination of coal plants in Ontario; or the stunning recent rise in renewable energy efforts.
Recently, five highly committed University of Toronto students joined the ranks of those taking positive and effective action toward building a healthier world. They created the university's first sustainability course inventory, a comprehensive resource designed to help students incorporate the study of global well-being into all their coursework and extracurricular activities.
The group included three Trinity students, all graduates of 2018: Emily Shaw, Nathan Postma and Danielle Pal. They were joined by Rashad Brugmann and Nicolas Côté, enrolled, respectively, in Applied Science & Engineering and University College.
The inventory has been celebrated not only in their home institution, but around the world. In 2018, the group presented an abstract of the report at the International Sustainable Campus Network (ISCN) conference in Stockholm. They later published their work in Sustainability, an international refereed journal. , and received a Campus Sustainability Research award from the U.S.-based Association for the Advancement of Sustainability in Higher Education (AASHE.)
Such achievements are "very unusual for undergraduates," says Professor John Robinson, who supervised and secured funding for the project, and regularly uses the inventory—"an indispensable resource"—in his own committee work.
Employing a technique called asset mapping, the students combed the digital landscape to discover that 25 percent of U of T's undergraduate courses already offered sustainability content. Thirty-three years ago, the United Nations defined sustainability as meeting the needs of the present without compromising the ability of future generations to meet their own needs. For Nathan Postma, it's a concept that encompasses an essential range of concerns. "There really is no problem that doesn't touch on sustainability, which involves three things: the health of the environment, human well-being and economic prosperity," he says.
The group used the UN's 17 Sustainable Development Goals as their guide in determining which courses were relevant. Emily Shaw says the goals are broad, including "everything from biodiversity, to gender diversity, to high-quality education." Literature courses, in other words, are now teaching sustainability every bit as much as botany courses are.
The inventory also highlights courses that allow students to earn course credits while engaged in community work, as well as projects, clubs and groups. It's easily accessible to interested students online (uoft.me/SustainabilityCourses).
Shaw, Postma and Pal all met in 2014, early in their Trinity days. Each of them was passionate about environmental activism, though with different emphases. In addition to their academic work in environmental studies, Pal studied psychology, Shaw studied political science and economics, and Postma cultivated expertise in urban agriculture as the founding manager of Trinity's impressive rooftop garden.
"What's really special about Trinity is that the faculty are so dedicated, so willing to be mentors and push for the cause," he says. Over the course of his time at Trinity, he saw huge changes in how things were done, citing changes in food service and zero-waste school events as significant innovations. For her part, Shaw marvels when recollecting how student leaders and administrators (such as Robinson and Provost Mayo Moran)
collaborated cross-generationally to create a true hub of sustainability. "We met so many people there who were passionate and capable of pushing the school forward."
Shaw currently works in sustainable consulting, while Postma continues his research in urban agriculture. They are both optimistic that positive changes are possible, and feel that it's crucial to nurture a sense of hope and optimism in others as well.
"The general media narrative of climate change is pessimistic," says Postma. "But it's important to note the number of communities that are coming together to change old systems, and create new ones that serve us better."