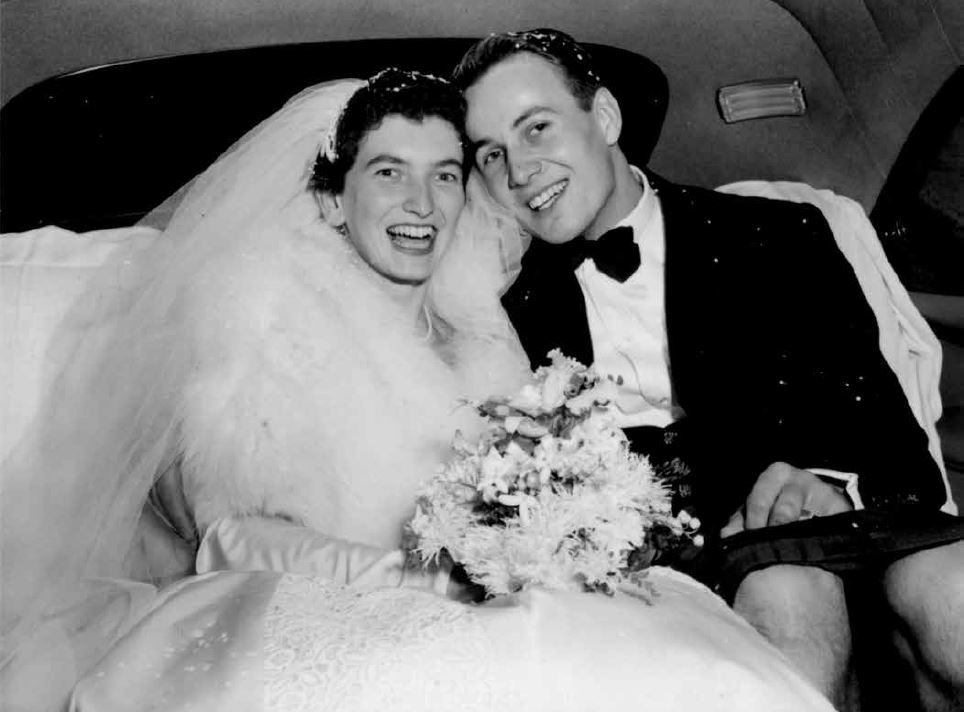 TRINITY CHAPEL WEDDINGS NANCY PARK '55 ANGUS IVORY '56
In memory of Nancy (Park) Ivory '55 1933-2015
Daughter of a U of T Varsity Blues hockey star, Nancy Park was a local girl who was passionate about horses. Angus Ivory had arrived from Scotland by way of Ontario Agriculture College, encouraged by his second parents, renowned Canadian geophysicist Jock Tuzo Wilson (who had graduated from Trinity in 1930) and his wife Isabel, to study English instead of farming. Nancy mistook Angus' accent for Irish, immediately thought "horses!"—and the rest is history. They both graduated from Trinity with BA degrees in English Literature, and were wed on October 26, 1956—one of the first couples to be married in the newly completed chapel.
After 15 years in New York, Angus and Nancy decided to give farming a second chance, and relocated to Wiltshire, England in 1972 where they have lived ever since. In the heart of Cotswold country, their rural 17th century home has been a popular destination for Canadian and American friends—many from Trinity days—for almost 50 years.
Share your photographic memory Since its official consecration in 1955, hundreds of weddings have taken place in the Trinity College Chapel. Was yours among them? To share your Trinity Chapel moment, send a photo of your wedding day along with a 150-word written account of your experience. Please provide a high-resolution scan of your image (350 dpi or greater, scanned at 100 per cent). Original photos may also be sent for scanning and will be returned. For more detailed submission guidelines, please send an email to magazine@trinity.utoronto.ca.
NEWS
1960S
PETER and SUSAN (TOVELL) MOOGK '65 celebrated their 50th wedding anniversary in June with a trip to Munich and Prague and a cruise down the Danube River to Budapest. 1980S
MICHAEL MCCAFFREY '81 was reappointed to the Immigration and Refugee Board by the Governor-in-Council and will complete his mandate as a Member of the Immigration Appeal Division.
MARRIAGES
ELIZABETH MITCHELL '67 and J. BRIAN MILROY, LT. COL. (RET'D), Sept. 28, 2013 in Belleville, Ont.
ELIZABETH KINGSTON '80 and ANDREW RASIULIS, May 17 in the Trinity College Chapel.
BIRTHS
JENNIFER EAST '94 and DOUG PROTHERO twins, Isabella Grace East Prothero and Søren James East Prothero, Jan. 1, 2014, in Toronto.
DEATHS
BARNETT-COWAN: THE REV. BRUCE '75, '78 (MDiv) on July 1 in Toronto. Husband of the Rev. Canon Alyson Barnett-Cowan '71, '75 (MDiv), '87 (MTh).
BOGGS: JEAN SUTHERLAND '42, Aug. 22, 2014 in Ottawa, sister of Margaret Ripley '53.
BROWN: WALTER STUART '51, Jan. 8 in Mississauga, Ont.
BURROWS: GEORGE '54, May 23 in Jackson's Point, Ont., husband of Joyce (Magnan) Burrows '51.
DE CORNEILLE: THE REV. ROLAND '50 (DIV), Dec. 30, 2014 in Toronto, father of Christopher De Corneille '80.
HOLMEN: THE REV. JOHN, March 17 in Winnipeg, husband of The Rev. Mary (Whytehead) Holmen '78 (Div), father of Catherine Holmen '06, and father-in-law of The Rev. Andrew MacDonald '13 (Div).
IVORY: NANCY (PARK) '55, July 25 in Wiltshire, England, wife of James Angus Ivory '56.
KENNEY: JOHN H. '57, March 14 in Toronto. KETCHUM: ELIZABETH J. '50, May 5 in Toronto.
PICKFORD: RITA '54, Sept. 2 in Redding, Conn.
TODD: SIR IAN '45, April 21 in the U.K.
VOURKOUTIOTIS: VASILIS '92, April 3 in Ottawa, brother of Velis Vourkoutiotis '90 and Manousos Vourkoutiotis '91.
WAGNER: JAMES PATRICK (JIM) '77, April 9 in Saskatoon, Sask.
WAINWRIGHT: HUGH DONALD '58, May 29 in Toronto, survived by Ann (Johnston) Wainwright '58, father of Jennifer Cansfield '87, brother of Margaret Wismath '62 and uncle of Peter Wismath '94.
WOLF: ANNE COCKERAM '48, June 8 in Toronto, sister of Mary Watson '46.
Correction: In our Spring 2015 issue, we incorrectly identified Andrew Duncan '00 as the uncle of Victoria Tatiana, born Oct. 22, 2014 in North Vancouver, B.C. to HAMISH '00 and KATHRYN MARSHALL. We regret any confusion this may have caused.