Over dinner at her home, we sat down with former codebreaker, journalist and writer Sonja Sinclair for a conversation about a life that has been nothing short of remarkable. Sonja Sinclair '43 on wartime codebreaking, working for the CBC, and hosting Baryshnikov in Muskoka
By Liz Allemang
COMING TO CANADA
In the fall of 1939, Sonja Sinclair (née Morawetz) was happily attending boarding school in England. But when the Second World War began, she got a telegram from her parents, who had already fled Czechoslovakia, instructing her to join them in Canada.
That December, the 18-year-old travelled by ship to Saint John, New Brunswick, with one of her brothers. Her first moments in her new country remain a fond memory, even though the sailors on board repeatedly told her that Saint John was "a God-forsaken place." However, in her first hours waiting aboard for immigration, a couple boarded, handed her a box of chocolates and welcomed her to Canada. "I thought this was a standard welcome for all new arrivals." says Sinclair. She later learned that an acquaintance of her father's had asked them to greet Sinclair on arrival. Nevertheless, it was a warm welcome to what would become her home country.
Sinclair and her brother joined her parents in Toronto on Christmas Eve 1939.
Before her arrival, Sinclair had enquired if she could apply to University College but was advised to wait, having missed the first semester. Sinclair's mother had met the mother of a Trinity College student who made an introduction to the Dean of Women and Principal of St. Hilda's, Dr. Kirkwood.
"She invited us for tea with the head of the French department, Rivers Hicks. He asked me a few questions and the next thing I knew, I was told I could start the following week."
LIFE AT TRINITY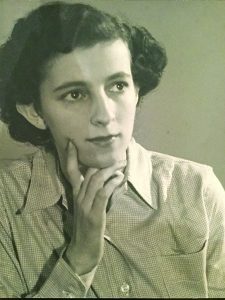 She fondly recalls professors, like Arthur Barker who taught Canadian and American literature, taking her under their wing to help her catch up the term she had missed. She studied English, French and German (soon dropping the latter).
"German was the second language I learned as a child in Czechoslovakia and I knew it better than Professor Lewis," she recalls.
Sinclair's time at Trinity was soon full of new friends, who urged her to join the social fabric of the College. One even set her up on a blind date for the annual Saints Charity Ball. (That date, Henry Hussey '41, ended up marrying the girl who set them up.) Sinclair also joined the Debating Club, and wrote for the Trinity Review, becoming a member of the board, then editor in her final year. Her closest friend during her time at Trinity was another girl fleeing the war in Europe, Dorothea (Wedd) MacDonnell '43.
While she was active at school, Sinclair hadn't given much thought to life after Trinity. "I occasionally dreamt about attending Columbia University for journalism, but during wartime that wasn't an option," she says. Fortunately, fate came calling.
RECRUITMENT
In spring 1943, Sinclair was asked to interview with the Department of External Affairs—which struck her as odd since she hadn't actually applied for a job there. "In hindsight, I think they were contacting universities and asking for the names of those proficient in the languages they were codebreaking." In the interview "[they were] mostly interested in my knowledge of French, which was pretty good at the time." At no point was the actual job discussed. This would also be the case when she was offered a job at the National Research Council ("a bit of a surprise, but I assumed, correctly, that that was a front for what I would actually be doing," she says.) "I was told I would have to swear an oath of secrecy and an oath of allegiance to King George." The oath of secrecy was fine, but swearing allegiance to the King, as a Czech citizen, was problematic. "Oh well," said one of her interviewers, "we will just skip that one."
CODEBREAKING
Sinclair reported to Ottawa for her new role with the Examination Unit of the National Research Council, where she would work for two years.
"We deciphered wireless communications from all over the world. The French section was headed by a mathematician and a linguist, who taught me how to decode the messages," she recalls.
The work involved spotting groups of numbers that occurred regularly. Sinclair would then translate them as common French words.
She describes the process as similar to solving a crossword puzzle.
She enjoyed her job, as well as some of the more extraordinary aspects of working for the government in Ottawa during wartime. Like seeing Prime Minister Mackenzie King out walking his dog, for example.
"In hindsight, it seems amazing [that] in the middle of a world war, here was Prime Minister King with no bodyguard or security."
In Ottawa, she made friends and found it wasn't difficult to keep her oath of secrecy and that those around her didn't pry, as many people in the Capital were working for the war effort and understood the importance of secrecy.
In the summer of 1945 when the war in Europe was over and the Examination Unit restructured, Sinclair was offered a job at External Affairs as a research assistant. She worked for a while summarizing case histories, but ultimately decided it was time for a change.
"I had met my future husband by then and I had other things on my mind," she says. "Public service and I came to an amicable parting."
WORK AND FAMILY
Her husband, Richard, was in the permanent Royal Canadian Air Force. He was posted to Edmonton soon after they married and the couple relocated. During their three years in Edmonton they welcomed son Michael, and a daughter, Helen. (Their second son, Tony, was born later in Toronto.)
When the family moved to Ottawa, Sinclair rekindled her dream of pursuing journalism. She visited Carleton College (now University). Though they didn't have any part-time programs for the young mother at the journalism school, Wilfrid Eggleston, the school's founder and director, arranged for her to split up the one-year program over two years.
At Carleton, she met a CBC executive who was delivering a guest lecture to the class. Impressed by the questions Sinclair posed during the lecture, he asked if she would do some talks for CBC Radio.
She was given carte blanche to talk about anything, twice a week for two to three minutes each appearance. Over the years she went on to work on a wide range of radio and television projects for the public broadcaster; recording interviews, doing continuity for a public affairs show and producing documentaries.
She divided her time between the CBC (in Ottawa, then Montreal) and Time and Canadian Business magazines, where she picked up regular work. When her husband retired, they moved to Toronto.
In the years since, Sinclair has continued to add to her incredibly diverse résumé, taking on roles like Director of Research for the Ontario Royal Commission on Book Publishing and working with Price Waterhouse to translate accounting language into "the kind of language that people could actually understand."
Her first book was commissioned by the CBC, "about middle-aged women going back to the workplace, called I Presume You Can Type?" She went on to write and co-write several more, including a history of the Auditor General's Office (Cordial, But Not Cozy), Former Provost George Ignatieff's memoirs (The Making of a Peacemonger) and Tomas J. Bata's autobiography (Bata: Shoemaker to the World).
Sinclair has been both an observer of social and cultural affairs and a participant: Ahead of Mikhail Baryshnikov's 1974 defection to Canada, Sinclair was approached by contacts in the dance world to ask whether she would gauge the mood of her Ottawa contacts on a possible defection. She asked her extensive contacts in government and academics if extradition was a possibility. Later, when the press started sniffing around the farm where he was staying, Baryshnikov relocated to Sinclair's Muskoka cottage, where he spent several days learning to play billiards and water ski.
When she saw him dancing on her dock one evening she stopped him, she says: "I was afraid he might get a splinter in his foot."
PRESENT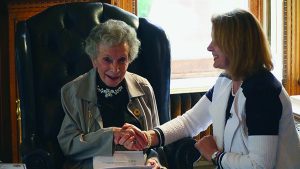 In June 2017, at age 96, Sinclair was awarded the Bletchley Park Commemorative Badge by a representative of the British High Commission to honour her work as a codebreaker. Those who spoke in praise of Sinclair at the special ceremony included former Governor General Adrienne Clarkson '60, whom Sinclair met back when both worked at the CBC; and former Premier of Ontario and Liberal Party leader Bob Rae '51, a longtime friend. In her speech to accept the award, she credited Diana Pepall, a former librarian and manager of the Ottawa Public Library, who "discovered" Sinclair and her story when researching her pamphlet "Canada's Bletchley Park: The Examination Unit in Ottawa's Sandy Hill, 1941-1945."
This recent recognition of Sinclair's early achievements brings further light to an incredible career and to the life of an accomplished and adaptable woman with many more stories to tell. It seems fitting, then, that the project currently keeping Sinclair busy is working on her memoirs with her daughter, Helen. Considering her lifetime of experiences, this could be her most compelling story yet.