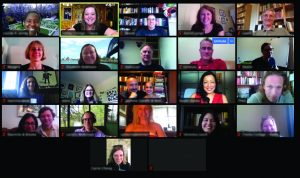 Alumni find connection and provide emergency student support through virtual Reunion
Every spring, the Trinity campus experiences a homecoming for hundreds of alumni, who come together over an events-filled weekend to laugh, reminisce, and reconnect with each other and their College. This year, however, due to the COVID-19 pandemic, all in-person Reunion events were cancelled. But that didn't stop alumni from laughing, reminiscing and reconnecting—they just did it all online!
In true Trinity community fashion, alumni from various honoured years shared their Reunion spirit by participating in online Zoom videoconferencing calls, contributing to and enjoying Facebook photo albums (see them all on the Trinity College Alumni Facebook page). Reunion classes also offered Words of Encouragement for the class of 2020 (read them at trinity.utoronto.ca/connect/words-of-encouragement/) and came together to support current students through emergency bursary funding.
When the pandemic forced Trinity to close its doors in mid-March, some students were unable to return home or leave the safety of campus. The Trinity community immediately stepped up, with staff ensuring the well-being of each student; and alumni, faculty, staff and other Trinity community members donating to Urgent Bursary Support to provide financial resources for students who had lost their part-time jobs and in some cases, were unable to return home due to travel restrictions.
Since late March, donations to Urgent Bursary Support have topped $316,000, providing vital support for Trinity students. "That fund helped me to not lose all hope," says Kyumin Lee. "I don't know what I would have done without it." Lee, a first-year international student, lost her part-time job when the pandemic hit and was stuck with unexpected living expenses after her planned apartment sublet fell through and her flight home for the summer was cancelled.
"I am extremely proud to be part of a community like ours that looks out for the College and its students," says Andrew McFarlane '93, Chair of the Trinity College Board of Trustees. "We've had a swift and incredible show of support from alumni, and our students will continue to need us in the months ahead."
With many Trinity students returning to school after summers of unemployment, and many parents now less able to contribute to education costs due to their own financial challenges, demand for bursary support is expected to reach unprecedented levels this fall. If you'd like to help, please consider making a donation to Urgent Bursary Support.
As published in Trinity Magazine Fall 2020