Welcome to the first electronic issue of Trinity magazine! If you've ever visited the Trinity magazine website you'll know that we've had an online presence to complement our print issues for a while now.
This additional e-issue is intended to keep you connected to your College during the summer months – and to share content we can't include in a print magazine, like the video interview we recently did with Provost Mayo Moran and Hart House Warden (and Trinity alum) John Monahan. You'll also find a fun new feature we're calling "Secret Spaces" – see how many of these little-known corners of campus you recognize! Please let us know what you think by taking advantage of the "comments" section.
You'll read a lot about space in this issue. In a recent letter to the Trinity community, Provost Mayo Moran talks about the importance of place at Trinity and the possibility of adding a new building to our campus. As part of the exploration process, Provost Moran is soliciting the input of all members of the Trinity community. Please share your input by completing the short survey. Your voice matters!
Of course, you can still expect your print version of Trinity magazine to arrive in your mailbox every spring and fall, with our regular departments like Book It!, Wedding Corner, and Alumni at Large. We welcome your thoughts, questions and submissions anytime at magazine@trinity.utoronto.ca.
Enjoy your summer!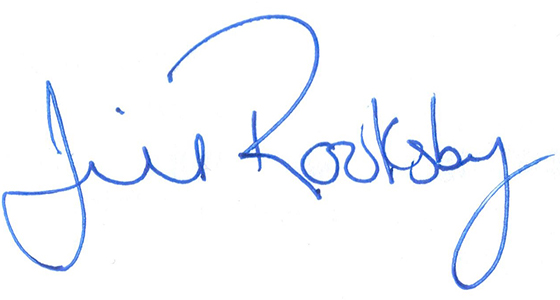 Jill Rooksby, Editor