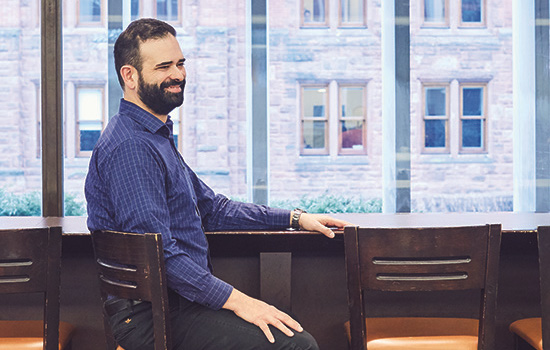 Nelson De Melo, Registrar and Director of Student Services answers our questions about the impact of the COVID-19 pandemic on Trinity students and the increased need for urgent bursary support.
Trinity Magazine: How has the request for student support changed in recent months? 
Nelson De Melo: Needless to say, COVID-19 has changed a lot of things, including the nature and urgency of student financial need.  Our students have encountered unexpected financial issues including additional costs for travel, rent and other living expenses, as well as uncertainty and a reduction in resources from loss of employment and reduced family capacity to provide financial support.
TM: Who will benefit from Urgent Bursary Support?
ND: We are seeing applications from a broad spectrum of our student population, and are reviewing all student requests to try and provide as much support as possible.
TM: Can you provide an overview of the new student Bursary for Black, Indigenous and People of Colour (BIPOC)? 
ND: Students have highlighted the need to create specific bursary support for BIPOC students.  Our current bursary program provides much needed support, but doesn't cover all of the financial needs our students experience.  This new bursary will increase the amount of funding available for BIPOC students providing additional support to further ensure their success.
TM: How are all bursaries at Trinity funded? 
ND: Bursaries are funded by Trinity's generous donors.  In a recent example, over $260,000 has been donated to support our students with urgent financial need resulting from the effects of COVID-19.  Our bursary program wouldn't exist without our donors, and I am so thankful we have such a supportive community that sees the value in financially supporting our students.
TM: Do you see the need for student support changing in the months ahead? 
ND: Students and their families will be financially affected by COVID-19 for most, if not all, of the summer, a time when they try and save as much as they can for the Fall semester.  Students will also continue to feel the financial impact during the school year.  While government programs are also providing support, I think it's safe say that many of our students will have larger budget deficits than usual this coming year, and we will need to be prepared to assist them to our best ability.