The Trinity Questionnaire*
The Right Honourable Adrienne Clarkson '60 arrived in Canada from Hong Kong as a refugee in 1942 and made the astonishing journey from penniless child refugee to accomplished broadcaster, journalist, and distinguished public servant in a multi-faceted lifetime. Madame Clarkson is the bestselling author of the 2014 CBC Massey Lectures Belonging: The Paradox of Citizenship, Room for All of Us: Surprising Stories of Loss and Transformation, Heart Matters: A Memoir, and a biography of Dr. Norman Bethune, the Canadian hero of the Chinese people.
Madame Clarkson was Canada's 26th Governor General from 1999-2005. When she left Rideau Hall, she co-founded the Institute for Canadian Citizenship, which helps new citizens to feel involved and included in Canadian life. The ICC hosts annual 6 Degrees events—a global forum on citizenship, immigration, inclusion, and diversity in the 21st century–across many cities including Toronto, Mexico City, Berlin, Montreal and Calgary.
*inspired by Proust; tailored for Trinity
Why did you choose Trinity College?
Walter B. Mann, my high school English teacher and greatest influence on my life besides my parents, wanted me to go Trinity College so I did.
What is your favourite place on campus?
Philosopher's Walk
What is your idea of perfect happiness?
Travelling in Italy with my husband, John
What is your greatest fear?
Next question
Which living person do you most admire?
The Aga Khan
Did you live in residence when you studied at Trinity?
Yes—at St. Hilda's for four years and I loved it!
Who are your heroes in real life?
James Orbinski and Greta Thunberg
What advice would you give your first-year university self?
Study harder. Learn to speak Anglo-Saxon so that I could later communicate with my Icelandic friends
Tell us one thing about yourself that few people know.
I am six per cent Portuguese
On what occasion do you lie?
To avoid hurting someone
Which words or phrases do you most overuse?
I feel that I have an adequate vocabulary
What or who is the greatest love of your life?
John Ralston Saul
When and where were you happiest?
Under a flowering almond tree
Which talent would you most like to have?
To play the cello
What is your favourite treat or indulgence?
Whipped cream
If you could change one thing about yourself, what would it be?
That I would be less irritable
What do you consider your greatest achievement?
My two daughters
Who is your hero of fiction?
Prince Andrei in War and Peace
What is your most treasured possession?
I do not have one
What do you most value in your friends?
Sense of humour
Who are your favorite writers?
Roger Martin du Gard, who won the Nobel Prize for Literature in 1937, André Gide and George Eliot
If you were to die and come back as a person or a thing, what would it be?
An olive tree or a panda
Which historical figure do you most identify with?
Elizabeth I of England
What is your favourite photo of yourself and why? (Please share it if possible!)
The year after I graduated from Trinity, the first big Van Gogh exhibit was held at the Art Gallery of Ontario. I was very taken with Van Gogh's 1890 oil painting 'Almond Blossoms,' which he did in Arles. I wondered to myself 'does a sky really get as blue as that and do flowers pop out without leaves on black branches like that?' On my trip to Europe that summer, I discovered that the almond trees bloom in February and I saw them. Now I have my own almond trees!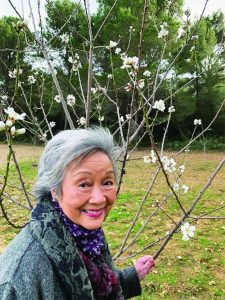 As published in Trinity Magazine Fall 2020