Deep roots—and still growing!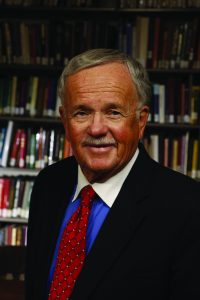 Jack Whiteside's support for scholarships reaches back to his own student days in the '60s.
 By Janet Rowe
 Jack Whiteside '63 has been volunteering at Trinity for more than 50 years. After earning a bachelor of commerce degree at the College and a JD at the Faculty of Law, he went on to a successful career as a corporate and intellectual property/technology lawyer. A long-time philanthropist in education and arts, he founded Trinity's John Harvey Whiteside Scholarships in 2010. Now he has pledged a leading gift to support the College's new building—especially the new residence that will bear his name. Trinity magazine asked him about his most treasured memories of his time as an undergrad, why he hopes you'll support scholarships too, and what amazes him about today's students.
What do you remember about residence life from 1959 to 1963?
 I had the privilege of living in residence for all four years, and enjoyed the whole experience immensely. The community life is exciting and complements, adds to and balances a student's academic experience. In my first year, my room was in what was then called "Angel's Roost," located in the front building on Hoskin Avenue on the third floor, above the Provost's Lodge. In my second year, I lived on the fourth floor of Body House and then spent my last two years in Macklem House, which was a new residence located in the refurbished academic facilities in the main building on Hoskin Avenue, following the move of the College's academic facilities to the brand-new Larkin building. At the time, the Trinity residence on the quadrangle was for men only and St. Hilda's was the women's residence. Today, as for many years, men and women share both residences.
Did your own good experiences play a part in supporting the new building?
JW I appreciate how important the student experience of residential life can be. One of the best aspects is that you mix daily with your fellow students as well as staff because you are always onsite and fully engaged socially, as well as academically, with your fellow students as you have meals together and enjoy many other College activities in common.
In my fourth year in residence, Cosgrave House and Owen House were completed and opened in the fall of 1963. They were the last residences constructed on the Trinity Quadrangle, and except for an addition to St. Hilda's College in the early 1990s, the last material increment to residential accommodation at the College. Meanwhile, the College's enrolment has more than doubled. So the idea is that a much higher percentage of students will be able to experience residential life in the proposed new buildings. The new low-rise facility, designed with an open quadrangle (something I suggested), will work well, both from the point of view of student life and architecturally, reflecting the evolution of the College and much more efficient use of its land.
I hear you had some extraordinary experiences as a student through scholarships.
JW I was a scholarship student all the way through at Trinity. For example, I was awarded—the first year it was available—the Ontario Scholarship, and it covered my first-year tuition. In my last year, I was serving for the eucharist in the Chapel on Easter Sunday. As we were getting ready the Provost, Derwyn Owen, said, "Jack, I have some news for you." I thought, "Oh dear, what happened?" since I was in the midst of my final exams. But he said, "You have won the Norah Whitney Scholarship to study in France." That is a happy memory! I studied in Paris for a year at Sciences-Po, one of the most important political science institutes in France, and took full advantage of many of the cultural and historic opportunities available in Paris, as well as improving my French.
The John Harvey Whiteside Scholarships are generous for undergraduates.
JW I felt it was important to give people top quality. Costs have gone up so significantly. The Scholarships afford an opportunity to carry on without having to worry about getting a part-time job. I think that the beauty of Trinity is that although academic life can be demanding, it can be managed along with dedication to outside volunteer activity as well; volunteering was not so much the case in my day.
But you yourself have volunteered at Trinity since your student days.
JW In my first week on campus, we had an opportunity, as part of orientation at Trinity, to raise money for the United Appeal through a house-to-house canvass. I was sent to a street west of the campus called Palmerston Avenue. Now, it's like the Annex—prime residential, millions of dollars per house. However in those days, that whole area was rather poor, with a heavy number of immigrants who were still finding their way. So I was saddened and felt that I should be giving them the $2 that some were actually able to give me.
Later, I became very involved with fundraising and the alumni group at Trinity. In the '70s I was the Chair of the Living Endowment Committee, which is now called the Trinity Fund. And for many years I sat on what was called the Executive Committee of Convocation, and chaired it back in the '80s.
I was also instrumental in starting telephone canvassing at the College with graduates volunteering, like myself, by coming to the College for an evening, and making personal phone calls to other graduates. Once in a while, you called someone who was not too enthusiastic, but over 90 per cent were very pleased to have received the call. And whether it was $10 or $100 or $1,000, Trinity graduates were very generous.
And today I chair the Gerald Larkin Society, which consists of those who have remembered Trinity College in their estate plans.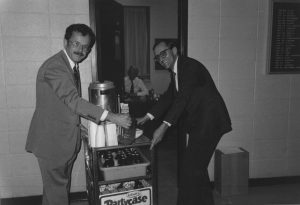 What inspires you to give so generously of your time?
JW Exactly the same things that inspired me to send something from my pocketbook. I had a very happy time at Trinity, and want to share the experience with current and future students. So, as the proverb suggests, "do unto others as others have done unto you."
 And your support makes it possible for students to give of their time as well.
JW One value of scholarships is that they liberate time that would have had to be spent in outside jobs. Students therefore have time to get involved in the charitable community and outreach pursuits while they are students. I'm very much aware of that. There were certainly bright students in my day, but I think there was far less of the volunteerism. I'm impressed by today's high level of academics and the breadth of the students in terms of their activities. I've met all my scholarship winners over the last number of years, and they're brilliant—would I qualify today?
What will always stay with you about Trinity?
JW When I look at my close friends, many of them are Trinity graduates. Some of them in my year, some a year or two away. Being in residence, you tend to make friends not only in your own year but also in the adjoining years. As I say, Trinity's a very special place.
As published in Trinity Magazine Fall 2020