When GEORGE '61 and MARTHA '63 BUTTERFIELD and SIDNEY ROBINSON '61 started offering bicycle tours of Europe in 1966, they couldn't have known that 50 years later they would be a world leader in luxury active travel. "We decided the only way we could afford to get back to Europe was to develop a student tour program," George now admits. "Our idea was to visit great cities, arrange history seminars and spend some time biking and hiking." It worked, and a company—not to mention an entirely new way to travel—was born. In 2016 Butterfield & Robinson celebrated 50 years of tours on six continents in 80 countries with the publication of Slowing Down to See the World: 50 Years of Biking and Walking with Butterfield and Robinson.
NEWS
JAMES BACQUE '52 was commissioned to make a documentary film/ DVD based on his book, Other Losses, which documents appalling discoveries in postwar Germany. His wife, Elisabeth, an artist, co-directed the film. Archival footage from the 1940s and interviews with survivors—some whose war-time experiences are being reported for the very first time—blend into a coherent, moving documentary that has already been screened for audiences in Kitchener and Mississauga.
KATHLEEN (O'FLYNN) METCALFE '65 recently founded Inglewood Press, an independent publishing house focused on unique works by emerging and established authors and artists. To date, Inglewood Press has published God for a Day by Neil Cole and Coming Home Alone by Brian Metcalfe, and has three publications in progress. The Press also hosts creative and educational events.
ALICE MAJOR '71 was recently selected by the Alberta Foundation for the Arts (AFA) as one of "25 Influential Alberta Artists" to celebrate the AFA's 25 anniversary. Her 10th collection of poems, Standard Candles, won the Robert Kroetsch Award for Poetry from the Book Publishers Association of Alberta.
JEREMY TREVELYAN BURMAN '03 successfully defended his doctoral dissertation in psychology, entitled "Constructive history: From the standard theory of stages to Piaget's new theory." This was granted by York University in Toronto, but was completed while he was on staff at the Piaget Archives in the University of Geneva, Switzerland. Dr. Burman has since accepted a tenure-track position at the University of Groningen, in the Netherlands, where he is now Assistant Professor of Theory and History of Psychology. He was also recently named Associate Editor of New Ideas in Psychology, the leading international peer-reviewed journal dedicated to theoretical psychology in its broadest sense.
EMILE DIRKS '08 is currently pursuing his PhD in the Department of Political Science at U of T. As a recipient of the Chinese Government Scholarship provided through the Canada-China Scholars' Exchange Program, Dirks will conduct research on the implementation of publicly funded drug harm reduction programs in Yunnan Province, China between March 2017 and January 2018. Following the completion of his doctoral research, he intends to pursue a career in the field of international non-governmental organizations.
DEATHS
AMYS: SHEILA '55, Oct. 28, 2016 in Toronto. Sister of Jane McMyn '59.
BAIN: ALEXANDER '70, Dec. 28, 2016 in Toronto. Brother of James Bain '69.
BELL: WILLIAM '68, July 30, 2016 in Barrie, Ont.
BREITHAUPT: MARGARET ISOBEL (WOODCOCK) '48, Jan. 3, 2016 in Parksville, B.C.
BUNYAN: MARY (WINSTON) '48, Jan. 12, 2015 in Phoenix, AZ.
COWLING: DOUGLAS '73, Jan. 23 in Toronto. Husband of Elizabeth (Walker) Cowling '71.
HARRISON: NADINE F. (former Trinity staff member), Dec. 27, 2016 in Picton, Ont.
HEATH: LAWRENCE '50, Dec. 23, 2016 in Toronto. Father of the late Philip Heath '77.
INGRAM: DAVID '62, Jan. 22 in Vancouver. Brother of Richard Ingram '65.
LOWETH: GERALD '67 (BST), '06 (THD), Oct. 15, 2016 in Toronto.
MCLAUGHLIN: EVERETT RICHARD S. '48, Jan. 6 in Oshawa, Ont. Father of R. Peter McLaughlin '73 and Rosemary McLeese '77, father-in-law of Virginia (Redelmeier) McLaughlin '74.
NAGATA, MARTHA '52, June 15, 2016 in Toronto.
NORTHEY: ROBERT, Jan 11 in Toronto. Husband of Joan (Armstrong) Northey '59.
POLLEN: PETER '52, Dec. 31, 2016 in Victoria.
RANGER: THE REV. MARY '87 (MDIV.), Dec 28, 2016 in Orangeville, Ont.
ROWE-SLEEMAN: GUY FRANCIS '79, Nov. 5, 2016 in Toronto. Son of Joan (McColl) '48 and the late Arnold '48 Rowe-Sleeman.
SHEPPARD: THE REV. GORDON WAYNE '04 (MDIV), Nov. 19, 2016 in Toronto.
SMITH: ROBERT, Jan. 18, Windsor, Ont. Husband of Diane Jane (Briant) Smith '64.
TOBIAS: AUDREY '48, Dec. 1, 2016 in Toronto.
TRAVISS: STEPHEN EDWIN '67, Nov. 24, 2016 in Toronto.
VAN NOSTRAND: JANET RUTH (LANGDON) '58, Nov. 28, 2016 in Mulmur, Ont.
WATSON: GORDON '53, Oct. 27, 2016 in Mahone Bay, N.S.
WHITE: CANON GAVIN '50, Dec. 24, 2016 in Kircaldy, Scotland.
ZIMMERMAN: ADAM '50, Oct. 19, 2016 in Toronto. Brother of Nancy McCallum '52.
---
WEDDING CORNER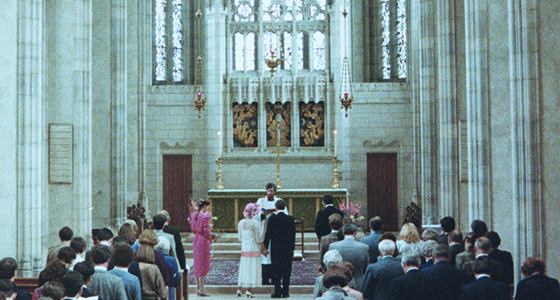 Susan Drake and I were married on Friday, September 28, 1984 in the Trinity Chapel. At first, Susan was inclined to have a simple City-Hall-style affair, until she saw the chapel for the first time and immediately decided that this was the right place to be married. Her only condition was that the artificial lighting be turned off—what is perpendicular Gothic architecture about if not natural lighting? And even on a somewhat cloudy September afternoon, it was the right decision. That atmosphere, along with organist Robert Bell's music— Bach's "Sheep May Safely Graze" and "Jesu, Joy of Man's Desiring," Purcell's "Fanfare," and Jeremiah Clarke's "Trumpet Voluntary"—made for a textbook wedding. The ceremony was performed by thenchaplain John Simons; our attendants were Susan's sister Julia Drake of Toronto, and my old friend Dr. Floyd Toole of Ottawa. After the fact, our only regret was that we never thought to have the bells rung!
— Submitted by Ian G. Masters '66
---
Correction: The editors regret the misspelling of Elaine Fantham's name in our Fall 2016 issue, which was incorrectly listed as Elaine Fanthom. We sincerely apologize for the error. Elaine, who passed away on July 11, 2016 in Toronto, was an Honorary Fellow of the College.