Dispatches from campus
From the Archives:
Remembering the men and women of Trinity in the First World War
By Sylvia Lassam, Rolph-Bell Archivist
During the First World War Trinity professors W.A. Kirkwood and A.H. Young collected information on the service of men and women in the Trinity community who enlisted—current students and alumni—and in 1922 they published a book, The War Memorial Volume of Trinity College. The book lists graduation date, peacetime occupation, parents' names, battles fought, wounds sustained, and if necessary, place of burial. Each entry is accompanied by a portrait photograph.
The Trinity College Archives holds 210 glass plate negatives of these portraits, ghostly images of the young people who left their studies or their careers and went to war. We have reproduced 27 of these images of the men who died and the women who enlisted. Installed along the main hallway at 6 Hoskin Avenue, the faces parade down the corridor windows to commemorate the centenary of the Great War.
Copies of the book are available at the Welcome Desk. A display case with more information about Trinity students and the First World War, as well as the glass negatives, can be found in the Trinity College Archives on the basement level of the main building.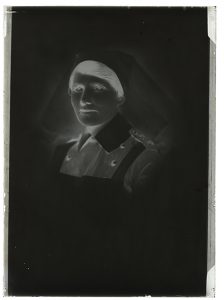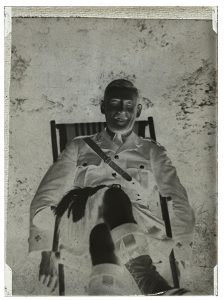 Spring Reunion
Wasn't that a party? Parties, actually—more than 450 alumni returned to the College to celebrate Reunion 2018 through a variety of events held from June 1 to 3. Trinity's Reunion weekend is a time to welcome alumni back to campus to rekindle friendships and reminisce about their Trinity days. In honour of this special weekend, alumni celebrating their reunion years also raised more than $148,000 in support of the College. Thank you to our alumni for your continued support and involvement with the College, and to all those involved in making Spring Reunion such a success!
Have you checked out the reunion photos on Facebook? Visit the Trinity College Facebook page to click through the reunion photo album.
Members of Trinity family appointed to Order of Canada
Congratulations to Trinity Fellow Prof. Robert Bothwell and alumni Seana McKenna '79, Hilary Pearson '76, Veronica Jane Strong-Boag '70 and Elizabeth Hillman Waterston '44, who were appointed as Members of the Order of Canada in June. They join a list of distinguished peers in receiving one of our country's highest civilian honours. Established in 1967 during Canada's centennial year, the Order recognizes outstanding achievements, dedication to the community and service to the nation. Here are some details on their significant contributions:
Robert Bothwell, C.M.: For his influential research on Canadian history, politics and foreign policy affairs, notably in his authorship of numerous educational publications.
Seana McKenna, C.M.: For her extensive contributions to the Canadian stage, notably her celebrated work at the Stratford Festival.
Hilary Pearson, C.M.: For her leadership in establishing a culture of philanthropy in Canada, notably as president of Philanthropic Foundations Canada.
Veronica Jane Strong-Boag, C.M.: For her activism, for her prolific career as a historian and for her research that has made the history of women an integral part of the study of history in Canada.
Elizabeth Hillman Waterston, C.M., O.Ont.: For her pioneering work in developing the academic field of Canadian literature and for her unwavering commitment as a mentor to writers across the country.
Trinity logo now has one official version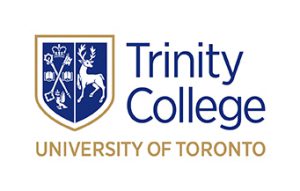 Throughout the College's history, there have been multiple versions of the Trinity logo created and used, with up to 15 identified through a recent review.
To promote a consistent and unified brand, the College has introduced a new Brand Standards Guide. The guide outlines and graphic standards including logo usage, colour palettes (primary, athletic and secondary), typography, graphics and applications.
Honouring our heritage
The refreshed logo includes the same elements as previous versions of the official logo, but it has been updated with a contemporary presentation of the wordmark "Trinity College" to reflect the Trinity College of today. Positioned below the wordmark is the "University of Toronto," which establishes the College's long-standing connection to U of T.
As in previous versions, the Trinity logo honours our heraldry by showcasing the Trinity College shield (a primary element of the Trinity College Coat of Arms) and using the blue and gold colours from the Arms. The heraldry symbols of the College have not
been changed.
Along with blue and gold, red and black have an important role in Trinity's history (red and black originated for student athletic purposes in the College's early days) and continue to be a part of Trinity's brand colours.
If you have any questions about our brand guidelines, please contact Trinity College Communications & Public Affairs at communications@trinity.utoronto.ca or 416-978-2654.
Congratulations to 2018 scholarship recipients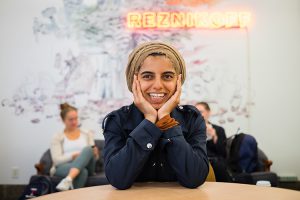 This fall, Trinity College welcomed four new Pearson Scholars to campus. They were among 40 students at U of T who received the scholarship, which was created in 2018 to bring exceptional students from around the world to study at U of T. The scholarship, which covers tuition, books, incidental fees and residence costs for four years, is named after Canada's 14th prime minister, Nobel Peace Prize laureate and U of T graduate Lester Bowles Pearson. It recognizes exceptional academic achievement, creativity, leadership potential and community involvement. Congratulations to Trinity's 2018 Pearson Scholars, Angad Singh Arneja, Agnes Priscilla Layarda, Subham Rai and Raquel Alegria Serrano.
Two of this year's four U of T Schulich Leaders have chosen to study at Trinity College. Sidrah Rana and Daniel Hoogsteen are among the 50 recipients of the prestigious scholarships across the country. The Schulich Leader Scholarships, launched in 2012, support the next generation of technology innovators by covering most of the costs of an undergraduate degree in science, technology, engineering or math (STEM).
Each year, Trinity College offers its students more than $1 million in awards, which not only allow Trinity to attract the best and brightest, but also help our students flourish while here. Among these important awards are the John Harvey Whiteside Scholarship and the William and Nona Heaslip Scholarship.
The John Harvey Whiteside Scholarship, established by Jack Whiteside '63, provides continuing funding to Trinity students with strong academic records and community participation. This year's recipient is Christine Sutcliffe.
The William and Nona Heaslip Scholarship, established by William and Nona Heaslip, provides continuing funding for Trinity students who actively participate in the community and have strong academic records. This year's recipients are Gwyneth Dalzell and Siyi (Megan) Liu.
Thanks to scholarships like this, the next generation of leaders at Trinity College are assured the support they need to succeed.