WELCOME (BACK) TO TRINITY!
The first few weeks of the fall term were a flurry of activity on the Trinity campus. Brand-new and returning students, faculty and staff took part in a wide range of events and activities to help ensure a warm welcome — or welcome back — for all.
---
MATRICULATION CONVOCATION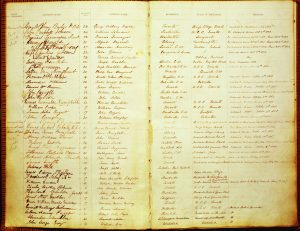 The Hon. William C. Graham, Chancellor of Trinity College, and Provost Mayo Moran welcomed students and honoured guests to Matriculation Convocation 2017 on September 6. U of T Chancellor and Trinity alum The Hon. Michael Wilson '59 also joined the ceremony and brought greetings from the University.
At the Matriculation Convocation, Trinity formally admitted our new Arts & Science and Divinity students to the College. The students acknowledged and declared this statement as the newest members of the College:
I acknowledge that by registering at Trinity College in the University of Toronto, I am joining a community that stands for academic and personal excellence, community involvement, respect for others, and stewardship of property. I do hereby promise that I will, as a member of this College, faithfully obey the Statutes and Rules thereof, and diligently attend to the studies required of me.
The incoming students then signed the College Register (a Trinity tradition since 1852), assisted by the College's Student Heads for 2017-2018: Victoria Lin, Bardia Monavari, Julianne de Gara, Lukas Weese, Katrina Li, Mitch Nader and Adam Brown.
---
HONORARY DEGREE FOR THE REV. DR. CAROL FINLAY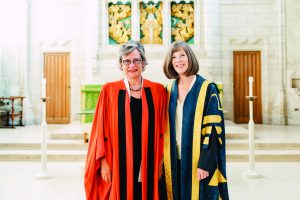 At Matriculation Convocation on September 6, Trinity College also conferred an Honorary Degree of Doctor of Sacred Letters, honoris causa, upon Trinity alumna The Rev. Dr. Carol Finlay '66. The Rev. Finlay was recognized for her exceptional dedication and service as the founder of Book Clubs for Inmates, and her compassionate and inspired leadership in the area of education in Canadian penitentiaries. The Rev. Finlay also delivered a thoughtful address to students, encouraging them to think about what really matters—making a positive difference in the world.
---
NEW CAREER & ACADEMIC ADVISOR HELPING STUDENTS ON CAMPUS — AND BEYOND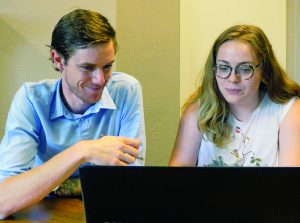 Among those on hand to officially welcome Trinity's new students at the Matriculation Convocation ceremony was Jon Bray, Trinity's new Career & Academic Advisor. "I was pleasantly surprised by how moving the Matriculation Convocation ceremony was," he says. "It was beautiful to see students' proud reactions as they signed the Register formally documenting their place at Trinity College."
Bray joined the College staff team this summer, bringing with him extensive experience working with students, most recently as Career Educator at the University of Toronto Career Centre. His newly created role supports the College's latest initiative to enhance the student experience and to help graduates prepare for life after Trinity.
Bray provides advice to students and recent graduates on academic and career-related matters, including program and career exploration, graduate and professional school applications, and job search support and strategy.
"I'm excited to help students with their career, academic and personal success, both at and beyond their Trinity and U of T experience," says Bray, who is also involved in Trinity's mentorship program. "Students come to me to explore questions like 'What can I do with my degree?' 'How can I get into the best grad schools?' 'What makes a compelling resume?' 'What skills do I have and how are they useful?' 'How can I get experience without experience?' "
Bray works with individual students and small groups on everything from course planning and academic challenges to job application strategies, research opportunities, and graduate school options. His services are also available for members of Trinity's faculty who want to explore career learning strategies related to their courses or discipline.
"The best part of my job is hearing all the unique success stories of the people I work with. I'm excited to work with students from their first days at Trinity through all the ups and downs of undergrad life and whatever comes next," he says. "I'm honoured to be here to help them do all the amazing things they'll do along the way."
---
FROM THE ARCHIVES: TAKE THE TOUR
---
42nd ANNUAL TRINITY COLLEGE BOOK SALE
The Trinity College Friends of the Library hosted the 42nd Trinity College Book Sale from October 19-23. The annual event is a fall highlight at the College, and this year was no exception, with thousands of donated books walking out the door with their new owners. Funds raised through the Book Sale support many projects and activities of Trinity's John W. Graham Library. For more information about the book sale and the Trinity College Friends of the Library, visit the Library & Archives page of the Trinity College website at www.trinity.utoronto.ca.
---
SPRING REUNION 2017: WERE YOU THERE?
From June 1-4 the Trinity campus came alive with more than 450 alumni of all ages, who spent the weekend reconnecting, reminiscing and discovering what's new on campus. Thank you to our many alumni donors for their gifts of time, money and mentorship (see the Donor Report in this issue for more on how you made a difference to your College this year). Check out all the photos in the "Spring Reunion 2017" photo album on the Trinity College, University of Toronto Facebook page.
---
BUILDING ENHANCEMENTS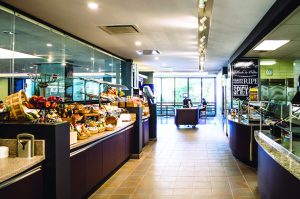 Enhancement projects included:In the Midst of a detailed exploration of the College's growing need for more space (read this issue's Provost's Letter, page four, to learn more), the Trinity staff team implemented a number of short-term solutions to address the most urgent space needs on campus.
Refurbished space in the main Trinity building to create new residence rooms to house an additional 16 students
Refurbished space next to the new Trinity College Archives on the lower level, to create a new Academic Resource Centre where students can access the College's academic supports (Writing Centre, Math Aid Centre, learning strategist support and consultation space for Academic Dons).
A new mixed-use area for Divinity graduate students to use for meetings, social space and the Heads Office
A revamped menu and design for the servery in the Buttery
A self-serve kitchenette added to the servery in Melinda Seaman (St. Hilda's College)
Makeovers of some residence rooms at St. Hilda's
A technology upgrade in Cartwright Hall