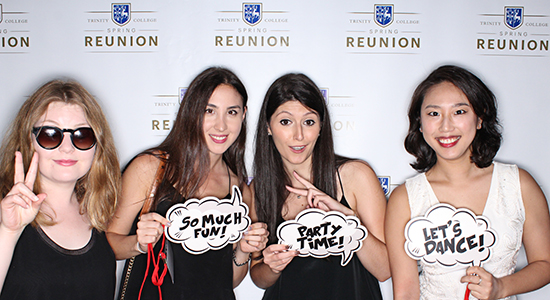 THE FACES OF TRINITY SPRING REUNION 2016
The last weekend of May was a true homecoming for Trinity alumni who attended Reunion. More than 650 of you joined us for on- and off-campus events, some of which sold out well in advance. A highlight of this year's event was the Reunion photo booth, where everyone had fun with friends—and a few props… See more pictures on Facebook.
---
ARBOR AWARDS RECIPIENTS HONOURED
ESTABLISHED IN 1989, The Arbor Award is a U of T-wide honour designed to recognize the outstanding service of alumni volunteers, as well as friends of the university who have generously committed their time and expertise to improve the Trinity experience. This September, seven Trinity graduates received Arbor Awards. Congratulations to the following Arbor Award winners from Trinity College, whose names will be added to the ever-growing Arbor Awards wall on campus:
 G. Philip Cooper '98
Richard D. McDonald '82
Alan E. Morson '57
Judith Ransom '63
Faran J. Umar-Khitab '04
Elizabeth V. Vernon '53
Peter Wismath '94
---
RANDY BOYAGODA NAMED PRINCIPAL AND VP OF ST. MICHAEL'S COLLEGE
Randy Boyagoda '99 has been appointed principal and vice president of the University of St. Michael's College (USMC) effective July 1, 2016. An accomplished writer and academic, with bylines in the New York Times, Wall Street Journal, Financial Times (UK) and the Globe and Mail, he most recently served as the director of zone learning at Ryerson University, an experiential learning program modeled on business incubators that support the rapid creation of new companies and social organizations led by students.
Boyagoda has also held positions as chair of the English department and professor of American Studies at Ryerson, and also as a postdoctoral fellow and assistant professor of English at the University of Notre Dame. He is known for his novels, Governor of the Northern Province and Beggar's Feast.
---
NEW HEAD OF ALUMNI ASSOCIATION
David Plant '77 became Chair of the Trinity College Alumni Association Executive Committee in September, after serving as Vice-Chair for the past year. He takes over for Peter Wismath '94, who will continue to serve as pastchair on the Alumni Executive for the coming year and as a Year Rep for his class. "We are grateful for Peter's many contributions to alumni affairs," says Alana Silverman, Executive Director, Development and Alumni Affairs. "His strong marketing and analytical skills have been such an asset to the work of the committee. We are also excited to have David at the helm this year, as he brings exceptional talents in strategic planning and extensive experience in the television and film industry to his role as Chair."
---
TRINITY ALUMNA ELIZA REID NEW FIRST LADY OF ICELAND ELIZA REID '98 (International Relations) became Iceland's first lady in August, after her husband, Gudni Johannesson, was elected the country's president. Reid, a prolific writer and editor, and mother of four, met Johannesson when they were both studying history at St. Antony's, Oxford. The couple moved to Reykjavik in 2003. In 2014, she co-founded the popular Iceland Writers Retreat, "a space for writers and those who enjoy the craft of writing to retreat and to foster their creative spirit."
---
TWO TRINITY ALUMNI INVOLVED IN DISCOVERY OF HMS TERROR
On September 3, the crew aboard the marine research vessel Martin Bergmann located the "pristine" wreckage of HMS Terror, one of two ships that made up the fabled Franklin Expedition, in 24 metres of icy water in the Northwest Passage. While the Martin Bergmann enabled the crew to conduct their search, it was the memory of local Canadian Ranger Sammy Kogvik that ultimately led to the discovery.
The story of the Franklin Expedition has fascinated generations, ever since the disappearance of HMS Erebus and HMS Terror, which sailed from England in 1845 carrying 129 sailors on a mission to chart a passage from England to the Pacific Ocean.
Ryan Harris '95, Senior Underwater Archaeologist with the Parks Canada Underwater Archaeology team, and Jim Balsillie '84, co-founder of the Arctic Research Foundation, have devoted years to unravelling the mystery of the Franklin Expedition. Harris was part of the team that discovered the wreckage of the HMS Erebus two years ago, also aboard the Martin Bergmann. Balsillie, a philanthropist and passionate supporter of the Arctic, provided the magnificently retrofitted Newfoundland fishing boat in the first place, to enable and amplify the search team's efforts. (Read more about the discovery of HMS Erebus in the Spring 2015 issue of Trinity.)
Acknowledging the team effort involved, Balsillie says, "This historic discovery could not have happened without the Royal Canadian Navy. Solving the mystery of the Franklin Expedition allows us all to honor the brave men who died in our harsh Northern environment attempting something very noble. It's also an opportunity to shine a light on this part of our great country and the Indigenous people who occupy the High Arctic."
---
ATO QUAYSON NAMED UNIVERSITY PROFESSOR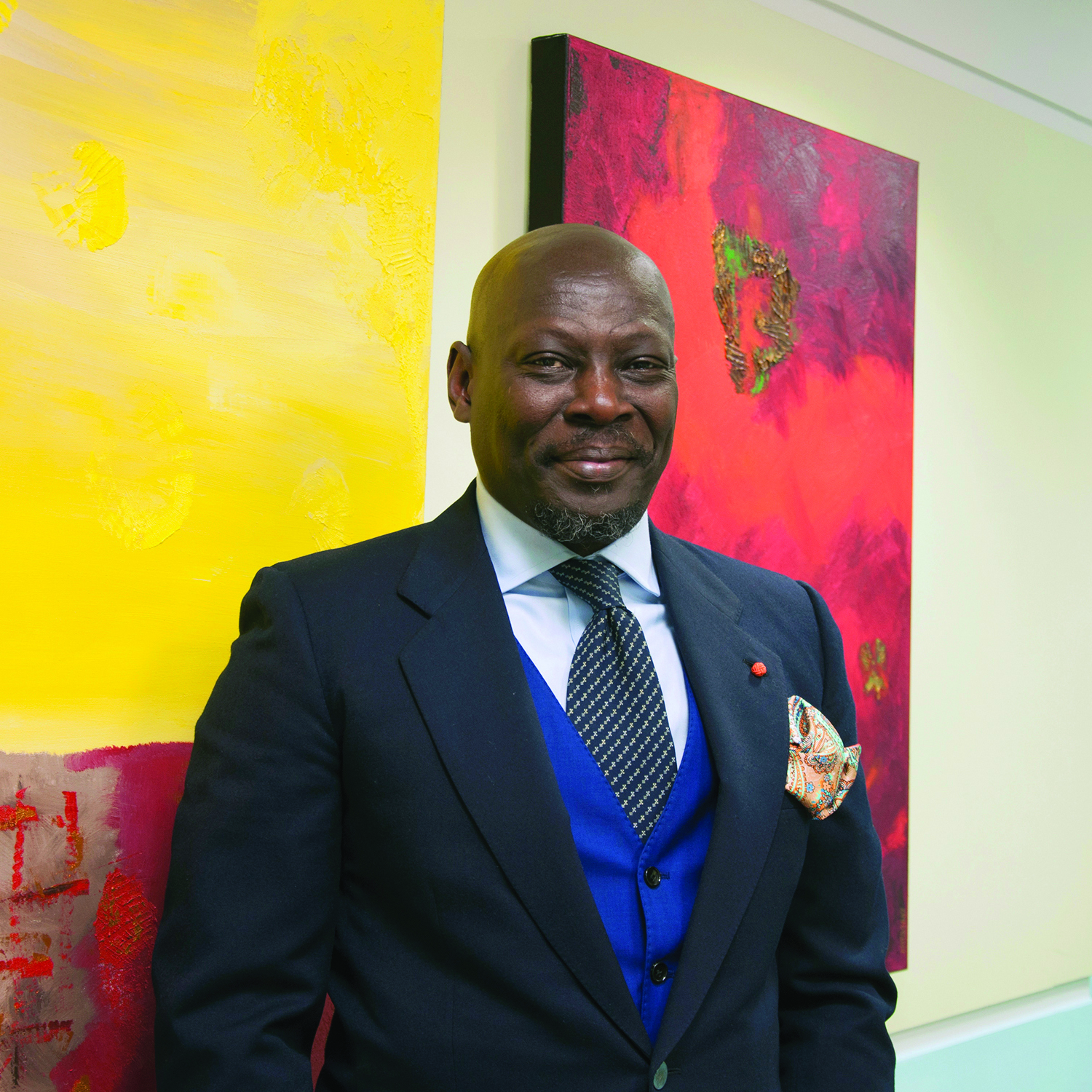 Each year, U of T recognizes unusual scholarly achievement and pre-eminence in a particular field of knowledge through the designation of University Professor. Fewer than two per cent of U of T's tenured faculty receive the honour, and this year Trinity Associate and Professor of English Ato Quayson was among them.
Quayson, who is also Director of the Centre for Diaspora and Transnational Studies at the University of Toronto, was co-winner of the Urban History Association's top award in the international category for books published in 2013-14 for Oxford Street, Accra: City Life and the Itineraries of Transnationalism.
Professor Quayson earned his BA at the University of Ghana and his PhD at Cambridge University. He then went on to the University of Oxford as a Research Fellow, returning to Cambridge to become a Fellow at Pembroke College and a member of the Faculty of English, where he became a Reader in Commonwealth and Postcolonial Studies. He has published widely on African literature, postcolonial studies and literary theory.
---
MEMBERS OF THE TRINITY COLLEGE COMMUNITY APPOINTED TO THE ORDER OF CANADA
ON JUNE 30, His Excellency the Right Honourable David Johnston, Governor General of Canada, announced new appointments to the Order of Canada. The new appointees include members of the Trinity community—congratulations to Associate of the College Dr. John Richard English (Director, Bill Graham Centre) and alumnus Dr. James W. St. G. Walker.
OFFICER OF THE ORDER OF CANADA: JOHN RICHARD ENGLISH, O.C. For his contributions as a historian, author and administrator who has expanded our knowledge and understanding of Canada's rich political heritage. (This is a promotion within the Order)
MEMBER OF THE ORDER OF CANADA: JAMES W. ST. G. WALKER, C.M '63. For his influential scholarship that has shed light on the contributions of Black Canadians to the development of our nation. The Order of Canada, one of our country's highest civilian honours, was established in 1967, during Canada's centennial year, to recognize outstanding achievement, dedication to the community and service to the nation.
---
TRINITY CONFERS HONORARY DEGREES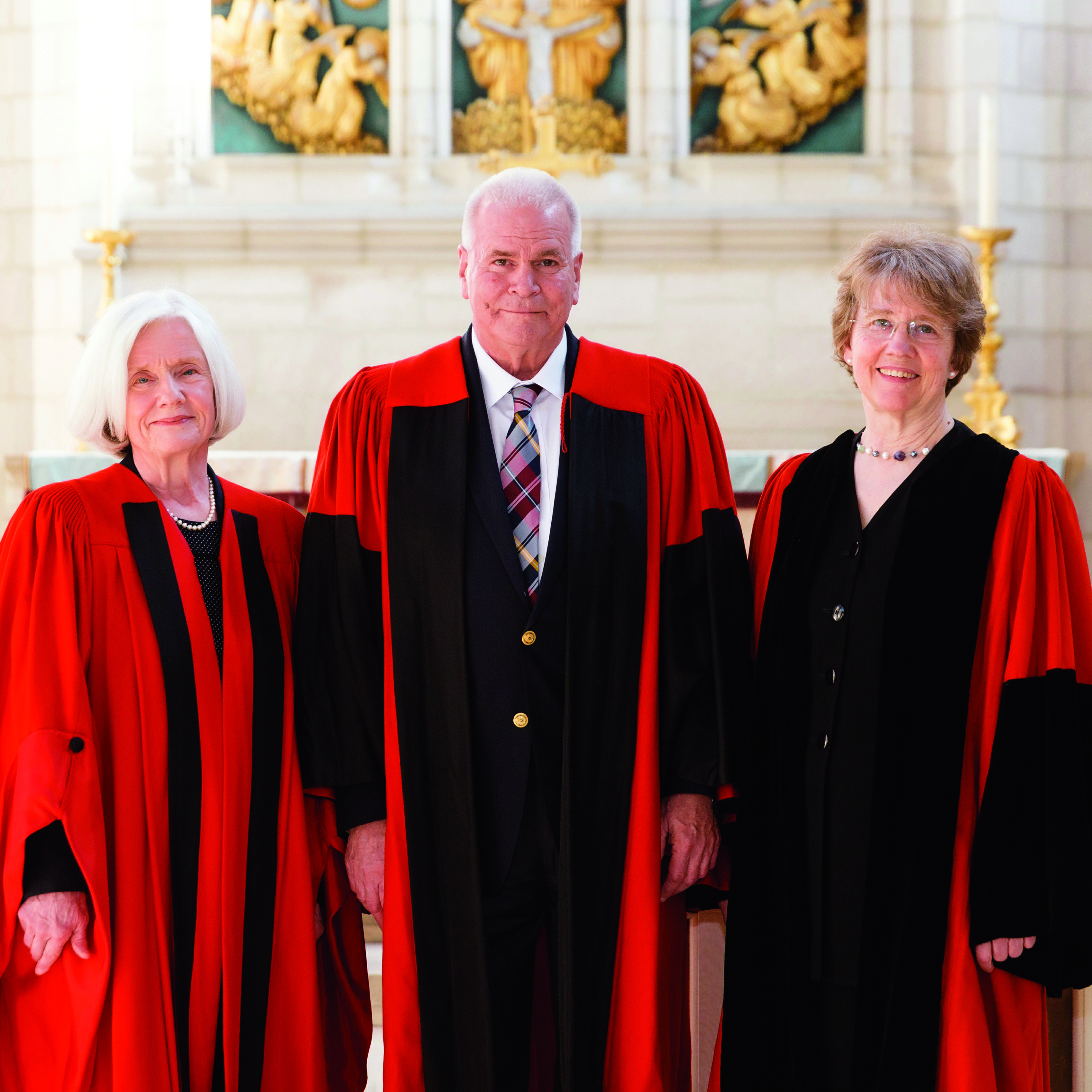 ON MAY 10, The Honourable William C. Graham, Chancellor of Trinity College, conferred honorary degrees on three recip- ients for their dedication to Trinity College and their years of service and life's work. Thomas Fitches was recognized for his lifetime devotion to the Anglican Church and enriching the church community through the beauty of Anglican church music, his gifts of caring and building relationships and his commitment to the Christian faith.
Retired Trinity Librarian Linda Corman was honoured for her longtime dedication and tireless service to Trinity College and its library, the Friends of Library, the Library profession, the Toronto School of Theology, the University of Toronto and the Association of Theological Schools of the USA and Canada.
Maylanne Maybee was in acknowledged for her support and dedication to Trinity College and her unique contribution to the church's order of Deacons.
(left to right): Linda Wilson Corman (Doctor of Sacred Letters), Thomas Andrew Fitches (Doctor of Divinity) and Maylanne Maybee (Doctor of Divinity), who also provided the convocation address for the Faculty of Divinity's 2016 graduating class.
---
TRINITY'S PROVOST HEADS U OF T EXPERT PANEL ON SEXUAL VIOLENCE
MAYO MORAN, professor of law and provost of Trinity College, recently led an Expert Panel on Sexual Violence Policies as part of U of T's action plan to prevent and respond to sexual violence. The panel's report, released August 11, includes 40 recommendations. Among them: That U of T ensure that all members of its community are covered by the same set of procedures when it comes to matters of sexual violence.
The panel also called for the new policy's statement of purpose to include a commitment to prevention, education and training, as well as support for those affected by sexual violence, and that it be inclusive and recognize the vulnerability of members of historically marginalized communities.
The panel's recommendations will help shape a new standalone policy on sexual violence and follow in-person consultations on all three campuses, as well as written submissions collected online. Consultations on the draft policy began in September 2016. Provincial law requires that the new policy be in place by January 2017.
"There was great community engagement on this issue across all three campuses including students, faculty and staff," says Moran. "The feedback was thoughtful and enormously helpful to the work of this panel as well as on the larger issues. These issues are incredibly important and we were very pleased that the university community was so committed to making positive change and so helpful in thinking about how to make that happen."
---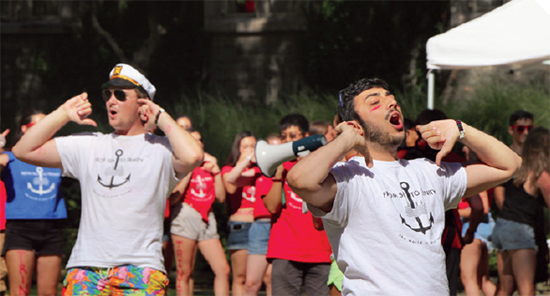 WELCOME TO TRINITY!
Fall is a time of new beginnings on campus, and this year was no exception, as we welcomed new students, new staff and new Fellows to the College.
THE MANY FACES OF ORIENTATION WEEK
The campus population exploded during early September, as the Class of 2020 arrived, full of excitement and trepidation, and returning students welcomed each other back after the summer break. See more pictures of Orientation week on Facebook: http://tiny.cc/frosh2016.
NEW BURSAR AND CHIEF ADMINISTRATIVE OFFICER
In May, Jason MacIntyre began his role as the College's Bursar and Chief Administrative Officer. Prior to his appointment, MacIntyre served for six years as Dean of Residence at U of T's Graduate House. He holds an Honours BA degree from the University of Waterloo, a Master of Education degree in Leadership in Higher Education from OISE, and has held managerial roles at the University of New Brunswick, Western University, and Brock University.
NEW FELLOWS
On July 1, Trinity welcomed four new Fellows. Profs. Sherry Lee (Music), Teresa Miedema (Law), Nick Mount (English) and Pekka Sinervo (Physics). Associates and Research Associates were also appointed in July. See the full list and bios.
---
FROM THE ARCHIVES
by Gina Jihyun Kwon (first-year archivist and member of the Trinity College Historical Society)
THE STORY OF HENRY HEAD GRAY
Trinity College Historical Society
In Shakespeare's As You Like It, melancholy Jacques famously explains, "All the world's a stage/ And all the men and women merely players; / They have their exits and their entrances, / And one man in his time plays many parts" (II.vii.139-143). This particular play takes the stage at Trinity Medical College. Curtains open to the first act: the death of Henry Head Gray on March 31, 1891. What is more intriguing is the second act: the death of Henry Head Gray nearly 23 years later on March 10, 1914. Who was Henry Head Gray? How did one man assume different roles—to enter then to exit life, only to return from the dead?
In March of 1871, the medical faculty was re-established at Trinity College and included five professors from the Medical Faculty at Victoria College. A building was constructed at 40 Spruce Street, and classes began in October 1871.
Prior to 1850, when Trinity College opened its doors, there was already a Medical Faculty in place thanks to an agreement between John Strachan and the Upper Canada School of Medicine. The Faculty had existed for six years until the teaching staff resigned en masse over the College's controversial affiliation with the Anglican Church. In 1871, it was resurrected as Trinity Medical School, which later became Trinity Medical College. The College granted degrees until 1903, when it federated with the University of Toronto.
Graduates of Trinity Medical were an interesting lot, settling across Canada and the U.S. For instance, one alumnus became a major league baseball player with a medical degree. Most notably, Dr. Alexander T. Augusta received his degree in medicine in 1856 and became the first black professor of medicine in the U.S. He was also the first African-American physician in the United States Army, following his service as a major in the American Civil War in 1863.
The narrative of Henry Head Gray starts in 1887, upon the enrollment of two young men at Trinity Medical College.
One of the two students was William Musgrove Ireland, the son of William Henry Ireland, the mayor of Trenton, Ontario from 1916 to 1919. The other was Henry Head Gray, the son of a Yorkville merchant. Both Ireland and Gray lived in Cabbagetown, close to the College.
According to the calendars of the Medical College report, both men passed their first=-year examinations in 1888. Their seemingly parallel lives as medical students then began to diverge. In 1889, Gray passed and Ireland failed their second-year examinations. Gray went on to graduate with first-class honours and his MD degree. What Ireland did in the aftermath of his personal failure is the subject of much speculation.
Advertisement to enroll to Trinity Medical School for the academic year 1878-1879.
The involvement of Trinity College Archives in researching this part of the College's past came about following an inquiry from Jane McNamara, a researcher for the Ontario Genealogical Society (OGS), in 2011. She was transcribing burial registers at the Toronto Necropolis Cemetery and came across this entry:
In 1861, 37-year-old John Gray was a brewer from Dundas, Ontario. By 1871 he and his family had moved to the Village of Yorkville (now amalgamated with Toronto), where he had become a merchant. Henry Head Gray was the youngest of at least six children and brother of Dr. Jennie Gray, a founding member of Women's College Hospital.
Gray came from a prominent and stable family and could have started a medical career in Toronto. Why would he venture to Montana?
Toronto newspapers had been full of stories about Montana's potential prosperity. The territory had just become a state in 1889, and mines were opening regularly. The Globe and Mail reported on new railway lines into Montana with special fares. Toronto's 1890 Exhibition even featured a Wild West Show with "fiery mustangs from Montana." For a young man looking to start his life and career, the pull of the American West may have been strong.
But the curious part of this story is not why and how Gray died in Montana in 1891. The mystery is whether he died in 1914.
The name seemed to go on living despite the man being dead.
McNamara found a second obituary for Henry Head Gray. On March 28, 1914, almost 23 years after the Necropolis entry, the Journal of the American Medical Association listed this death notice:
Subsequently, McNamara uncovered an Oklahoma City newspaper from March 21, 1914 that exposed William Musgrove Ireland. The article suggested that Ireland took over the identity and practice of Henry Head Gray.
The headline read, "Oklahoma Doctor Masquerades As Dead Friend 15 Years and Dies as He Resumes Real Name." The article revealed that in Ireland's office in Oklahoma City hung a diploma issued from Trinity College, Toronto, to Dr. Henry Head Gray, dated April 11, 1890. According to Ireland's most intimate friends from Toronto, those who had kept his secret during his life, the man to whom the diploma was originally issued to had been dead for more than 20 years. Ireland had assumed his identity.
The question to ask is, what was Ireland's role in Gray's death? Did Ireland murder his classmate, or did he merely take advantage of Gray's accidental death? Either way, following Gray's death, Ireland took Gray's medical degree and created a new life for himself as a doctor in San Francisco; Beaumont, Texas; Oklahoma City; and possibly South Africa.
Does Ireland's suicide in 1914 allude to his guilty conscience? Was he afraid that the past was finally catching up to him?
Ultimately, Ireland was on the brink of being exposed in 1914 when he checked into a Kansas City hotel under his real name and took his own life. Shortly before his suicide, rumours had begun to circulate among physicians about Ireland's true identity. In Oklahoma City, some medical societies had convincing proof of Ireland's actual identity and were waiting for additional evidence before filing a complaint against him. Inquiries were made to the State Board of Medical Examiners, which had licensed him under the name of Gray, alleging that his license had been obtained by fraud.
The photographs above may provide a hint to Ireland's character. In 1889, the year Ireland failed his second-year examinations, he had this photograph taken and included in the graduation composite. Within his personal and professional networks, Ireland was known to be a pathological liar and probably a bigamist, which may explain the case of identity theft.
Thus, one of the most audacious mysteries of Trinity Medical College is brought forth by the intertwined demise of two students. Through an unfortunate twist of fate, the world became a stage for Ireland, who took his entrance and exit as himself but acted the part of another man throughout the play.