We love hearing from our readers. Let us know what you think! magazine@trinity.utoronto.ca
---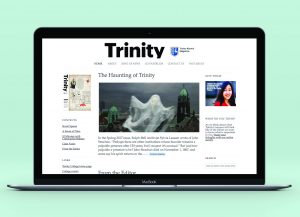 Thanks for letting me know about the plan to take Trinity digital. We'll see how it goes, but in general I never read online editions (which is too bad, really, because everyone is going that way). I spend too much screen time while working and the last thing I want to do is stare at a screen for pleasure. Especially a tiny phone screen.
So I find I lose touch with professional and academic bodies who want me to go and find them on the web. This is also hard to do while in the subway, while on a train or plane or while travelling in areas of poor internet coverage. These are the places I often have time to pull out Trinity (hard copy) to make use of quiet moments.
It is a lot easier to feel a relationship with a physical magazine than with a relatively unstructured stream of ephemeral screens. Having said that I also understand there are cost issues and environmental concerns both for sourcing and ultimately disposing of a physical magazine. The true value of online publishing lies in archiving things should the physical experience have been impressive enough to make one want to look at the content again in future without storing rooms full of paper.
And finally, after a lifetime of learning to read and write, I find it is a lot faster, easier to move back and forth to review, remember and make notes, and generally a better way to communicate content than orally and visually. I will miss the tangible, solid print version. RIP.
Dennis Waddington '70
Thank you for your letter, Dennis.
In our decision to take our summer issue online, we certainly considered our environmental footprint as well as the cost savings—we want every possible dollar to go towards supporting our amazing students.
But never fear! We will still be sending physical copies of the spring and fall issues. We ask our readers to think of the summer e-issue as a bonus issue.
Jill Rooksby, Editor
---
Trinity online: what readers are saying
"I particularly enjoyed reading about the Chapel and the organ, as well as seeing the photos. My husband and I were married in the chapel and have very fond memories of the beautiful architecture as well as the music. Living in Arizona, and infrequently back to Toronto, the photos are appreciated.."
Kathy Pearson '60