A perennial favourite of our readers, here's the latest on your Trinity peers.
Send your news to magazine@trinity.utoronto.ca.
WEDDING CORNER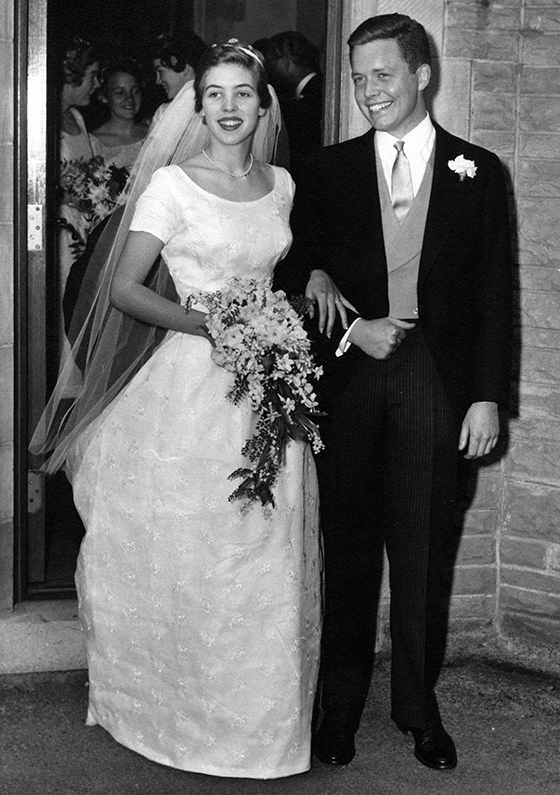 June 2, 1956: A 21-gun salute begins at Queen's Park in Toronto to commemorate the third anniversary of the coronation of Queen Elizabeth II. Nearby at the Trinity College Chapel, guests at the wedding of the late Brian Heeney '54 and Goodith Feilding—which was under way at the same moment—surely saw the military salute as an auspicious beginning for the couple.
Former Dean of Divinity Charles Feilding, also the father of the bride, performed the marriage ceremony. The Heeneys went on to have four children, three of whom went to Trinity: Michael Heeney '80, married to Hilary Meredith '79; Tim Heeney '88 married to Shuna (Baird) Heeney '89; and Matthew Heeney '92. Annie (Heeney) Johnston did not attend Trinity, but two of her children, Trevor Johnston '04 and Malcolm Johnston '07, continued the Trinity family tradition.
---
Share your wedding memory Since its official consecration in 1955, hundreds of weddings have taken place in the Trinity College Chapel. Was yours among them? To share your Trinity Chapel moment, send a photo of your wedding day along with a 150-word written account of your experience. Please provide a high-resolution scan of your image (350 dpi or greater, scanned at 100 per cent). Original photos may also be sent for scanning and will be returned. For more detailed submission guidelines, please send an email to magazine@trinity.utoronto.ca.
---
NEWS
JOCELYN '63 and ED BADOVINAC, along with the NATO Association of Canada, the Churchill Society for the Advancement of Parliamentary Democracy and the International Churchill Society of Canada, three organizations in which they are active, installed a plaque recognizing the 76th anniversary of the Newfoundland meeting of U.K. Prime Minister Sir Winston Churchill and U.S. President Franklin Roosevelt in 1941, which led to the Atlantic Charter and the United Nations. The plaque, located next to the statue of Sir Winston Churchill at Toronto City Hall, was unveiled by the Honourable Elizabeth Dowdeswell, Lieutenant Governor of Ontario, on August 14.
PAUL PATON '88, Dean of Law and Wilbur Fee Bowker Professor of Law at the University of Alberta, received the Leaders in Diversity Award from the Federation of Asian Canadian Lawyers Western Canada Chapter in Calgary on March 23 in recognition of his commitment to fostering diversity and inclusion in the legal profession. Paton has been Dean at the University of Alberta since 2014.
CHRISTOPHER JONES, George Martin Lane Professor of the Classics and of History (Emeritus) and former Trinity Fellow was elected Associé étranger of the Académie des Inscriptions et Belles- Lettres, Paris on March 10. The Académie is one of the five academies of the Institut de France.
STEPHEN SCHARPER, Trinity Fellow, was invited by the Bruce Peninsula Truth and Reconciliation Committee to curate and host a film screening dealing with Indigenous issues. The film, The Pass System, was shown at the Bruce Peninsula National Park in Tobermory this summer. Former Cape Croker Chief, residential school survivor, Second World War veteran, and master carver Wilmer Nadjiwan, now 96, spoke after the film.
DEATHS
BAILLIE: ROBERT L.T. '43, June 12 in Toronto. Brother of the late Nigel L.T. Baillie '51.
BARKER: STEPHEN '68, March 21 in Toronto.
COTTRELLE: JANET (PEPIN) '75, April 7 in Toronto.
DEVERELL: CORINNE '49, March 31 in Toronto.
FINLAY: TERENCE '89 (DD, HONS.), March 20 in Toronto. 10th Bishop of Toronto.
FOULDS: PHILIP STEELE '40, April 18 in Toronto. Husband of the late Mary Louise Foulds '42, father of Barbara Selley '66.
GILCHRIST: DONALD HUNTER '50, March 14 in Toronto. Father of Donald Gilchrist '79 and Jean Gilchrist '81, brother of the late Christina Gilchrist '40 and the late Jean Matthews '50.
GILLETT: JOHN A. "JACK" '46, Sept. 18 in Toronto. Husband of Ruth (Pakenham) Gillett '46; father of Martha Pettit '72, Thomas Gillett '76, and the late Jane Gillett '77; grandfather of Clare Gillett '10.
GRANT: MARGOT (INGLIS) '48, June 7 in Toronto.
HIGGINBOTHAM: DAVID CRICHTON '48, June 30 in Toronto. HUGHES: JEAN (CATTO) '52, July 25 in Toronto. Sister of John Catto '55, sister-in-law of Margaret (Ketchum) Catto '57.
KANYA-FORSTNER: ALEXANDER SYDNEY '61, March 31 in Toronto.
LEUTY: EVAN MACAULAY '52, March 5 in Muskoka, Ont.
LITTLE: MARGARET "VICKI" (NELSON) '71, August 17 in St. Catharines, Ont. Wife of Patrick Little '71.
LUNDON; JOHN '84, May 21 in Turin, Italy. Husband of Erika Pegazzano '85, son of John and Alice (Drynan) Lundon '56.
MEAKIN: J. ALLAN D. '55 (LTH), November 15, 2016 in Ottawa. Uncle of Julie Meakin '12 (Div.). PHIPPS: DAVID '67, June 25 in Aberfoyle, Ont.
RIDDELL: BEATRICE W. '49, May 27 in Toronto.
SCHMITZ: KENNETH '02 (DSL HON.), Aug. 25 in Fort Erie, Ont. Former member of the Faculty of Divinity. TAIT: BURTON '62, Sept. 26 in Toronto. Husband of Judith (McManus) Tait '62.
WEBSTER, JUDITH MARY (JEPHCOTT) '56, May 11 in Toronto.
WHITTEN: MARY BEATRICE (CLARKSON) '48, March 9 in Toronto. Sister of the late Guy Clarkson '45 and the late Joan Clarkson '52.
WOOLLCOMBE: SYDNEY (MACHELL) '58, March 28 in Toronto.