Inadequate space on campus and an urban housing crisis are creating stressful situations for Trinity students
by Jennifer Matthews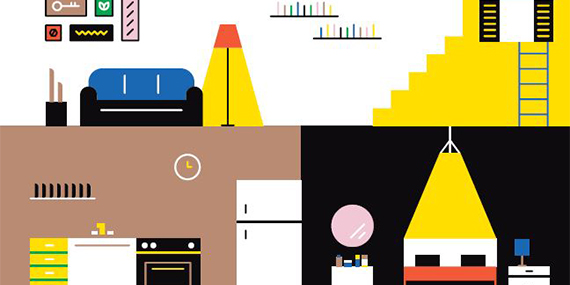 In 1957, first-year student Joan Hawson, struggling with a difficult roommate in St. Hilda's residence, rented a room off campus. It was in a private home on Prince Arthur Avenue in Yorkville, a short walk north of campus.
Yorkville was then a bohemian mecca, considered to be the Canadian capital of the hippie movement. Its coffee houses and lively music scene attracted students and young people from around the world and were immortalized in Joni Mitchell's folk song "Night in the City." Nearly six decades later, Yorkville bears little resemblance to its counter-culture past. Fed by the development of the Bloor-Danforth subway line and the expansion of the city that surrounds it, the neighbourhood has grown to become one of the highest-end shopping districts in North America, home to luxury hotels and condominiums and the "Mink Mile" of designer boutiques along Bloor Street.
Along with the hippie coffee houses, affordable student housing options in Yorkville and the surrounding areas are a thing of the past. With neighbourhood rent prices soaring and average home prices topping $2 million, today's students face a very different real estate market.
Residence shortage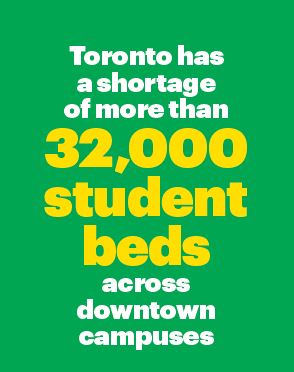 With just over 1,800 of the campus' more than 61,000 students, Trinity is the smallest college on the U of T St. George campus and intends to remain so, says Provost Mayo Moran. But the College's number of on-campus residence spaces has remained unchanged for years, despite significant enrolment growth over the past several decades.
And while that enrolment growth has slowed, it has left serious space pressures in its wake.
At present, there is space in residence for only 25 per cent of the College's students—and over half of those spaces are allotted to first-years who are guaranteed a residence spot if they want one. That leaves a huge shortfall in spaces for Trinity's upper-year students, who are often turned away due to lack of space, leaving residences with a dearth of older students and upper year students missing out on the full Trinity experience.
"Upper-year students are an incredibly valuable resource for their younger peers, offering everything from helpful advice to those living away from home for the first time to role modeling the transition to an academic community," says Trinity's Dean of Students Kristen Moore. "Ideally, a mix of students from all cohorts builds the most well-rounded residence community." The other three universities in Toronto—Ryerson University, York University and OCAD University—are all experiencing similar challenges. What it adds up to is a shortage of more than 32,000 student beds in the city, according to a report by SVN Rock Advisors Inc.
Brokerage. And that leaves students competing with young professionals and families for places to live, in a housing market already in crisis.
Unrelenting demand in the housing market
Toronto's housing market has been under continuous pressure for years, resulting in one of the lowest rental vacancy rates in Canada at 1.1 per cent, according to the Canada Mortgage and Housing Corporation. Vancouver, another hot rental market, is seeing a similar trend with a vacancy rate of 1.0 per cent. (A healthy rental market should have a minimum vacancy rate of three to five per cent.)
The reasons for the historically low vacancy rates are complex—increased population growth, rising house prices delaying home ownership, growing demand through online vacation rental platforms. But one thing is clear: This isn't going to change anytime soon.
The sheer number of people needing housing continues to rise every year. The Greater Toronto Area (GTA) is projected to be the fastest-growing region of the province, with its population increasing by 2.8 million, or 40.8 per cent, to reach almost 9.7 million by 2041.
And a growing share of that population is occupying the home rental market. First-time home buyers in Toronto and Vancouver are faced with average prices edging toward the million-dollar range, making the dream of owning a home seem impossible for many, who continue to rent for much longer than their parents or grandparents did.
At the same time, online vacation rental platform Airbnb has removed as many as 13,700 units of housing from rental markets in Montreal, Toronto and Vancouver, according to a 2017 report from McGill University's School of Urban Planning.
Lack of supply has driven up rental prices as well, making Toronto the most expensive city in the country for renters. An average one-bedroom in Toronto costs over $2,100 per month.
For university students, many of whom are still teenagers, navigating Toronto's rental market is like taking a crash course in adulthood—but not necessarily in a good way.
Added stress for students

Moving off-campus was a very different experience in decades past. Gloria Hildebrandt '79's journal entry from 1976 details her excitement at finding her first apartment in Christie Pits with a girlfriend she met during first year at St. Hilda's: "We have a place at Bloor and Christie. Can you believe it? Living room. Two bedrooms. Bath. Kitchen.
Sunroom. Porch. $220 a month plus gas and hydro. Bay window in living room. Fireplace."
The reality of that dream apartment turned out to be a space with no laundry facilities, one leaky room, an ongoing cockroach problem and, with three roommates, cramped quarters. Hildebrandt says that if given the chance to do it again, she "would have waited and taken greater advantage of living on campus in the heart of the best part of the city."
For today's Trinity students both the rental experience and the costs are far more daunting.
For Eric Schnell, in his third year of a Mathematics and Cognitive Science double major with a minor in Religious Studies, living in residence first year was a great experience.
"That's where most of my friendships formed," he says.
But after his second year, Schnell and three Trinity residence friends spent much of their summer poring over rental listings online and taking turns going to open houses to find off-campus housing. As the summer wore on, they started lowering their standards. They often arrived at open houses to discover that the group before them had signed a lease on the spot or had bid higher than the listed rent for an apartment in the hope of "winning" the lease.
It would be easy to see where students anxious to secure rental housing in a highly competitive market might overlook potential concerns as well. A friend of Schnell's did a Google search on a potential landlord and discovered that he had been charged with having hidden cameras in one of his rental properties. Some apartments Schell and his roommates viewed were overcrowded, while others clearly failed to comply with fire safety regulations.
In August, just when he was "at a point of regret when I thought I'd be living at home in Scarborough and commuting to campus" Schnell and his roommates found an apartment in Chinatown. In third year he moved into a two-bedroom apartment with one of his roommates and is considering moving into a fraternity house with friends for fourth year.
Christine Cerullo, Trinity's Manager of Residence Operations, sees first-hand the stress that finding a space in a city with dwindling housing choices places on students. "We saw upper-year applications for residence jump 45 per cent last year. With the increase in residence applications, we worked very closely with students to support those who weren't initially admitted to residence.
Many students have reported to us that they find the housing market very challenging to navigate and want to remain in residence with their peers and with a familiar community. We do our best to guide them through the process of finding an apartment, but the market is getting harder and harder to navigate. And they want to be here with their peers."
The complexities of commuting
For the majority of Trinity students housing isn't a choice at all.
In fact, three out of four Trinity students commute to campus every day by public transit, car or bike. For financial reasons, many students are forced to live a significant distance from campus and not surprisingly, that daily commute takes its toll, often in a number of ways.
In 2016, StudentMoveTO, a collaborative project between Toronto's four universities—U of T, Ryerson, York and OCAD— released the results of a survey that polled more than 15,000 university students. The survey found that students in the Greater Toronto Area (GTA) are spending too much time commuting to and from school each day, with one in three respondents taking two or more hours to travel to and from campus.
Another key finding: Students factor in their commute when selecting their courses, sometimes avoiding early mornings, evening classes, even Mondays and Fridays to save themselves some time.
And not surprisingly, the study found that the more time students spent commuting, the less time they had to get involved in campus life, from extra-curriculars to student government, which are often among the most treasured university experiences for students. The result is that many commuting students are simply not able to enjoy the full benefits of being part of a university community.
On-campus students more satisfied and more successful
A recent Canadian study supports what U.S.-based research has been telling us for years: Students who live on campus have better overall outcomes than those who live off campus. The 2017 five-university project revealed that living in residence in first year has positive effects on students' overall marks, their retention to second year, and their persistence to graduation. These benefits were even more pronounced for international students.
While the study focused on first-year students, evidence abounds of the benefits of living on campus for all students. In his oft-cited book Four Critical Years, Alexander Astin pointed out higher levels of engagement in campus life, including student government and extra-curricular activities; stronger relationships with peers and faculty; and higher overall levels of satisfaction with their university experience for students who lived on campus.
Those living in residence are also more likely to take advantage of the many supports provided for students.
At Trinity those include academic dons, peer advisors, on-site counsellors, math and writing tutors, career and academic advisors, learning strategists and dedicated health and wellness support. And of course there's the Trinity College Archives and the beloved John W. Graham Library.
Community: An integral part of the Trinity experience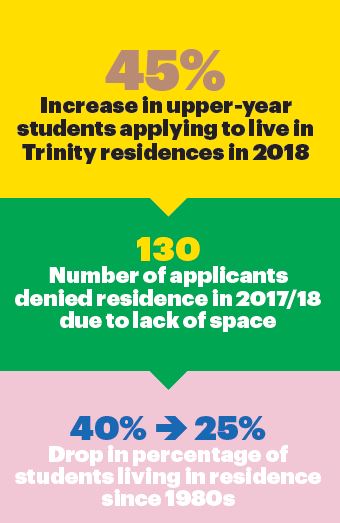 The sense of community that Trinity students feel is often described as one of the most important aspects of their College experience. Trinity has always offered an intimate environment within the larger U of T campus, where students feel known by staff and faculty, and have the opportunity to live, study and develop lifelong friendships with their peers. In student surveys, that community experience is just as valued by today's Trinity students as it was by previous generations. And it's undoubtedly one of the factors contributing to the high demand (and long waiting list) for residence spaces by Trinity's upper-year students.
Jim Baidacoff '81 remembers the difference he felt when moving on campus after commuting from home, then living in an off-campus boarding house. "I went into residence because I wanted to fully participate in Trinity life," he says.
"Living off campus was natural at first as I was from Toronto, but it affected my experience a bit negatively. Looking back, I wish I had moved into residence earlier."
And Joan Hawson, who spent her first year in that rented Yorkville room in 1957? Ultimately she moved back into St. Hilda's and "spent many wonderful evenings getting to know my fellow students. I remained in
residence for the rest of my time at Trinity and enjoyed it very much."
But those critical connections and fond memories that are formed in residence aren't available to all students today. Lack of housing on campus affects more than the students who can't get into residence—the entire community is poorer for the lack of senior students who act as mentors to their younger peers and contribute to a richer Trinity experience for all. The collegiate way of life, with benefits that can lasts a lifetime, relies on the participation of all members of the Trinity community.
Innovative solutions
Universities across the country, particularly in urban areas like Toronto and Vancouver, are looking for innovative ways to address the issue of housing their student populations.
The team behind the StudentMoveTO project is now working on StudentDwellTO, a large-scale collaborative effort to research and address how the current Toronto housing crisis is impacting students in the GTA.
Results of the 18-month initiative, which will include a heavy research component and data collection from a wide-scale survey and focus groups, will be made public along with recommended affordable housing strategies.
Later this year, UBC will open Exchange, its newest residence. The 650-bed building will offer studio apartments, one-, two-, and four-bedroom suites, townhouses and a number of micro-units, called nano suites. At 140 square feet, they include a convertible desk/bed, full private bathroom, kitchenette and closet in a small but streamlined space.
And at under $700 per month they are likely to appeal to a number of students.
Looking forward
The conditions contributing to the current student housing crisis are unlikely to be resolved anytime soon. And new builds take time—after years of planning and design changes, construction is expected to begin this spring on a 511-bed mixed-use residence owned by U of T and located near the St. George campus at the corner of Spadina and Sussex.
At Trinity College, discussions continue around the planning of a new building that will seek to address these issues. It is certainly true that our students need housing. But it is much more than this—they want to be able to be more a part of the unique community that is Trinity College.
"Our College is in the fortunate and unusual position of having great demand for residence space across all years," says Provost Moran. "Students cite the Trinity experience as a key factor in why they continue to choose the College in record numbers year after year. Being able to live in the Trinity community is for many students an integral part of that experience."
Spring 2019